Discussion
Emmert: "Don't lie. Don't steal."
The NCAA president's year has been, shall we say, eventful
Updated:
December 2, 2011, 9:44 AM ET
By
Seth Wickersham
| ESPN The Magazine
This article appears in ESPN The Magazine's Dec. 12, 2011 "Interview Issue."
WICKERSHAM: With all the recent scandals, what changes can we expect from the NCAA?
EMMERT: You'll see a significant change in the rulebooks, away from a lot of the picayune, largely irrelevant, largely unenforceable components of the rulebook and an emphasis on the real threats to the integrity of sports. I always say the things our mothers taught us. Don't lie. Don't cheat. Don't ...

Read full story
ESPN The Magazine: December 12, 2011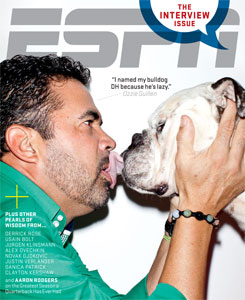 The Interviews
More from the issue
MORE COLLEGE SPORTS HEADLINES