Discussion
SEC keeps pace with Pac-12
OMAHA, Neb. -- Three years ago, in the baseball season that ended with Arkansas' most recent College World Series appearance before Saturday, the Razorbacks started Southeastern Conference play with eight consecutive victories.
"I'd never done that before," coach Dave Van Horn said, recalling the feat with something of a disbelieving tone.
To end that conference season, Arkansas lost eight straight in the SEC.
The league humbles you.
Three ...

Read full story
2012 COLLEGE WORLD SERIES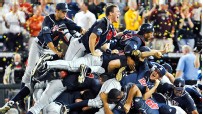 The plan never failed Arizona so it didn't deviate from the script. The Wildcats were repaid for their faith with their first College World Series title since 1986. Tournament results »
DAY 10
DAY 9
DAY 8
DAY 7
DAY 6
DAY 5
DAY 4
DAY 3
DAY 2
DAY 1
ROAD TO OMAHA
MORE COLLEGE SPORTS HEADLINES