Discussion
Roth ready for his CWS finale
OMAHA, Neb. -- A mystical quality exists of late around the South Carolina baseball team.
Be it the mind-blowing 22-game postseason winning streak, three win-or-go-home victories in 30 hours at the College World Series or a pair of bases-loaded walks to even the score and go ahead in a 3-2 win Friday night over Arkansas to advance to the championship series, the Gamecocks are magicians at TD Ameritrade Park.
And if so, Michael Roth is the resident Houdini.
Roth, ...

Read full story
2012 COLLEGE WORLD SERIES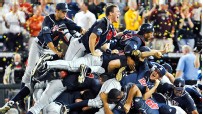 The plan never failed Arizona so it didn't deviate from the script. The Wildcats were repaid for their faith with their first College World Series title since 1986. Tournament results »
DAY 10
DAY 9
DAY 8
DAY 7
DAY 6
DAY 5
DAY 4
DAY 3
DAY 2
DAY 1
ROAD TO OMAHA
MORE COLLEGE SPORTS HEADLINES