Discussion
This team doesn't know how to quit
Originally Published:
June 23, 2012
By
Travis Haney
| ESPN.com
OMAHA, Neb. -- Baseball is not supposed to work like this.
It's a game predicated on inconsistency and unpredictability, of highs and lows so extreme and wildly swinging that even the best of the planet's athletes sometimes flunk themselves out of a career virtually overnight.
So, can you blame South Carolina's staff and players when a few of them offered realistic assessments a week ago, on the eve of the College World Series?
"We're just happy we made it ...

Read full story
2012 COLLEGE WORLD SERIES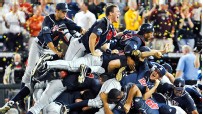 The plan never failed Arizona so it didn't deviate from the script. The Wildcats were repaid for their faith with their first College World Series title since 1986. Tournament results »
DAY 10
DAY 9
DAY 8
DAY 7
DAY 6
DAY 5
DAY 4
DAY 3
DAY 2
DAY 1
ROAD TO OMAHA
MORE COLLEGE SPORTS HEADLINES