Discussion
Arizona earns its CWS crown
OMAHA, Neb. -- Arizona baseball coach Andy Lopez is big on plans.
The Wildcats know his words well, yet Lopez preached to them again Monday morning as the team gathered for breakfast hours before its 4-1 victory over South Carolina to win the program's first national title in 26 years at the College World Series.
Have a plan, Lopez told the team.
"Don't think about your plan on the bus," he said. "If you're working on it then, you're too late."
Well, ...

Read full story
2012 COLLEGE WORLD SERIES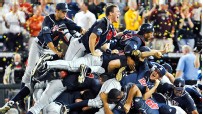 The plan never failed Arizona so it didn't deviate from the script. The Wildcats were repaid for their faith with their first College World Series title since 1986. Tournament results »
DAY 10
DAY 9
DAY 8
DAY 7
DAY 6
DAY 5
DAY 4
DAY 3
DAY 2
DAY 1
ROAD TO OMAHA
MORE COLLEGE SPORTS HEADLINES