Discussion
Eligibility vs. academic preparedness
New NCAA standards rooted in good intentions but plagued by practical challenges
Originally Published:
August 6, 2012
By
Dana O'Neil
| ESPN.com
INDIANAPOLIS -- One is speaking plain English; the other feels lost in a bureaucratic town of Babel.
To one, it is so obvious.
To the other, inscrutable.
On one side sits a group of well-intentioned people in Indianapolis, folks who make rules and standards not to be exclusionary but to encourage academic success.
On the other side sit kids in classrooms -- some in high school, fretting about being allowed to play in college, and some ...

Read full story
ACADEMIC REFORM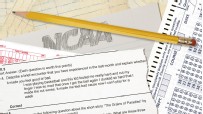 The NCAA's new eligibility standards go into effect with the 2016 class but begin with this fall's high school freshmen. Can you legislate academic preparedness? The NCAA believes it can; others aren't so sure. Dana O'Neil »
MORE ACADEMICS
VIDEO
AUDIO
MORE COLLEGE SPORTS HEADLINES