Bittersweet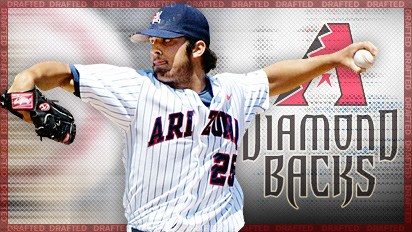 ESPN.com Illustration
Daniel was drafted No. 26 by the Diamondbacks.
It was a bittersweet week for Daniel and his family. On Thursday he was drafted in the first round by the Arizona Diamondbacks and he was listed as a player who could make his pro debut this season by some pundits. The downside to his week was the loss to Miami that ended his college season and possibly his collegiate career.
Mark's chat wrap
WHAT MARK LISTENS TO ON ROAD TRIPS
INXS

"Nothing like a little 'Elegantly Wasted' and 'Suicide Blonde' to get you going on a long road trip especially when you're driving in the middle of nowhere and your only company are some trees and the occasional Stuckeys diner. It's good music to keep you revved up and going when you're bored as heck driving down the road."
U2

"There are some things that are comforting in life: A hug from the wife and kids, waking up on a Sunday morning and watching some football and listening to Bono rock out. These guys have been around pretty much my entire adult life and are one of those bands that has a couple of tracks on my life's soundtrack."
BRUCE SPRINGSTEEN

"Speaking of my life's soundtrack, there's no doubt that the Boss is on there. Man oh man, Springsteen is like Brett Favre was before the retirement. One moment you're talking about how great he was and the next moment you're completely in awe of what he is accomplishing right in front of your eyes. That's true of Springsteen in the studio and in concert."
ECHO AND THE BUNNYMEN

"Nothing like a little post-punk sound from England, baby! I love this band even though they haven't done anything recently. Their stuff from the late 70s and early 80s populates a couple playlists on the traveling IPod."
THE CURE

"If you're doing late 70s, early 80s rock then you have to have The Cure. That's my story and I'm sticking to it. I wonder if I could pull off hair like Robert Smith's?"
SCOUT WRAP
QUICKEST TRANSITION
Mark talks to an MLB scout about which college players would make the quickest transition from college baseball to the majors.
Story
COLLEGE WORLD SERIES
SEEDS OF CHANGE
Will an ACC team finally get over the hump and win the College World Series? What happened to the defending champs? And which lower-seeded teams will make the tournament interesting?
Story
WEEKEND WRAP
ACC CLEANS UP
Miami was selected as the top seed for the 64-team Division I college baseball tournament Monday, while two-time defending champion Oregon State was left out of the field.
Story