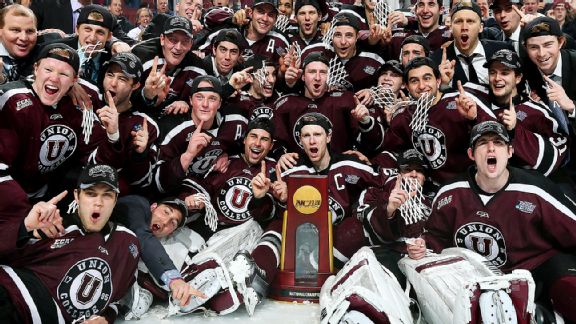 Elsa/Getty Images
Ice Hockey
PHILADELPHIA -- His nickname is Ghost.
Without a doubt the Minnesota Golden Gophers and their fans will be seeing Shayne Gostisbehere in their nightmares for a long time to come, while the Philadelphia Flyers and their fans hope to be seeing a lot more of him in their future. (Is he available for Sunday's regular-season finale against Carolina?)
The junior defenseman from Margate, Fla., the lone NHL draft pick (third round, 2012) on the Union College (32-6-4) hockey roster, was everywhere on the ice on Saturday night at the Wells Fargo Center in Philadelphia. He piloted a one-time laughingstock of college hockey to its first national championship after a decisive 7-4 win over Minnesota (28-7-6).
-- David Albright | Full story
2015 NCAA Men's Frozen Four
WHEN: April 9 and 11
WHERE: TD Garden (Boston)