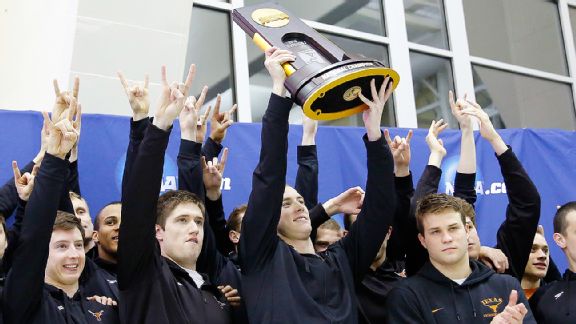 AP Photo/John Bazemore
Men's Swimming
& Diving
ATLANTA -- Texas coach Eddie Reese wasn't interested in dwelling on personal achievements after his historic victory.
"Everybody thinks I'm a good coach, that I've got a magic wand," he said. "The only magic is in the swimmers. They've got to trust me, and it goes both ways."
Joseph Schooling won the 200-yard butterfly and Will Licon took the 200 breaststroke in record-setting performances, helping the Longhorns run away with their second straight NCAA swimming and diving title on Saturday night.
-- Associated Press | Full story
2017 NCAA championship information
WHEN: March 23-25
WHERE: Indiana University Natatorium (Indianapolis)