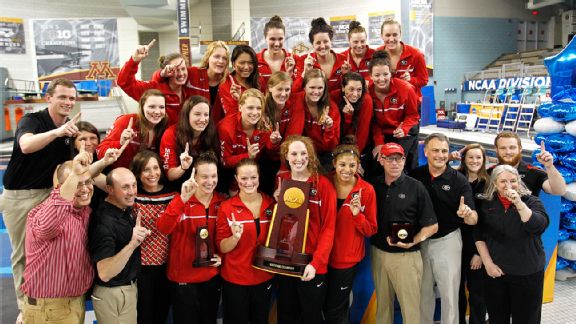 AP Photo/Andy Clayton-King
Women's Swimming
& Diving
MINNEAPOLIS -- The Georgia Bulldogs didn't flinch after losing top performers from last year's NCAA women's swimming and diving championship team.
After graduating swimmers Megan Romano and Allison Schmitt, the Bulldogs scored 528 points on Saturday to defend their NCAA title and earn their first back-to-back crowns since 2000-2001.
Donned in NCAA championship hats and shirts, the Bulldogs' contingent of 17 qualifiers sang their fight song, took the ceremonial dive into the pool and coaxed their coaches to do the same.
-- Associated Press | Full story
2015 NCAA championship information
WHEN: March 19-21
WHERE: Greensboro Aquatic Center (Greensboro, N.C.)