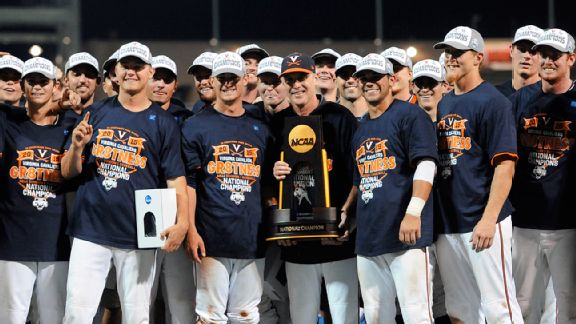 Steven Branscombe/USA TODAY Sport
Baseball
OMAHA, Neb. -- The Road to Omaha sculpture at the base of the steps near the home-plate entrance to TD Ameritrade Park forever means something new to college baseball after Wednesday night.
The statue moved from Rosenblatt Stadium five years ago with the College World Series. Nearly every team to play here poses for a photo alongside it.
Thousands of fans among the record 353,000-plus to attend this year's 12-day event passed by it daily, staring at the iconic monument as if in search of a message to unlock the secret to the College World Series' mystique.
-- Mitch Sherman | Full story
2016 NCAA championship information
WHEN: June 18-28/29
WHERE: TD Ameritrade Park Omaha (Omaha, Neb.)