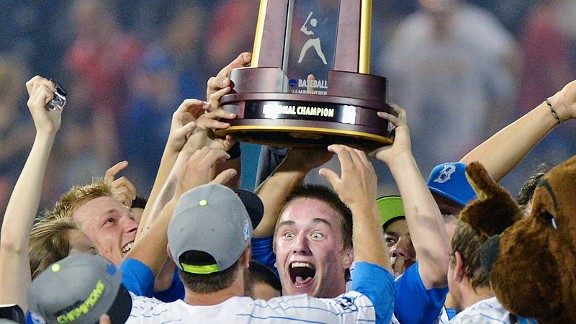 AP Photo/Ted Kirk
Baseball
OMAHA, Neb. -- The old UCLA second baseman stood near home plate with a lump in his throat and two mini-trophies under his left arm as a video homage to the Bruins played on the scoreboard beyond right field.
Dan Guerrero didn't say a word. He hardly moved until a shot of Cody Regis flashed on the screen. The Bruins' senior second baseman, Regis took a hard grounder and flipped the ball from his glove to shortstop Pat Valaika to start a slick double play.
With that, Guerrero unleashed a quick whoop. The 61-year-old UCLA athletic director has stood on this stage many times -- but never quite like Tuesday.
-- Read the rest of Mitch Sherman's story.
2014 NCAA championship information
WHEN: June 14-25
WHERE: TD Ameritrade Park Omaha (Omaha, Neb.)