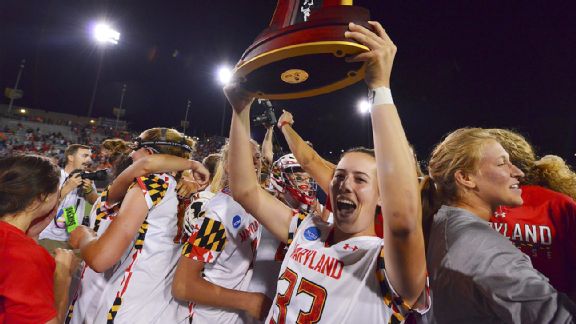 Tommy Gilligan/USA TODAY Sports
Women's Lacrosse
TOWSON, Md. -- One year earlier, coach Cathy Reese and the members of the Maryland women's lacrosse team sat in stunned silence after losing by one goal in the NCAA title game.
On Sunday night, the Terrapins got redemption.
Maryland captured its 11th national championship, getting five goals from Beth Glaros in a 15-12 victory over Syracuse.
Kristen Lamon, Taylor Cummings and Brooke Griffin had three goals apiece for the top-seeded Terrapins (23-1), whose last championship was won on this same field in 2010.
-- Associated Press | Full story
2015 NCAA championship information
WHEN: May 16-17
WHERE: Kerr Stadium (Salem, Va.)