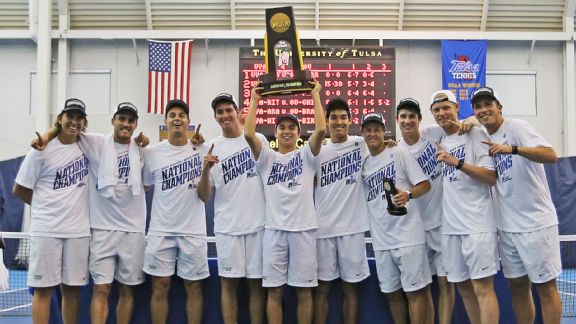 Virginia Media Relations
Men's Tennis
TULSA, Okla. -- Henrik Wiersholm rallied from a 5-2 deficit in the second set for a 6-2, 7-6 victory over Andre Biro, clinching a 4-1 victory for Virginia over Oklahoma in the NCAA men's tennis final Tuesday night.
It was the second straight championship for top-seeded Virginia (30-4) and its third in the past four seasons.
"I'm really pleased with our overall effort and couldn't be happier for the team," Virginia coach Brian Boland said.
-- Associated Press | Full story
2017 NCAA championship information
WHEN: May 18-29
WHERE: Dan Magill Tennis Complex (Athens, Ga.)