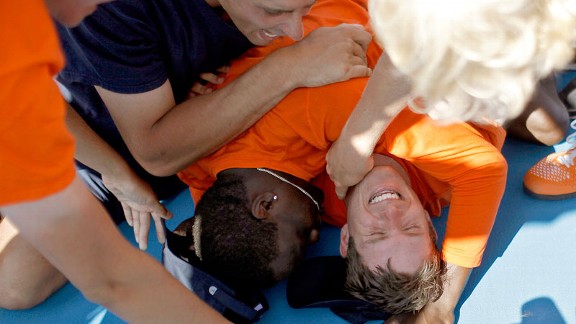 AP Photo/Stephen Haas
Men's Tennis
URBANA, Ill. -- Virginia finally took that last step and won an NCAA men's tennis championship.
After losing in the championship match the last two seasons, the second-seeded Cavaliers defeated top-seeded UCLA 4-3 Tuesday to win their first NCAA title after the Bruins let a potential match point slip away.
"Outside of having four children with a great wife, it's the next best feeling I've had in my life," Virginia coach Brian Boland said. "It's been a long journey."
Virginia (30-0) advanced to the national semifinals three times in four seasons before the back-to-back runner-up finishes to USC the last two years.
-- Associated Press | Full story
2014 NCAA championship information
WHEN: May 15-26
WHERE: Dan Magill Tennis Complex (Athens, Ga.)