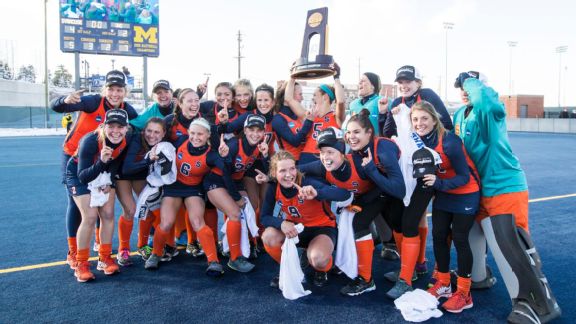 Syracuse Athletics
Field Hockey
ANN ARBOR, Mich. -- A day after a whiteout of historic proportion at the University of Michigan, Syracuse field hockey also recorded a monumental first.
Avenging its only defeat of the season, the Orange finally have an NCAA national championship to call their own in this sport, topping six-time NCAA champion North Carolina 4-2 on a frigid Sunday afternoon at Ocker Field.
It's the first national title for Syracuse (20-1) in any women's sport, and it came one day after the Ann Arbor area recorded 10.7 inches of snow.
-- Vicki L. Friedman | Full story
2016 NCAA championship information
WHEN: Nov. 18-20
WHERE: L.R. Hill Complex (Norfolk, Va.)