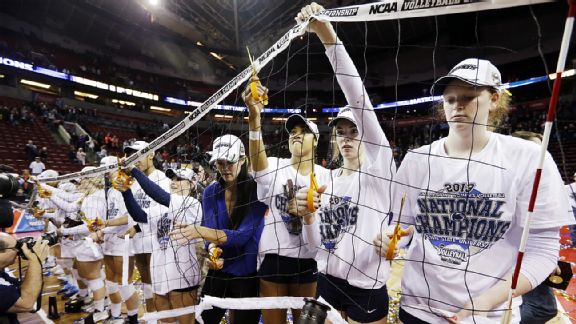 AP Photo/Elaine Thompson
Volleyball
SEATTLE -- Penn State setter Micha Hancock admits there have been days when, as much as she understood that coach Russ Rose knew what he was talking about, she didn't much feel like talking to him.
"He is very sarcastic ... but it's nice to know I have a coach like that pushing me," Hancock said. "I knew we would get along fine because I want to go hard and to win. But, I'm not going to lie, sometimes it was difficult to see him every day and be like, 'I don't want to talk to this guy.' But I know the results he's bringing me."
Saturday at KeyArena, the result the two of them and the rest of the Nittany Lions brought to Penn State was another national title.
-- Mechelle Voepel | Full story
2014 NCAA championship information
WHEN: Dec. 18 and 20
WHERE: Chesapeake Energy Arena
(Oklahoma City, Okla.)