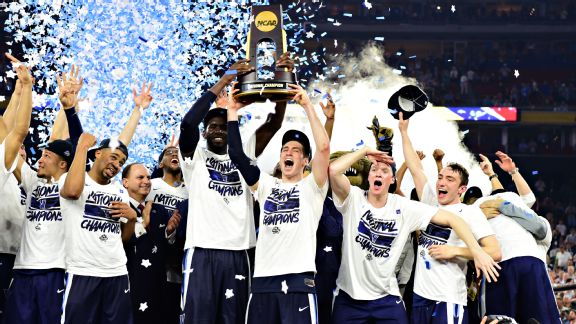 Phil Ellsworth/ESPN Images
Men's Basketball
HOUSTON -- With 4.7 seconds left in a tied national championship game, Daniel Ochefu walked over to the little boy charged with mopping up the wet marks on the court and politely took the mop out of his hands.
The Villanova coaching staff likes to tell its players, "Be the best street sweeper you can be."
Ochefu decided to take the motivational motto literally, pushing the mop back and forth, back and forth, a good 10 times to make sure every last drop of sweat from the spot on the court where he'd just fallen was gone.
That's because the senior knew what was coming, even if no one else in the building would believe it long after it had happened.
-- Dana O'Neil | Full story
2017 NCAA Men's Final Four
WHEN: April 1 and 3
WHERE: University Of Phoenix Stadium (Glendale, Ariz.)