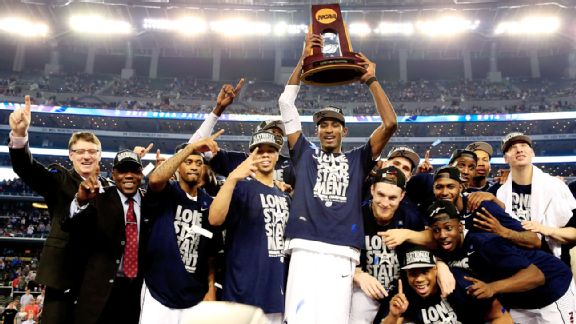 Jamie Squire/Getty Images
Men's Basketball
ARLINGTON, Texas -- Believe. That's the word everyone used. The players, the coach, his wife, the mothers. Everyone associated with Connecticut kept coming back to "believe."
It's a powerful tool, the power of conviction, the kind that can change the world and, yes, rebuild a basketball program.
Two years ago, Kevin Ollie told his Connecticut players that they were going to get through APR sanctions, a coaching change and player defections and come out on the other side a stronger, better team.
And they believed him.
-- Dana O'Neil | Full story
2015 NCAA Men's Final Four
WHEN: April 4 and 6
WHERE: Lucas Oil Stadium (Indianapolis)