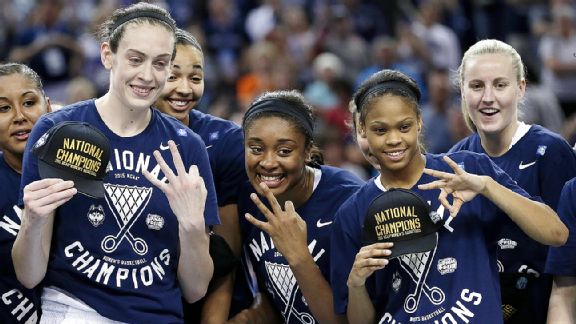 AP Photo/John Raoux
Women's Basketball
TAMPA, Fla. -- Geno Auriemma now has as many titles as John Wooden.
We saw this coming, of course. The UConn Huskies have been the favorite (a mortal lock?) to win this year's NCAA title for months. So even though Notre Dame stayed with them for a bit Tuesday night, it's no surprise that here we are, in early April, deconstructing yet another UConn championship, its third consecutive.
But this title is a little different because this one comes with a piece of history: Auriemma now shares space with former UCLA legend John Wooden, the Wizard of Westwood, the most revered men's college basketball coach in history -- and, many would argue, the best.
-- Kate Fagan | Full story
2016 NCAA Women's Final Four
WHEN: April 3 and 5
WHERE: Bankers Life Fieldhouse (Indianapolis)