Season's greetings
By Eric Sorenson
Special to ESPN.com
We've waited long enough, people. It's been 235 days since we last saw South Carolina dogpiling in Omaha and it's time to get the umpire to toss the baseball to the mound and get the pitchers to start throwing fastballs.
And yes, that is very nearly the same opening line as last year.
That's because, as you might remember, last summer we saw the Gamecocks' second straight June of college baseball domination, where they were doused in confetti and hoisting a trophy made of pressed cherry wood.
[+] Enlarge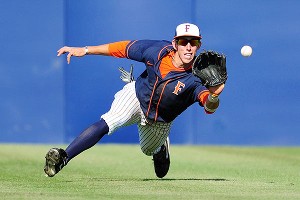 Matt A. Brown/Icon SMIMichael Lorenzen and Cal State Fullerton will get the first look at No. 1 Florida in this weekend's season opener.
While last year's preseason talk was filled with how much of a transition the game was going through, with the new BBCOR bats, the new pitch clock and the new downtown stadium for the College World Series in Omaha, this year's buzz is all about the things that will stay the same. For instance, nearly all of Florida's roster returns, and South Carolina's pitching makes it an obvious choice to get back to Omaha and possibly to the championship round again. And yes, the same dead bats and the same sped-up pitch clock are still around.
While the accompanying video talks about some of the biggest questions going into the season, here are the five big questions going into the opening weekend of play:
1. Is Cal State Fullerton really going to get rolled this weekend?
There's plenty of talk about how much of a prohibitive favorite Florida is to win this year's national title, and how the Gators could be the best college team in decades. On the opposite end, Fullerton comes in with an all-new pitching rotation and a lot of new faces. But keep in mind, Fullerton roped Vanderbilt's pitching staff pretty good in a pair of fall games and, well, this is still Cal State Fullerton. Stars leave and new stars come in. That's nothing new to this program; it just keeps on winning.
2. How will the reloading SEC members do on the road?
Vanderbilt and Ole Miss are in similar boats this weekend. Both teams lost a large amount of pitching and some star power in the lineup, and both will also debut their season with arduous road trips, at Stanford and at TCU respectively. Both staffs have some holdovers that will take on bigger roles, especially Kevin Ziomek (Vandy) and Bobby Wahl (Ole Miss), two part-timers who will be thrust into Friday roles. Those two should compete fine, but what kind of prodcution these teams get beyond them will decide whether this is a rebuilding or reloading season.
3. Will the Big Ten get revenge on the Big East?
Last year, in the Big Ten-Big East Challenge, the monsters of the midway had a pretty poor performance, going 10-15 on the weekend, with conference leaders Purdue and Michigan State accounting for five of those wins. The remaining 5-14 slump was pretty poor. If the Big Ten is going to be taken seriously this year, a good start this weekend is a near must.
4. Is Texas the real deal, or not?
No team has had a rougher few weeks and preseason camp than the Longhorns, having lost second-round draftee Sam Stafford on the mound and center fielder/leadoff hitter Cohl Walla to season-ending injuries. On top of that, high school wunderkind/first-round draftee-to-be C.J. Hinojosa was going to enroll early and play for UT this year, but his early enrollment was denied. So now the Burnt Orange go into the 2012 season with huge question marks. They'll host Duke this weekend, a team dying to make a big splash right out of the starting blocks with two-way All American Marcus Stroman. This could be interesting.
5. Will the fraud teams of 2012 be exposed already?
Every year you can usually count on three or four top 25 teams to tank it really badly and have a pedestrian season. It happens every year. You can set your watch to it. So the question is: will we see some stunners come out of nowhere this weekend, knocking a few teams out of the rankings for the remainder of the year? That remains to be seen, but look for a few eyebrow raising results early on.
Arkansas will have its say in the SEC race
By Walter Villa
Special to ESPN.com
First-team All-American Michael Roth of South Carolina, 2011 first-round pick Sonny Gray of Vanderbilt and Florida Gators ace Hudson Randall all have something in common:
All three were beaten by less-heralded pitcher DJ Baxendale of Arkansas last season.
Baxendale went 10-2 with a 1.58 ERA, making the All-SEC second team. He was also 2-0 in the postseason, cementing his status as a big-game pitcher.
"I take pride in my ability to pitch in those situations," said Baxendale, a 6-2, 190-pound junior from Jacksonville, Ark. "I've always liked the spotlight and trying to prove myself on the biggest stage."
Baxendale is a big reason why the Razorbacks are ranked eighth in the nation in the ESPN/USA Today preseason poll.
Dave Jorn, Arkansas' veteran pitching coach, believes his ace "has an extra gear" he uses in big games.
"With some pitchers, you wonder if a guy might get too hyped up or if maybe a guy may back off a bit because of the magnitude of the game,"Jorn said. "But DJ's got a great mind for what's going on and a great feel for the ball coming out of his hand."
Baxendale has also shown impressive versatility, pitching 12 times last season as a starter and seven times as a reliever, picking up three saves.
"I can change my mindset depending on what role I'm in," said Baxendale, a journalism major. "I can adjust."
It was in relief, on March 25, that Baxendale beat Gray and Vandy, 2-1. Baxendale pitched 2 1/3 innings and did not allow a run. On May 5, he beat Randall, 4-3, in a game televised by ESPNU. It was the first complete game of Baxendale's career, allowing just two earned runs and striking out seven.
"Jorn told me the ninth [inning] was mine if I wanted it," Baxendale said. "I told him I wanted it."
The trust in Baxendale was well-placed as he worked a 1-2-3 ninth and finished with 127 pitches in what he calls the best game of his career.
His other big regular-season game came on May 13, and Baxendale was anything but unlucky. With ESPNU cameras rolling again, he beat the defending and eventual repeat national champion South Carolina Gamecocks, 6-2.
In the SEC tournament, Baxendale beat Mississippi State, 7-2. He followed that by defeating New Mexico, 3-0, in an NCAA regional, tossing eight shutout innings and allowing just four hits. He threw 131 pitches and helped Arkansas get to the regional final, where it lost to host Arizona State, 13-4.
The loss leaves the Razorbacks still looking for their first College World Series title. Arkansas is a bit under the radar in a conference loaded with powers such as No. 1 Florida and No. 2 South Carolina.
Unlike other schools that have high-powered offenses, Arkansas is more apt to try to win the old-fashioned way -- with stellar pitching, good team speed and an elite defense led by fifth-year senior Tim Carver at shortstop.
The pitching is so good that sophomore Ryne Stanek, a much harder thrower than Baxendale, could challenge for the right to be Arkansas' top starter. Junior left-hander Randall Fant and sophomore Barrett Astin will round out the rotation. Closer Nolan Sanburn, a sophomore, has stuff to rival Stanek.
But Baxendale is still the key guy. Even in his two losses last season -- at Alabama and home against Ole Miss -- Baxendale allowed just two earned runs each time and totaled 15 innings.
The Razorbacks ace is normally razor sharp with four pitches -- fastball, curve, change and cutter. His fastball, which he throws two-seam and four-seam, tops out at a solid but not overpowering 93 mph.
"It's not all about velocity," Jorn said. "You are not going to succeed at this level if you aren't able to locate your pitches. If you aren't able to change speeds, even when you fall behind in the count, you are going to get hit -- and I don't care how hard you throw.
"D.J. is going to get some competition from [Stanek]. But D.J. is our ace because of how smart he is and because of his great instincts."
Top 25 matchups
No. 1 Florida vs. No. 16 Cal State Fullerton
No. 2 South Carolina vs. VMI
No. 3 Stanford vs. No. 12 Vanderbilt
No. 4 North Carolina vs. Xavier
No. 5 Texas vs. Duke
No. 6 Texas A&M vs. UIC
Florida International vs. No. 7 Rice
Villanova vs. No. 8 Arkansas
Hofstra vs. No. 9 Florida State
No. 10 Georgia Tech vs. Winthrop
No. 11 TCU vs. Ole Miss
Rutgers vs. No. 13 Miami
Air Force vs. No. 14 LSU
No. 15 Oklahoma vs. Pepperdine
Boston College vs. No. 17 Virginia
Maryland vs. No. 18 UCLA
No. 19 Oregon State vs. UC Santa Barbara
No. 20 Arizona vs. North Dakota State
Michigan State vs. No. 21 St. John's
No. 22 California vs. Pacific
UAB vs. No. 23 Clemson
Presbyterian vs. No. 25 Georgia
• USA TODAY/ESPN Top 25 Coaches Poll
Will expectations weigh on Florida?
By: Michael DiRocco, GatorNation


GAINESVILLE, Fla. -- Florida has the best team in college baseball. Nearly everyone says so.
With all that talent and experience, expectations for the Gators are pretty high in 2012. Just making the College World Series -- something UF has done only seven times in school history -- isn't even enough. It's almost national title or bust.
To read more from GatorNation, click here.
Upset watch
Maryland at No. 18 UCLA


There are a lot of potential upsets across the country, but this is the one that could see a losing team from last season (Maryland: 21-35) take down a No. 1 seed from last year's NCAA tournament (UCLA: 35-24). The Bruins lost top pick Gerrit Cole and No. 3 pick Trevor Bauer from the weekend rotation, but the big problem is if the Bruin bats continue to struggle after hitting just .263 last year. The Terrapins return nine players with 30-plus starts, eight of the top 10 pitchers and RHP Brett Harman, who sat out 2011 but was previously the Friday starter. Coach Erik Bakich also brought in a great recruiting class which could be a precursor to a program turnaround. This could be a great springboard weekend. -- Eric Sorenson
Preseason Power Rankings
1. Florida


Difference-makers: All three weekend starters come back in RHP Hudson Randall (11-3, 2.17), RHP Karsten Whitson (8-1, 2.40) and LHP Brian Johnson (8-3, 3.62), who is also a great two-way threat at 1B (hitting .307-5-29). Catcher Mike Zunino (.371-19-67), SS Nolan Fontana (.289-5-49) and OF Preston Tucker (.308-15-74) are All-Americans nonpareil in an uber-talented lineup.
X factor: The bull's-eye.
It's not that the Gators aren't accustomed to the role of favorite, but how will this team perform as the heaviest preseason favorite in college baseball since possibly the 1996 Cal State Fullerton Titans?
2. Stanford


Difference-makers: Having possible No. 1 draft pick RHP Mark Appel (6-7, 3.02) and RHP Dean McArdle (7-4, 4.21) back is a great 1-2 punch. The infield could be the nation's best with 3B Stephen Piscotty (.364-3-40), SS Kenny Diekroeger (.293-2-31) and 2B Lonnie Kauppila (.298, 2 E's). Lumberjack swinging Austin Wilson (.311-5-30) should have a huge sophomore year. Six incoming freshmen were MLB draft picks.

X factor: Big Mooney.
LHP Brett Mooneyham sat out last season, but pitched for Team USA this past summer. If he pitches to potential, the Cardinal rotation becomes ultra-wicked.
3. South Carolina


Difference-makers: It obviously starts on the mound for the two-time champs with LHP Michael Roth (14-3, 1.06) and reliever Matt Price (7-3, 1.83, 20 saves). Forrest Koumas (6-1, 2.96) and Colby Holmes (7-3, 3.69) return to their weekend starting posts, as well. 1B Christian Walker (.358-10-62) and OF Evan Marzilli (.291-3-31) lead the rebuilt offense as the No. 1 recruiting class will fill in plenty of needs.

X factor: The middle.
The Gamecocks have new faces at catcher, 2B, SS and CF, the most important positions to defensive success. How those positions play will determine how far they go.
4. Rice


Difference-makers: Conference USA freshman of the year Austin Kubitza (6-5, 2.34, 102 K's) will be joined by Matthew Reckling (4-1, 3.10) and John Simms (3-2, 3.32) to bolster a stacked pitching staff. Michael Ratterree (.327-6-53) led the Owls in hitting, HRs and RBIs last year and will have C Craig Manuel (.309) and potentially dangerous Michael Fuda (.255) alongside him.

X factor: The pain train.
The Owls were racked by the injury bug last year. If OF Jeremy Rathjen and RHP Chase McDowell avoid the trainer's tub, this team will stalk the summit.
5. Clemson


Difference-makers: Lots of star power in the returning starters makes for great building blocks. Coach Jack Leggett has All-ACC talents like power-swinging 3B Richie Shaffer (.315-13-55), 1B Phil Pohl (.333-4-33) and C Spencer Kieboom (.282). Righties Dominic Leone (6-2, 3.70), David Haselden (6-1, 2.23) and Kevin Brady (2-0, 3.86) are among eight of the top nine pitchers back.

X factor: The meadow.
The all-new outfield must jell quickly as new talents will replace Jeff Schaus, Chris Epps and Will Lamb, who have all moved on.
For the rest of Eric Sorenson's preseason power rankings, click here.
Preseason bracketology
ESPN's resident NCAA baseball bracketologist, Jeremy Mills, offered his preseason projections. Mills' eight national seeds are:
1. Florida
2. South Carolina
3. North Carolina
4. Stanford
5. Texas A&M
6. Georgia Tech
7. Rice
8. Arkansas
You can find the rest of his projected 64-team field in ESPN.com's college baseball blog.
Mid-major matchup
Who: Gonzaga vs. Nebraska in Peoria, Arizona



Yes, as strange as it seems, the Cornhusker status goes from a "Big Six" conference to "mid-major" status in the Big Ten. A lot of eyes will be on Nebraska (30-25 in 2011), as it begins the Darin Erstad era. The matchup against Gonzaga (32-19 in 2011) will be between teams that got off to great starts last season (17-7 and 19-9-1 respectively), but stumbled at the wrong time. The Bulldogs have a pair of All-West Coast candidates in RHP Marco Gonzales, the Friday starter, and two-way star Andy Hunter, who will start the Sunday game on the mound. The Huskers return loads of pitching and more importantly, new pitching coach Ted Silva, who built up a huge reputation in Southern California coaching circles. -- Eric Sorenson
Bama's pitching concerns
By: Alex Scarborough, TideNation


TUSCALOOSA, Ala. -- In 2011, the University of Alabama baseball team faced more questions than answers. There was a shaky bullpen, an overhaul of the batting order and a slew of season-ending injuries before conference play ever began. Somehow, despite hovering at or near the bottom in several key offensive categories and having no power pitching arms to rely on, the Crimson Tide finished seven games above .500 and advanced to an NCAA regional. In all, an accomplishment.
To read more from TideNation, click here.
Preseason All-American Team

ESPN's 2012 Preseason All-America Team highlights the players expected to exert the most impact on this season's road to Omaha, with their selections based on both past performance and future projection.
Launch »