Places to be this weekend
By Eric Sorenson
Special to ESPN.com
Editor's note: The NCAA has not released its RPI ratings yet. The RPI ratings listed below are from Boyd's World and are not official.
1. No. 3 North Carolina (23-6, 9-3 ACC, No. 3 RPI) at No. 13 Miami (21-8, 8-4 ACC, No. 14 RPI)



Alex Rodriguez Park, Coral Gables, Fla.
What's at stake: Control of the ACC Coastal Division.
Will the real Coastal Division champion please stand up? Complete control of half the ACC will be on the line as the Tar Heels invade South Florida for a showdown of two of the better pitching teams in the country (2.54 ERA for UNC, 3.01 for Miami). And if you do the math, you could argue that a national seed could be on the line, depending on how things end up in May.
Key matchup: Peter O'Brien vs. UNC's starting pitchers.
The All-American catcher had a tough time getting off the canvas in the Canes' series loss at Clemson. If he repeats his 2-for-13, zero-RBI performance, give the Heels a huge advantage.
2. No. 12 LSU (23-6, 6-3 SEC, No. 19 RPI) at No. 1 Florida (24-5, 6-3 SEC, No. 1 RPI)



McKethan Stadium, Gainesville, Fla.
What's at stake: The future.
This series took on new meaning after last week's upsets. The Gators now realize they're really in a dog fight in the SEC, and the Tigers just amped up their fan base with stoic pitching, striking out 40 Arkansas batters in 29 innings. But the Tigers' weekend rotation has been adjusted with former starter Kurt McCune getting the call in Thursday's opener because of a shoulder injury suffered by Aaron Nola. If McCune isn't back to his old ways, the Gators will smell blood in the water early and get the jump on the weekend.
Key matchup: Tigers bullpen vs. Gators order.
With Sunday starter Nola on the shelf for the week, the onus falls even heavier on the arms of relievers like Joey Bourgeois and Chris Cotton. If the Gators' hitters get in a zone, the late innings belong to UF.
3. No. 15 Ole Miss (20-8, 5-4 SEC, No. 15 RPI) at No. 4 Kentucky (28-2, 7-2 SEC, No. 5 RPI)



Cliff Hagan Stadium, Lexington, Ky.
What's at stake: Momentum.
How good is it to be a Wildcats fan? National title in hoops. Top five ranking in the stitched ball. Those two straight winning SEC weekends on the road have given a stamp of approval on a skeptical nation, too. Speaking of, the Rebels pulled themselves up by the bootstraps with that stunning upset of No. 1 Florida. These two collide in Lexington with the momentum of runaway trains. Whose train will stay on the tracks?
Key matchup: Rebels psyche vs. Wildcats crowd.
Will going on the road after an emotional upset weekend play mind games with the Rebs? Beware of a letdown here for Ole Miss, as the rigors of SEC play always favor the home team.
4. No. 17 Oregon (18-8, 6-3 Pac-12, No. 31 RPI) at No. 7 UCLA (20-5, 7-2 Pac-12, No. 9 RPI)



Jackie Robinson Stadium, Los Angeles
What's at stake: A top 10 spot.
The Ducks had a real elevator ride last week, losing two at Texas State before sweeping Arizona State on the weekend. Meanwhile, the Bruins have been blistering hot, winning 18 of their last 20 games. All things being equal, the Bruins would be the pick here, especially with the way their offense is swinging the sticks. But keep in mind that this Ducks team likes to rise to the occasion, though they must get their offense in motion, hitting just .259 so far.
Key matchup: UCLA's pitching staff vs. Oregon's bats.
Pretty obvious one here. Oregon didn't get much going versus ASU, but it didn't need to because of its pitching. This UCLA staff is nasty-tough, so the Ducks can't have their offense fly south here. It's hit or get hit.
5. Gonzaga (19-7, 2-1 WCC, No. 27 RPI) at No. 25 San Diego (23-7, 5-1 WCC, No. 34 RPI)



Cunningham Stadium, San Diego
What's at stake: Recognition.
Even though the West Coast Conference is probably the best mid-major out there in 2012, we've already seen teams such as Saint Mary's, San Francisco and Santa Clara make quick exits to oblivion after rough weekends. If that happens to the Zags or Toreros this weekend, a recovery to the at-large discussion could take a while, if it comes at all. That's life in the mid-majors, especially for the underrated WCC.
Key matchup: USD's Kris Bryant vs. GU's Royce Bolinger.
Though the pitching staffs are on the marquee sign, these two sluggers are 1-2 in home runs in the WCC and No. 1 and No. 5 in RBIs, respectively. Whichever slugger gets his team on his shoulders here will get the edge in momentum.
6. No. 24 Georgia (18-11, 4-5 SEC, No. 53 RPI) at No. 9 Arkansas (22-6, 5-4 SEC, No. 19 RPI)



Baum Stadium, Fayetteville, Ark.
What's at stake: Avoiding the rut.
This should be an interesting series just to see where these two teams are from the eyebrows up. What is their mindset as they both attempt to rebound from bad weekends? The Bulldogs had Kentucky on the ropes and let the Wildcats slip away in their middle game last week, leading to a 2-to-1 series loss while giving up 26 runs in the process. The Razorbacks were dumped in three straight games at LSU, striking out 40 times in the process.
7. College of Charleston (21-9, 11-4 SoCon, No. 55 RPI) at Appalachian State (22-5, 7-2 SoCon, No. 35 RPI)



Smith Stadium, Boone, N.C.
What's at stake: Boosting at-large prospects.
The SoCon is a strong mid-major conference, but neither of these teams will have many more opportunities to make headway RPI-wise like they will this week. Both teams have some good nonconference wins, but College of Charleston could need this more after last week's series loss at Georgia Southern. And the Cougars don't have that LSU series win to their credit like Appalachian State does.
8. Oklahoma (18-11, 4-5 Big 12, No. 94 RPI) at No. 5 Texas A&M (23-6, 4-2 Big 12, No. 6 RPI)



Pat Olsen Field, College Station, Texas
What's at stake: Nearly everything.
Not to be overly dramatic, but there's an awful lot more at stake for the Sooners than the Aggies. With their RPI wallowing down near the century mark, the Sooners need to take advantage of this chance to pull some much-needed RPI points for their stretch run. The Aggies need a confidence boost after last week's near-miss series win over Missouri. Look for All-American Tyler Naquin, who leads the Aggies' Big 12-best offense with his .423 average, and that raucous student section to be a formidable hill for the Big Red to climb.
9. Oregon State (18-8, 6-3 Pac-12, No. 23 RPI) at Arizona State (16-12, 3-6 Pac-12, No. 51 RPI)



Packard Stadium, Tempe, Ariz.
What's at stake: Season's turning point.
The Beavers are a game out of first place in the Pac-12, and the Sun Devils are already down near the bottom rung of the conference. Both teams are in a rut, with OSU losing three of its last five games and ASU dropping four straight. This weekend could prove to be a make-or-break point in the season. The Devils will need their Pac-12-best pitching staff to hold court while the offense gets the bats in motion. Unlike most ASU teams, this edition is lighter at the dish.
10. No. 2 Florida State (24-5, 11-1 ACC, No. 2 RPI) at No. 23 Georgia Tech (19-11, 6-6 ACC, No. 42 RPI)



Russ Chandler Stadium, Atlanta
What's at stake: Staying viable.
Just like all of the teams FSU has played in the ACC so far, Georgia Tech doesn't have a winning ACC record. But the Yellow Jackets' pitching has gotten steady as a rock of late, including a pair of shutouts last week, and will definitely pose the stiffest test for this potent Seminoles lineup this weekend. If Florida State wins this series, it'll forge further toward the goal of earning a national seed. But if Tech stays hot, it'll be back in the national conversation again.
Gushue gets early start to Gators career
By Walter Villa
Special to ESPN.com
When Taylor Gushue was 6 years old, he saw Chipper Jones of the Atlanta Braves switch-hitting. Intrigued, Gushue went to his backyard and spent countless hours batting left-handed off a tee until he became proficient from either side.
When Gushue was a sixth-grader at Calvary Christian Academy in Fort Lauderdale, Fla., he started getting varsity at-bats. By his freshman year of high school -- his first as a starter -- he was catching Luke Jackson, a future first-round draft pick.
[+] Enlarge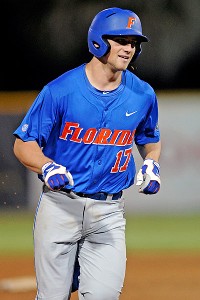 Richard C. Lewis/Icon SMITaylor Gushue enrolled early at Florida and has become a key contributor for the top-ranked Gators.
Gushue has always been advanced, but he's taken his skills to new heights this year. He graduated from Calvary a semester early -- a trend that has become common for football players but is rare in baseball. Gushue has had no trouble adjusting and is now a starter at the University of Florida, the top-ranked team in the nation.
If all that wasn't impressive enough, the 6-foot-2, 205-pounder launched the first collegiate pitch he saw for a home run in Florida's opener against Cal State Fullerton on Feb. 17.
"When I realized it went out, this huge smile came over me," Gushue said. "I couldn't write it any better. It was a 10 on a 10 scale."
Gregg Mucerino, who coached Gushue at Calvary, said his former star is normally low key.
"But when I saw him pumping his fist as he was rounding the bases, I knew he had embraced this challenge of graduating early and playing for Florida," Mucerino said. "In hindsight, had he stayed for his senior season, I don't think he'd be having this kind of year."
Mucerino said Gushue's story seems too good to be true sometimes.
"It's like a movie," he said. "First pitch, he drops the bat head and jumps the gate."
Where this movie goes from here, no one knows, but Gushue certainly has the look of a future first-round pick and a potential major leaguer.
On March 3, he hit two homers against his hometown Miami Hurricanes and was named SEC Freshman of the Week for the second time in the season's first month.
Then again, Gushue has always been able to hit the long ball. He hit 31 homers at Calvary, including one that cleared the fence and sailed through the goal posts on the adjoining football field at Coral Springs High -- a blast Mucerino estimates at 420 feet.
He had become such a force in high school, few teams were pitching to him -- Gushue drew 61 walks in just 189 plate appearances in his final two years at Calvary.
For his prep career, Gushue hit .428 in 297 at-bats and set school records for home runs, RBIs (130), walks (94), on-base percentage (.559) and slugging percentage (.865).
"I don't want to say he was bored with the high school level," Mucerino said. "But there was no challenge to it for Taylor."
While football and volleyball early graduates participate in spring practice, they don't play in actual games before their classmates. Baseball players such as Gushue -- and a few others who pioneered the trend -- skip their senior seasons and compete in college right away.
College coaches are hoping this becomes a trend because it protects their recruits from the pro draft until their junior year.
In other words, Gushue gave up a shot at this year's draft and will instead become eligible in 2014. It's a trade his father will take any day.
"It's an honor to get drafted," said Fred Gushue, the director of facilities at Calvary Chapel. "But we were looking beyond the draft. What is the path to becoming a better person and also getting to the major leagues?
"In the minors, you are not socializing. You are getting on a bus, playing the game and going back to your hotel."
Fred Gushue said he also liked the idea of his son learning from star Florida catcher Mike Zunino, a likely high-round pick this June. Gushue has gotten most of his starts at first base and DH while watching how Zunino operates behind the plate.
"At Florida, you are playing for a national championship and playing in front of 6,000 fans a night," Fred Gushue said. "And in the summer, Taylor can go to Cape Cod or another top league and continue to improve."
Top 25 matchups
No. 1 Florida vs. No. 12 LSU
No. 2 Florida State vs. No. 23 Georgia Tech
No. 3 North Carolina vs. No. 13 Miami
No. 4 Kentucky vs. No. 15 Ole Miss
No. 5 Texas A&M vs. Oklahoma
No. 6 Stanford vs. Washington
No. 7 UCLA vs. No. 17 Oregon
No. 8 Arizona vs. Utah
No. 9 Arkansas vs. No. 24 Georgia
No. 10 South Carolina vs. Tennessee
No. 11 Rice vs. Tulane
No. 14 UCF vs. UAB

No. 16 Cal State Fullerton vs. UC Davis

No. 18 Baylor vs. Missouri
No. 19 Oregon State vs. Arizona State No. 20 Purdue vs. Northwestern
No. 21 Louisville vs. Georgetown
No. 22 NC State vs. Maryland

No. 25 San Diego vs. Gonzaga

Five things we learned in March
1. Never put the "invincible" tag on any team.
After Ole Miss and North Florida beat the No. 1 ranked Florida Gators this week, be careful with using everything from "heavy favorite" on up.
2. This isn't the same Houdini act we've seen from Kentucky.
In 2007, 2008 and 2010, the Bat Cats roared out to strong starts only to crumble in SEC play and miss the big dance. But a three-game sweep of South Carolina trumpeted the assurance that this would be a different UK team.
3. The ACC is better than anyone thought it would be.
Florida State and North Carolina have emerged as national title contenders; NC State has arrived a year early; Maryland and Wake Forest have pulled big wins; Virginia is heating up again; and Clemson may be just 5-7 in league play but played South Carolina toe to toe in three games.
4. The Pac-12 is wide open.
Arizona and Oregon proved just that in their sweeps of Stanford and Arizona State, respectively. Despite the usual unflattering RPI, the Pac-12 could be the best conference. Don't be surprised if another sixth-place team makes the College World Series again, as Cal did in 2011.
5. Mid-majors are the best they've been in years.
It's not just the seemingly random upsets -- Valparaiso over Arkansas, Holy Cross over Texas A&M, North Florida over Florida -- it's teams like New Mexico State, Appalachian State, Gonzaga, San Diego, Texas State, Pepperdine, Sam Houston State, Elon, Missouri State, etc. having solid RPI numbers inside the top 40 and primed to make this June a thrill ride. -- Eric Sorenson
Early enrollees
Florida's Taylor Gushue and Vanderbilt's Chris Harvey, a 6-foot-5, 215-pound catcher from Germantown Academy (Fort Washington, Pa.), are believed to be the only early graduates among current college baseball players.
Preceding Gushue and Harvey were:
• Catcher/pitcher Robert Stock (Agoura, Calif.) graduated early, played three years at USC and was drafted in the second round in 2009 by the St. Louis Cardinals. However, he was a projected first-round pick had he made himself eligible out of high school.
• Pitcher Jake Thompson skipped his senior season at Wilson (Long Beach, Calif.) and played at Long Beach State. He became a second-round pick in 2010.
• Bryce Harper left high school two years early, got his GED and enrolled in the College of Southern Nevada for a year before becoming the first overall pick in the 2010 draft. Had he not done that he would have been eligible for this June's draft.
• Shortstop Levi Michael (North Davidson, N.C.) and pitcher Trevor Bauer (Hart High in Valencia, Calif.) enrolled early at North Carolina and UCLA, respectively, and both became first-round picks in 2011. Bauer was the third pick; Michael the 30th.
-- Walter Villa
Mid-major spotlight
Campbell (No. 116 RPI) vs. Liberty (No. 85 RPI)



Something has to give here. Campbell (25-5, 5-1 Big South), one of the surprise teams in the country for 2012, swings the bats at a .332 pace, second-best in the country. But Liberty (25-7, 5-1 Big South) throws down a 2.84 ERA as a team and holds its opponents to a .243 average. While the Camels have come out of nowhere, the Flames had seven players drafted last June and lost nearly their entire pitching staff from 2011. But led by unbeaten starters John Niggli (6-0, 1.65) and Patrick Eckelbarger (5-0, 2.20), the Flames are heavy favorites in the Big South now.
-- Eric Sorenson