Tennessee's lineup formidable early on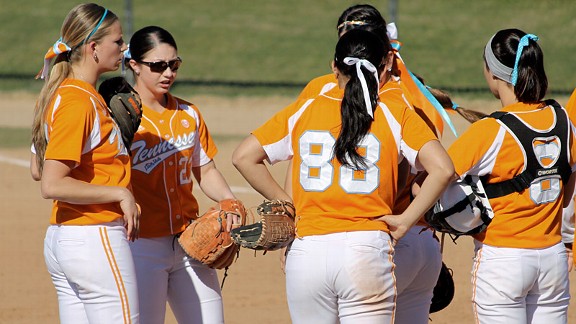 Graham Hays/ESPNIn their third season together, junior Madison Shipman, far left, and seniors Lauren Gibson (next to Shipman) and Raven Chavanne (No. 88) have melded, giving Tennessee a tough top of the lineup.
Tennessee's three-game sweep against Texas A&M this past weekend was a series it quite literally couldn't have won a season ago. That, of course, is because Texas A&M wasn't in the SEC back then.
More to the point, though, it was a series the Lady Vols wouldn't have won last year given the opportunity.
Consider the math. Tennessee scored 21 runs in three wins against Texas A&M, including at least five runs in each game. In 2012, the Lady Vols never scored as many as four runs in each game of a three-game series against the SEC elite. In fact, there weren't many occasions all season when Tennessee scored as many as five runs in three consecutive games. Most involved teams like Murray State and Middle Tennessee State.
It's worth mentioning Tennessee's aforementioned 2012 season extended all the way to the Women's College World Series and included a 22-6 record in the SEC. None of the above numbers are meant to suggest the Lady Vols weren't a very good team with championship aspirations back then. They just weren't a team with much margin for error in that pursuit.
If that's no longer the case, and late March is too early to say for sure, it's because in their third season together, Raven Chavanne, Kat Dotson, Lauren Gibson and Madison Shipman make the top of the lineup as tough to tame as any this side of Norman, Okla.
Going through his possible lineup permutations in the preseason, Tennessee co-coach Ralph Weekly paused amidst his own optimism.
"I am not talking cocky, you know me," Weekly cautioned. "I'm just going to say we'll have a pretty good lineup."
So it seems.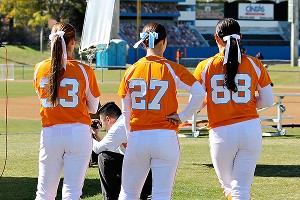 Graham Hays/ESPNLauren Gibson, center, with Kat Dotson, left, and Raven Chavanne, has developed into a big-name star thanks to her offseason stint with Team USA.
The star of stars against the Aggies was senior third baseman Chavanne, who deservedly earned SEC player of the week honors after she hit a three-run home run in the sixth inning of the opener to secure an 8-6 win and finished the week with nine hits, three walks, six runs and three stolen bases. Chavanne hit .442 and stole 32 bases a season ago but required offseason shoulder surgery for a problem that affected her throughout her junior campaign. She had just six extra-base hits in 57 games in 2012, a figure she matched before April this season to push her slugging percentage back into the territory it occupied in her first two seasons.
In that same conversation, Weekly said Chavanne was playing some of the best softball of her life. Well, with a .524 on-base percentage and 25 stolen bases in 25 attempts, it's difficult to argue.
The lone junior in the quartet, shortstop and cleanup hitter Shipman added six hits against the Aggies and is well ahead of career-high paces in both slugging and on-base percentages. Hitting second or fifth, Dotson added four hits and three walks. An outfielder who has battled a knee injury much of her career, she is slugging .545 this season, a dramatic increase over last season but consistent with her first two seasons.
The anchor is second baseman Gibson. The senior is one of just three players in the SEC currently slugging at least .700 with double-digit stolen bases and is Tennessee's runaway OPS leader at 1.296. And no player better demonstrates how experience can change a player. Already an All-American, Gibson's time with the United States national team transformed her into the kind of big-game star ready for Oklahoma City.
Her three-run home run with two outs in the bottom of the sixth inning of the Canadian Open championship game against Japan leveled the score and eventually sent the game to extra innings (although Team USA eventually lost).
In the playoff round of the subsequent world championship in Canada, she hit a solo home run off Japanese Olympic hero Yukiko Ueno for the game's first run and then doubled home the final run in a 3-1 extra-innings win. The result earned the United States a place in the championship game and an eventual rematch against Japan. That time, with Team USA down to its final strike in the bottom of the ninth inning, Gibson fouled off three two-strike pitches and hit a game-tying single off Ueno.
When you've traveled to the end of the earth, or at least deep into Canada's Yukon territory, and stared down the pitcher who denied more seasoned American stars a gold medal in the 2008 Olympics, even the best the SEC has to offer must be distinctly more manageable. Where once she looked like a hitter pressing to hit a five-run home run, she is now the complete package of bat speed, confidence and composure.
"When we were playing versus Ueno, and in my at-bats against her, I was just like 'OK, if it's my time to get it done, I'll get it done. If not, somebody else will.' I didn't really try to put too much pressure on myself," Gibson said. "I just kind of went in there and tried to get a hit. And if it happened, it happened. And if it didn't, I was hoping for my next at-bat and that it would happen."
Together the four players were the cornerstones of Tennessee's offense a season ago. Together, they are the cornerstones of a better offense this season.
espnW.com
Graham Hays covers college sports for espnW, including softball and soccer. Hays began with ESPN in 1999.
Pac-12 opening week notes
1. With nearly 300 schools playing Division I softball, program records are relative things. All records are not created equal. But a program record in the Pac-12 means something. And such a record held by the likes of Michelle Granger means a heck of a lot. Which is a long-winded way to say Jolene Henderson just did something special.
California's senior ace used the start of conference play to pick up three wins in three starts against Utah. The last of those was No. 120 in her career, one more than Granger, the former Cal All-American and United States Olympian. Wins and losses aren't the best ways to measure a pitcher's performance, but in this case, the record is a fair reflection of just how good Henderson has been. Alicia Hollowell's Pac-12 record of 144 wins will be difficult to catch, but Henderson should soon become the 10th player in NCAA history to win at least 130 games.

2. Another year and another emerging slugger for Arizona State coach Clint Myers. Nikki Girard seemed untroubled by her surroundings in playing her first career Pac-12 series on the road at UCLA. The freshman hit two home runs, drove in five and walked twice in three starts against the Bruins, production that helped the Sun Devils take the final two games for a series win after they dropped the opener. After 32 runs in five games last week in the Judi Garman Classic and 17 more in three games against the Bruins, it's safe to say the Sun Devils can hit anywhere.

3. Oregon faces a tough road schedule in conference play, with trips to Washington, Cal, UCLA and Arizona State ahead, so a series sweep at home against Stanford was a welcome way to open Pac-12 play. Ducks coach Mike White offered a potentially intriguing pitching precedent, using both senior Jessica Moore and freshman Cheridan Hawkins in all three games. Together, they struck out 26 and walked just one in 21 innings.

4. Speaking of program records that have the real weight of history behind them, Washington has played some pretty good softball over the years, but it wasn't until Monday that the school from Seattle clinched a road series against Arizona. The Huskies entered Monday's finale tied with Arizona State for the best on-base percentage in the Pac-12, but it was slugging that carried them to the series win against Arizona. The Huskies hit six home runs in three games. The Wildcats have allowed 10 more home runs than any other team in the league.
Players of the Week
Whitney Fletcher, UAB: There is more to softball in the state of Alabama than just the Crimson Tide. The Blazers went 5-1 last week, including a Conference USA sweep against Memphis, and Fletcher had a lot to do with it. For the week, the senior outfielder drove in nine runs, including four extra-base hits and seven RBIs, in the three-game sweep against Memphis.
Geri Ann Glasco, Georgia: The competition is going to get tougher, but at least for the time being, Georgia has more than righted its ship since a tough weekend in Cathedral City a month ago. The Bulldogs picked up four wins this past week, one against Gardner Webb and three in SEC play against Ole Miss, and Glasco had a lot to do with them. The freshman hit five home runs and drove in eight runs at the plate and allowed just six hits in 12 innings in the circle. She leads the Bulldogs in slugging percentage as a hitter and strikeouts as a pitcher.
Hannah Rogers, Florida: It's a crowded field, but Rogers has staked herself to an early lead in the race of top individual pitching honors in the SEC. Florida's ace picked up wins in three of her team's four games this past week and added a save in the fourth. And these weren't vultured wins -- she didn't allow an earned run in 19 innings against Arkansas and USC-Upstate and struck out 26 batters in the process. Only Missouri's Chelsea Thomas has a better ERA among SEC aces, but her team's light early schedule means she has worked barely half as many innings as Rogers.
Sierra Romero, Michigan: Romero could get used to this Big Ten stuff. The standout freshman shortstop has hit just about every team this season, but she took things to new heights in her team's first conference series against Purdue. In three games, all wins for the Wolverines, she hit three home runs, drove in seven runs and reached base in all 12 plate appearances. Her 11 home runs and 20 extra-base hits are both more than any two of her teammates combined. And her .840 slugging percentage, should it last, would be the best since Maggie Viefhaus and Dorian Shaw in 2010.
Lindsey Ziegenhirt, California: Pitching ace Jolene Henderson, Ziegenhirt's high school and college mate, reached a major career milestone over the weekend, but the performance of the moment went to the catcher. Continuing a big final season with a big opening weekend in Pac-12 play, Ziegenhirt hit two home runs and drove in six runs in a sweep against Utah. With 12 home runs on the season, she's just three shy of the career-high she set as a freshman.