Lessons learned at the season's halfway point
By
Eric Sorenson
| Special to ESPN.com
video1>
We've already played two months of the 2014 season, and we have just two months to go before "June Madness" kicks in. Here's a look back at March and what we learned from the games that were played.
1. Road games are hard
It's become a consistent theme year after year: Teams play home-heavy slates and cater to their fans' carnivorous appetites for easy wins, then they go on the road for the first time in March and stark reality hits the loss column. Teams such as LSU, Arizona, Mississippi State, South Carolina and Virginia have followed that formula through March.
2. Some slow-starters have heated up
• Kansas State
A 1-7 West Coast start was replaced by a 16-3 March for the Wildcats. Rivalry weekend against Kansas should be sweet.
• Clemson
Some may have forgotten the Tigers after the sweep to South Carolina, but they've gone 12-4 since. The upcoming home weekend against NC State is a vital series to both.
• Alabama
A 4-5 start has blossomed into a 20-8 mark with last weekend's sweep of Ole Miss.
• Indiana
The Hoosiers' tough slate and lack of outdoor practice slowed them out of the blocks, but a 13-5 March and warmer bats signal a turnaround.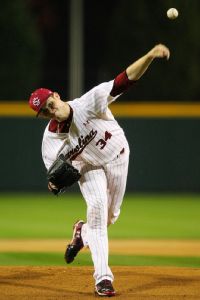 Tracy Glantz/The State/MCTSouth Carolina junior Jordan Montgomery is one of several ace pitcher who struggled in March.
3. The RPI is crazy, like extra crazy
RPI is always a shady proposition, but midway through the month we had Dartmouth, Cornell and Holy Cross in the top 12. Sure, everyone says the RPI "works itself out" as the season goes along, but can we really trust its formula at any point if this is how it started in March?
4. This is the year of the no-hitter
The seams of the baseball haven't been lowered yet -- that's for 2015 -- so the pitching clampdown has been amped up this season. There have been nine no-hitters thrown this season, and eight of them came in March.
Two extreme no-hitters were Miami's Javi Salas throwing a perfect game in a 17-0 win over Villanova, and UMass-Lowell had two pitchers combine on a no-hitter versus Yale and still managed to lose 1-0.
5. Some big-time aces can be beaten
While the pitching has gotten better, there are still some All-American types who have had their egos bruised in the past month.
• Vanderbilt's Tyler Beede
In his last three starts (all losses), the Commodores' flinger has given up 15 runs with nine walks in 15 innings.
• N.C. State's Carlos Rodon
Seeing this top prospect with a 2-4 record is "this must be a typo"-worthy.
• LSU's Aaron Nola
Though he's still 5-1 with a 0.51 ERA, the strapping Tigers ace has just one win in his last three starts.
• Oregon State's Andrew Moore
The freshman darling of Omaha has given up 10 hits in each of his last two starts, losses to Arizona State and Arizona.
• UCLA's James Kaprielian
Though he's had some stellar outings, two of his three losses came in March as the Bruins' ace still looks for consistency.
• South Carolina's Jordan Montgomery
In two losses to Ole Miss and Kentucky, the Gamecocks' ace hit a speed bump, giving up 16 hits and 15 runs in eight innings.
6. Virginia is the team to beat, however ...
The Cavaliers went 17-2 in March and took over the top spot in the USA Today Coaches Poll. But before we crown them with anything, their top-dog status comes with an asterisk or two. First, their high-ceiling offense has been clogged a bit, as the Wahoos are hitting just .285, far below their potential. And their schedule is ranked 143rd-hardest by BoydsWorld.com, so this hasn't been a who's who of Goliaths they've faced. Fear not, because North Carolina, Clemson and a trip to Florida State lie ahead the next few weeks.
7. Fresh faces on the national scene
Everybody likes new blood on the college baseball scene, so it's refreshing to see teams such as No. 5 Louisiana, No. 7 Cal Poly, No. 13 Houston and No. 22 Washington making big moves nationally. All four of those teams have raised their profile with a hot March. But the hard part is always making it through April and May in similar fashion.
8. This was one of the worst winters ever
We shouldn't be surprised by cold weather in March, but the amount of snow and rain has been heavier than anything considered normal. Cancellations and postponements have been rampant. The coaches in the Northeast I talked to this past week have bemoaned this as the worst winter in their tenures. Here are some stats on the season so far.
• Canceled games: 293 games (61 field conditions, 26 travel problems)
• Postponed games: 355 games (56 field conditions, 11 travel problems)
• Changed location: 166 games
• Changed dates due to impending weather: 124
Hey, Coach: Matt Senk
By
Eric Sorenson
| Special to ESPN.com
Everybody remembers Stony Brook, the giant-killer program that made it to the College World Series in 2012 after a stunning upset at LSU in the Super Regionals. I was able to catch up with head coach Matt Senk between a doubleheader at Hartford last weekend to see where this program is two years removed from that epic surge to TD Ameritrade Stadium. Here's what Senk had to say.
ES: What's been the status of the program since that big run to Omaha in 2012?
MS: We're definitely moving in a direction that we're pleased with. Obviously, we're talking about our 2012 team, which was beyond special with so many of those players going on to play professional baseball. Losing those guys translated into last year, where we had a tough transition to the new players, but we got better as the year went on. And this year, we're more experienced, and we're happy with the level of recruits we're bringing in, and we're seeing a bump in the level of players who are showing interest in the program now after the World Series. And we're working every day to make sure that's not a one-time thing.
ES: How is it now when you walk into a recruit's house? What has changed in recruiting?
MS: Without a doubt, it has changed for us. It's different to be able to walk in with that College World Series ring on. Recruits want us to walk through that door now, and we can tell them that at Stony Brook University, you can reach all your dreams. You can get that high-quality education and also become the best player you can be, get drafted by professional baseball and, of course, reach the ultimate in team goals: win championships, go to regionals, go to super regionals and the World Series.
ES: I noticed that you guys had some players at the Area Code Games in Long Beach (Calif.) the last two years. Is that an indication of the higher level of recruits you guys are after now?
MS: The last couple of years, we've had players take part in the Area Code Games. Again, it's another indication of where the program is at and the kind of players we're going after.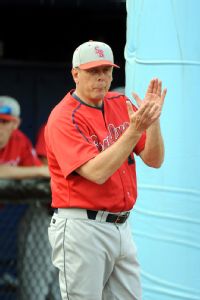 AP Photo/Tomasso DeRosaStony Brook coach Mat Senk said he is working to make sure the 2012 College World Series wasn't a one-time appearance.
ES: But you always did recruit out in California, right? I remember a couple of guys on that team were from out West, so that hasn't changed about your program and who you're after as a player, right?
MS: That's right. Tyler Johnson, who is playing in the Oakland A's organization now, he was the icebreaker for us in our California connection. And now we're sitting with seven California guys on the roster. We continue to reach out there and go after players we think will be successful for us. But we still have our niche in Canada and some of those bigger metropolitan areas. You know, we're still solid in the areas that we know we have been successful.
ES: Some of the guys you still have left over from that CWS team in 2012, what have they been like from a leadership standpoint for you guys?
MS: We've had some great leaders for us from that team. Frankie Vanderka, Kevin Courtney, Anthony Italiano, who caught our first game [Saturday], all of our seniors who were involved with our College World Series team have been great leaders and great examples for our new guys. They've really taken them under their wings, and in many cases, just like the Travis Jankowskis and Pat Cantwells and Willie Carmonas did when they took these guys under their wings after that World Series teams. The leadership has really been passed down to each new class here at Stony Brook and it's a great help for us as coaches to be frank with you.
ES: Talk about the America East in general. You guys raised the bar and now Maine, Binghamton and Albany all have had good teams and UMass-Lowell has gotten off to a good start. Talk about the conference as a whole.
MS: I think it starts with the quality of head coaching we've got in the conference and the quality of their assistant coaches they have that has made such a difference to us. Our coaches have made us all better and more successful. I think it puts us on par with some of the top conferences and programs from throughout the country. People look at us and what we did and they know that, with the right kind of kids, they can accomplish anything, and they can make it to Omaha.
ES: About your current team, what would you like to see from them going forward into April and May?
MS: You know we've seen steady improvement each and every week. Even though this winter has easily been the toughest of my tenure here in Long Island, we've gotten better and better. The encouraging part is we've been pitching and playing defense well. We know that gives us a chance in any ballgame right there. Offensively, that's been our biggest challenge so far, but we have had a knack of hitting balls hard but they've gone right at people. That will change as the season goes on and we know that. You know, as the weather warms up and we get more and more swings and opportunities, I think our offense will catch up with where the pitching and defense is right now. We know this could be a special year for us.
Top 25 scoreboard and schedule
Stay up to date with how every Top 25 team is playing with the ESPNU scoreboard. Scores »
---
College baseball on ESPN
All times p.m. ET
Friday
3: Virginia at Pittsburgh (ESPN3)
4: Duke at Georgia Tech (ESPN3)
5:30: Miami (Fla.) at Virginia Tech (ESPN3)
6: Notre Dame at Florida State (ESPN3)
7: Presbyterian at Campbell (ESPN3)
7: VMI at Liberty (ESPN3)
7:30: Mississippi State at LSU (ESPN3)
10: UC Davis at Cal State Fullerton (ESPN3)
Saturday
1: Florida at Kentucky (ESPN3)
1: NC State at Clemson (ESPN3)
3: VMI at Liberty (ESPN3)
3: Virginia at Pittsburgh (ESPN3)
4: Louisiana-Lafayette at Troy (ESPN3)
6: Duke at Georgia Tech (ESPN3)
6: Notre Dame at Florida State (ESPN3)
7: Vanderbilt at Tennessee (ESPN3)
7: South Carolina at Arkansas (ESPN3)
7:30: Mississippi State at LSU (ESPNU)

Sunday
Noon: Notre Dame at Florida State (ESPNU)
1: Florida A&M at Bethune-Cookman (ESPN3)
1: Miami (Fla.) at Virginia Tech (ESPN3)
1: Virginia at Pittsburgh (ESPN3)
1: Duke at Georgia Tech (ESPN3)
2: VMI at Liberty (ESPN3)
2: Mississippi State at LSU (ESPN3)
2:30: Auburn at Ole Miss(ESPN3)
3: NC State at Clemson (ESPNU)
6: Florida A&M at Bethune-Cookman (ESPNU)
Extra-Innings Brawl In Arkansas
Top 5 Places To Be
These are the best five college baseball matchups of the weekend.
1. No. 12 Mississippi State at No. 9 LSU
By the Numbers
MSU: 20-10, 6-3 SEC; 49th RPI; 117th SOS
LSU: 21-8-1, 3-5-1 SEC; 38th RPI; 151st SOS
Try to remain calm, Tigers fans, your team's last-place standing in the SEC West is only temporary. But yes, last week's shocking, three-game stumble at Florida left the purple and gold red-faced at 3-5 in the conference. Looking up from there, they see the Bulldogs tied at the top with Alabama at 6-3. But this is LSU at home against a team that has not done well on the road. Advantage Tigers.
2. No. 10 Oregon at No. 22 Washington
By the Numbers
UO: 21-8, 6-3 Pac-12; 27th RPI; 16th SOS
UW: 20-5-1, 8-1 Pac-12; 19th RPI; 58th SOS
This deserves a "wow." Lindsay Meggs looks to have turned things completely around in Seattle, including getting the Dawgs into sparkling-new Husky Stadium and the national polls in the same week. A good battle of strengths is upcoming, as Washington's second-best offense in the Pac-12 (.299 batting average, led by Brian Wolfe and Andrew Ely, both hitting .370) takes on Oregon's outstanding pitching staff (Pac-12-best 240 strikeouts).
3. No. 24 UCSB at No. 7 Cal Poly
By the Numbers
UCSB: 19-5, 1-2 Big West; 48th RPI; 121th SOS
Poly: 24-4, 3-0 Big West; 15th RPI; 109th SOS
UC Santa Barbara and Cal Poly is another great showdown of relative strengths along the Central Coast in the early Big West season. The Gauchos have Joey Epperson (.478, 44 hits) and Tyler Kuresa (29 RBIs) to lead the offense against the Mustangs' pitching staff. Friday starter Matt Imhof (nation's-best 77 K's) and Sunday starter Casey Bloomquist each have six wins. Cal Poly is 17-1 at home, and UCSB is coming off a peculiar series loss at home versus Hawaii. Were the Gauchos looking too far ahead to this weekend?
4. No. 4 Vanderbilt at Tennessee
By the Numbers
VU: 24-6, 5-4 SEC; 8th RPI; 81st SOS
UT: 19-8, 3-6 SEC; 20th RPI; 116th SOS
The Commodores turned things around with a series win over Kentucky last weekend, while the Vols' young legs have started to show some weariness. They were swept at South Carolina last weekend as part of a 1-6 stretch. Any lead could be tough for the Vols to overcome, as Vandy's wildly talented, heat-throwing combo of Carson Fulmer (leads the SEC with eight saves) and Brian Miller (two saves) can put the clamps on anybody if given the chance.
5. No. 23 Oklahoma State at No. 25 Texas Tech
By the Numbers
OSU: 20-9, 3-3 Big 12; 150th RPI; 186th SOS
TTU: 23-9, 4-5 Big 12; 28th RPI; 44th SOS
Yep, blink all you want, but those RPI rankings are correct. The Pokes really need a series win at Texas Tech, as they are starting a tough back end of the schedule. Lubbock is a tough environment, and the Red Raiders feature a solid pitching staff (3.06 ERA) and a strong defense (.981 fielding percentage). But keep in mind, the Raiders let light-hitting Texas clip along at a .367 pace last weekend. OSU needs to take advantage.
Countdown to CWS
College World Series: June 14-25