It's now or never for postseason hopefuls
By
Eric Sorenson
| Special to ESPN.com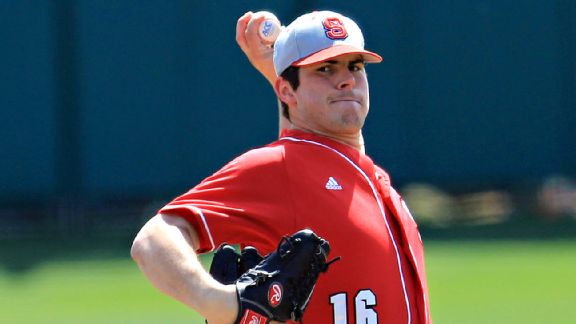 AP Photo/Mark CrammerAce Carlos Rodon and the NC State Wolfpack have work to do in the regular season's final weekend.
It's now or never.
Believe it or not, we're here. Yes, even though we've been dragged kicking and screaming, we've reached the final weekend of the regular season for most conferences. And while most of the teams at the top of their conferences are locked in to their postseason tournaments, what about those teams that are trying to make their conference tourneys and fighting for their postseason lives this weekend?
Down the rung a little bit, tournament slots are on the line for those teams scrambling to extend their season. Here are the 10 "now or never" teams for this weekend.
North Carolina State

• Record: 30-21, 11-16; fifth in ACC's Atlantic Division
• This weekend: at Virginia Tech (20-29-1)
• Must: Keep hustling and hoping

The Pack kept their hopes alive for reaching the top eight for the ACC tournament by taking a series from Wake Forest last weekend. But now they have to sweep Virginia Tech and get some help from Virginia, which must take two of three from Wake.
Temple

• Record: 13-29, 8-13; sixth in American
• This weekend: vs. Houston (40-13)
• Must: Just win one

One is all it takes here. But remember, the Owls' baseball program will be cut after this season is done, so I think it can safely be said that everyone is pulling for them to make the American's field of eight. If the way Temple played vs. Louisville last week is any indication, it appears the Owls are a motivated team.
Florida Atlantic

• Record: 26-24, 12-18; ninth in Conference USA
• This weekend: vs. UAB (34-17)
• Must: Cool off the fire-breathing Dragons

Remember when FAU nearly won the regional at North Carolina last year? Some even projected FAU to be a top-25 team in the preseason. Well, now the Owls sit two games behind Middle Tennessee for a shot at the postseason. If they can tame the Blazers and get some help from Marshall against Middle Tennessee State, they'll make the C-USA tourney.
Wagner

• Record: 17-31, 9-11; fifth in Northeast
• This weekend: at Bryant (37-12)
• Must: Beat the best

The Seahawks are in a tough spot, having to play first-place Bryant, the No. 37 team in the RPI. If Wagner wins three games, it will be into the NEC's four-team field. If the Seahawks win two, they'll need Mount St. Mary's to split with Fairleigh-Dickinson or for Central Connecticut to sweep Sacred Heart.
Austin Peay

• Record: 22-31, 13-14; sixth in Ohio Valley
• This weekend: at SIUE (19-30)
• Must: Make it to .500

The Governors are usually fighting for a top seed, but this time they are battling for the sixth and final spot in the OVC tournament field. The Governors will take on fifth-place SIU Edwardsville and must take two of three.
Stanford

• Record: 24-22, 11-13; seventh in Pac-12
• This weekend: vs. Washington State (22-25)
• Must: Stay over .500

The Cardinal won't have a Pac-12 tournament as a safety net, and they dropped nine slots in the RPI after losing to San Jose State on Tuesday. Their RPI is No. 42 right now but with Wazzu and Utah remaining, losing either series could be a crushing blow to the Cardinal's Big Dance plans.
Central Arkansas

• Record: 26-21, 14-13; tied for seventh in Southland
• This weekend: at New Orleans (11-35)
• Must: Protect their house

The Bears are in danger of missing out on the Southland tournament, which they will host at their own park. Eight SLC teams make the field, and Central Arkansas is tied with Oral Roberts and Lamar right now for seventh. The advantage they have is that ORU and LU play each other, and the Bears travel to last-place New Orleans.
North Dakota State

• Record: 20-22, 8-10; fifth in Summit League
• This weekend: vs. South Dakota State (25-25)
• Must: Stay ahead of the pack

The IPFW Mastodons are done, having posted an 11-13 mark in league play. But they do hold the tiebreaker over the Bison, having beaten them four times this year. So the Bison must win three of four vs. the Jackrabbits or they'll miss the four-team field for the Summit tournament.
South Alabama

• Record: 21-29, 10-16; seventh in Sun Belt
• This weekend: at Troy (9-17)
• Must: Avoid embarrassment

Like UCA, the Jaguars are hosting their conference tournament and are at risk of not making the eight-team field. What's more interesting is that this weekend they'll be playing local rival Troy, which is in ninth place. For two teams that are usually fighting for the league title, a series win for either would be huge.
New Mexico State

• Record: 19-27, 10-11; seventh in WAC
• This weekend: vs. Chicago State (15-35)
• Must: Beat the big-city boys

The Aggies are battling Seattle (11-10 in the WAC) for the sixth and final spot in the WAC tourney. But while the Redhawks have their hands full with Cal State Bakersfield, the Aggies will have the easier task of hosting bottom-feeder Chicago State.
*All RPI rankings courtesy of boydsworld.com
Hey, Coach: Brett Boretti
By
Eric Sorenson
| Special to ESPN.com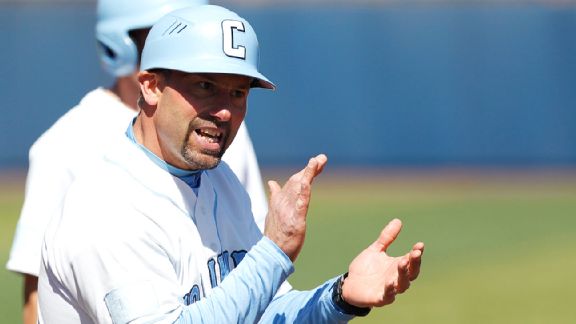 Gene Boyars/Columbia AthleticsColumbia coach Brett Boretti won the school's first NCAA tournament game last season.
I went to last week's Ivy League playoffs in New York City, where Gehrig Division winner Columbia beat Rolfe Division winner Dartmouth in two straight games. I talked to Lions head coach Brett Boretti after his team won its second straight Ivy League crown. Now the Lions look forward to another trip to the NCAA tournament.
Eric Sorenson: What do you like about your team this year? What's different compared to last year?
Brett Boretti: It's been a great team effort all year. We pride ourselves on pitching and defense, and we continued to do that. That's our formula for success. But the best part is that it's been a total team effort up and down the lineup, been different guys stepping up and getting it done at different times. I think that's what separates this year's team from last year's. It's different players, not us just relying on one or two guys to pick us up.
ES: Did you worry about your team coming back this year and resting on its laurels from a year ago, being complacent?
BB: Not really. Our seniors got a taste of that success last year as juniors, and those guys are great leaders -- David Speer, Mike Fischer, Aaron Silbar, Joe Donino, Zack Tax -- there was no complacency from the get-go. They knew what it took to get to this point and how hard we had to work to get here.
ES: What has been the best intangible about your team to get this far?
BB: Our experience in key positions has been immeasurable. We've got a senior at short (Silbar), a senior behind the dish (Fischer), and our 1-and-2 guys on the mound are seniors in David Speer and Joey Donino. And a junior in center field who is in his second year of starting in Jordan Serena. So yeah, we do have a lot of experience, and that experience shows up for us every day.
ES: After you won the Ivy League in 2013, you told me that you could tell from your early-season road trips that you guys had something special. Did you feel the same way about this year's team?
BB: We knew after our trip to Texas, we didn't win many games (1-8), but our guys were doing some good things. The main thing was that our guys never stopped competing. Our hitting hasn't been very consistent, but these guys never quit, and we knew that would help us once we got to the Ivy League portion of the schedule.
ES: Are you going to do anything different going into the regionals this year? Is your approach going to be the same?
BB: I think there might be a little different mindset this time. We've been there. We won a game at Fullerton last year. We know what we are capable of doing. Maybe last year some guys had it in the back of their minds, 'Oh, we're going to play Cal State Fullerton, we've got Arizona State out there, we've got New Mexico …' Not that our guys didn't think they could win, but I believe now our guys know they can win a regional title if we continue to play the way we're capable of playing.
Top 25 Scoreboard And Schedule
Five Places To Be This Weekend
As we head to conference tournament week, here are the best showdowns with the most on the line.
1. No. 11 Washington at No. 1 Oregon State
By the numbers:
Huskies: 37-11-1, 19-5 Pac-12; No. 23 RPI
Beavers: 39-8, 20-4 Pac-12; No. 7 RPI


Are the Huskies for real? Is this their chance to win their way to a national seed? Will they crack under the pressure of the white-hot spotlight? All these questions and more will be addressed this weekend in Corvallis. The Dawgs come in hitting a Pac-12-best .291 with 24 home runs and will face that nearly impossible OSU rotation of Ben Wetzler, Andrew Moore and Jace Fry. That's a heavy assignment for a team new to this wild success. Advantage: Beavers.
2. No. 10 Vanderbilt at No. 9 South Carolina
By the numbers:
Commodores: 39-14, 16-11 SEC; No. 6 RPI
Gamecocks: 40-13, 16-11 SEC; No. 12 RPI


This could conceivably be a battle for a national-seed spot in the NCAA tournament. Both teams are wildly talented and potential national title teams. But injuries and inconsistencies have had their way with both this season. Even still, Carson Fulmer is invigorating the VU rotation, and the offense is seemingly clicking at the right time, giving the Commodores the edge.
3. No. 7 Oklahoma State vs. Oklahoma
By the numbers:
Cowboys: 39-13, 16-5 Big 12; No. 22 RPI
Sooners: 27-25, 7-14 Big 12; No. 93 RPI


Ah, the Bedlam Series. On the bucket list, no doubt. But this year, it's definitely about the high-ranked Cowboys, who still have a shot at hosting a regional, maybe even a national seed. As heated as this rivalry is, don't look for the Sooners to be wilting daisies here. Just the opposite: The Big Red will come out in hopes of ruining the Cowboys' postseason plans. Still, that OSU pitching staff is way too deep for the youthful Sooners.
4. West Virginia at No. 23 Texas Tech
By the numbers:
Mountaineers: 27-21, 9-11 Big 12; No. 28 RPI
Red Raiders: 37-16, 11-10 Big 12; No. 14 RPI


This is crunch time for both. Tech has an RPI within striking distance of a home regional, and WVU can prove some doubters wrong and solidify its NCAA at-large hopes this weekend. The Mountaineers' pitching duo of Harrison Musgrave (5-3, 2.23) and John Means (6-1, 2.87) will get one of their biggest tests against that Red Raiders offense in windswept Lubbock. And don't you figure the Red Raiders need to stay above .500 in Big 12 play to get a home regional anyway?
5. Illinois at Nebraska
By the numbers:
Fighting Illini: 30-17, 16-5 Big Ten; No. 54 RPI
Cornhuskers: 35-17, 16-5 Big Ten; No. 31 RPI


This one might seem off the radar, but a lot is on the line with these two, who are tied for second in the Big Ten. Both also have at-large aspirations, although Nebraska seems to be in better shape. Yet, can you imagine what this will do for Illinois' confidence if it can pull this off? The Illini's current seven-game win streak looks awfully good to the NCAA committee. But even more impressive would be a second-place finish in the Big Ten and an RPI bump into the 40s.
Mid-Major Spotlight
Three more tuxedo fittings for the Big Dance will take place this weekend.
Patriot League

• Lehigh (25-22) at Bucknell (27-17-1)
• Union County, Pennsylvania, best of three.
These are the two teams that eliminated Army and Navy respectively last week and face off in their own best-of-three. Earlier this season, the Bison made buffalo chips of the Mountain Hawks, going 3-1 and outscoring them 27-6 in the three wins.
SWAC


• New Orleans, eight teams
Alabama State and Arkansas Pine Bluff won their respective divisions in the SWAC this year, and by comfy margins, too. The Hornets, under former Bethune-Cookman coach Mervyl Melendez, have quickly vaulted up to top-dog status here. But this is one tournament that never seems to go to form. It really is anyone's ballgame, so whoever gets hot first wins.
MEAC

• Norfolk, Virginia, eight teams
North division champ Delaware State was thought to be the favorite, but the Hornets have already been sent to the losers' bracket after losing to Savannah State on Wednesday. On the Southern tip, Florida A&M and Bethune-Cookman both went 14-10 to pace the Southern Division. But the Rattlers have been the big story under new head coach Jamey Shouppe, who spent the past 21 years as Florida State's pitching coach. Shouppe has led FAMU to 25 wins so far, which is 11 games more than it won the two previous seasons combined.
CWS Bracketology
Less than two weeks from now, we'll know the full field of 64. Normally the picture is pretty clear by this point, but this season, there's still a lot on the line as the season winds down.
This week, we look at life on the fringes, where the final two trips through the rotation could make or break a season.
Let's start with the national seeds. Six teams -- Virginia, Florida, Oregon State, Florida State, Louisiana and Indiana -- are fairly secure as top-eight seeds. That leaves five teams competing for the final two spots.

Countdown to CWS
College World Series: June 14-25