Union, BC have big weekends
By
Eric Sorenson
| ESPN.com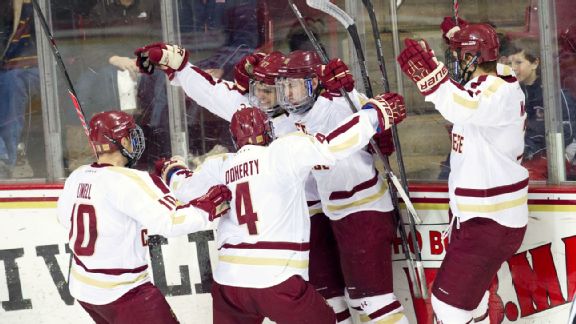 Richard T Gagnon/Getty ImagesNo. 2 Boston College went 2-0 last weekend, including a 6-4 win over rival Boston University.
It was a wild weekend in college hockey, as only five of the Top 20 teams -- including top-ranked Minnesota as well as Boston College and Union College, which moved up to Nos. 2 and 3, respectively -- were able to come away unscathed. Elsewhere, there was plenty of upheaval. Among the victims, then-No. 2 Ferris State and then-No. 3 St. Cloud State went winless.
Top Shelf
The best from the college hockey weekend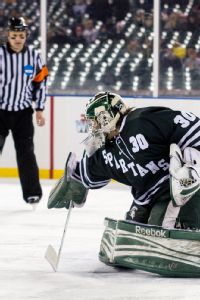 Dennis Pajot/Getty ImagesJake Hildebrand got his fourth shutout in Michigan State's 3-0 win over Penn State.
1. The Union road warriors
There's no place like home? The Dutchmen say, "Meh." The No. 3 team in the country scored a pair of 3-1 wins at then-No. 17 New Hampshire over the weekend to bring its road mark to an impressive 9-1-2, the only loss away from Messa Rink being a one-goal game at No. 4 Quinnipiac. On top of all that, the UNH wins improve Union's record in games versus ranked teams to 7-1-1.
2. Brick wall by Hildebrand
Michigan State is 8-10-3 this season, but you know what they say about a hot goalie, right? Jake Hildebrand has been standing on his head for the Spartans lately, including Friday's 3-0 win over Penn State. The Butler, Pa., native stopped all 48 shots, a career high, against his home-state team to earn his fourth career shutout. In his last nine games, Hildebrand has a .938 save percentage and a 41-save game in a 2-2 tie with Michigan Tech.
3. BC's new line
To stop Boston College, it looks as if you're going to have to stop the line of Johnny Gaudreau, Bill Arnold and Kevin Hayes, who were thrown together after a 5-4 loss to Holy Cross on Nov. 29. In its past nine games, the trio has scorched opposing nets for 20 goals and 33 assists combined. In Saturday's 7-2 whitewashing of then-No. 19 Maine, Hayes went haywire, scoring a hat trick and adding two assists. Gaudreau had five assists.
Off The Crossbar
The downside of the college hockey weekend
1. The Maine road worriers
At the opposite end of the road team spectrum from Union are the Maine Black Bears, who have yet to win a true road game. Last weekend, Maine played a nip-and-tuck 1-1 tie at then-No. 10 UMass-Lowell before running out of gas at Kelley Rink and getting run-ruled by Boston College the next night. Maine is now 0-7-2 at opposing arenas but has gone 2-0-1 in neutral-site games, including a 7-3 rout of Boston University at Frozen Fenway last week.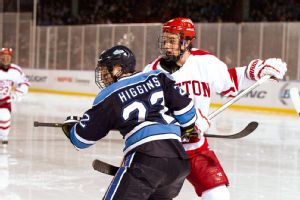 Richard T Gagnon/Getty ImagesMaine has done well at neutral sites this season, including beating BU at Fenway Park on Jan. 11.
2. When fresh air turns bad
Friday's Hockey City Classic at TCF Bank Stadium in Minneapolis saw Ohio State drop a 1-0 decision to top-ranked Minnesota. This was the Buckeyes' third open-air game in program history, all three of which have been losses. In 2006 at the Frozen Tundra Classic at Lambeau Field, OSU lost 4-2 to Wisconsin in front of more than 40,000 fans. In 2012, at the Frozen Diamond Classic at Progressive Field in Cleveland, the Buckeyes lost to that dreaded "team up north," Michigan, 4-1 before a crowd of more than 25,000. Friday's loss to the Gophers was played before 45,021. The Buckeyes lost the Saturday game as well 4-2, snapping a spree in which they came into the weekend having gone 10-3-1 since mid-October.
3. Ferris State's sin bin
The Bulldogs entered the weekend ranked No. 2 nationally, but they dropped a pair of games at Minnesota State. The big story is that they have no one but themselves to blame. Ferris committed 32 penalties for 137 minutes in the two games, leading to five Mavericks power-play goals, which played a huge role in their 6-2 and 4-3 losses. Saturday's loss was particularly painful, as the Mavericks scored three of their four goals with a man advantage.
Off The Radar
Division III Wisconsin-Eau Claire tied the all-division record by completing its fifth straight shutout after handing St. Thomas (Minn.) a 2-0 loss Saturday. The shutout streak, which started Dec. 14 against Lawrence (Wis.), has lasted 319 minutes, 28 seconds. The only other team at any level to get five consecutive blanks was Lake Superior State in 1994. Tyler Green, who has three of UWEC's shutouts, made 39 saves in the win over St. Thomas.