What we learned in April
By Eric Sorenson
Special to ESPN.com
As if Tax Day didn't make this month bad enough for the collective psyche of people everywhere, here are a few more things we discovered as we hurriedly filed our taxes and prepared for something called the royal wedding.
[+] Enlarge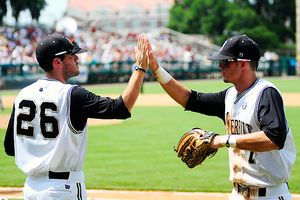 Reid Compton/Icon SMIVanderbilt looks poised to make a run to Omaha.
Expect the SEC East to dominate in Omaha. With Vanderbilt, Florida and South Carolina putting a serious beatdown on the monster conference and hovering around the top of the national rankings, my sneaking suspicion is that all three could be bound for that new downtown stadium in Omaha.
The RPI still really favors the teams in the Southeast way too much. Take a look at the last NCAA-released RPI. Seven of the top eight teams are from the SEC or the ACC. Fourteen of the top 19 teams are from the Southeast. Yet teams like Fresno State, Texas, Oklahoma, TCU and Cal are all 20th or below, despite being wildly talented and playing a lot of road games. Those teams will probably do very well in the postseason. Sorry -- April proved once again that the RPI needs major fixin', because I'm just not buying that there's that heavy an East-West disparity.
Rosenblatt won't be missed that much. After going to that first Nebraska-Creighton game at the new stadium, I learned one thing in particular: The College World Series will be just fine in its new digs. Everybody will be happy, and there will be very few complaints.
April also showed us that there is still a lot to be desired from the new stadium. There were a voluminous number of problems. Of utmost concern is the distance of the stands from the action, the inexplicable lack of a gathering area out front and the general lack of personality. Oh and a Zesto that is rumored to be going up near the new stadium has only a month and a half to get built.
[+] Enlarge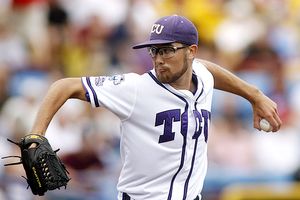 Crystal LoGiudice/US PresswireTCU ace Matt Purke still hasn't returned from a shoulder injury.
Injuries are a cold slap of reality. There are a number of dominant players that have been sidelined in the past month, with the biggest being South Carolina's Jackie Bradley Jr. and TCU's Matt Purke, who are both Omaha alums. No timetable has been announced for their return. As mentioned in my video, injuries are part of every sport, but when you lose difference-makers like those two, that's when it can affect a season.
The Ivy League, Patriot League and SWAC need to rethink things. April has been a great month in these three conference title chases. But this weekend will be the final weekend of play for the Ancient Eight and the PL, while next week will wrap up SWAC play. That's way too early for my liking, especially with the NCAA tournament still a month away.
Fresno State and Stetson are the last remaining hopes for a mid-major regional host. April showed us that even those prospects are looking bleaker, since there appears to be no way those two can hold on to their No. 1-seed spots in the RPI. The Bulldogs and Hatters may have to hope to host as a No. 2 seed.
Texas A&M may be the best bet of all the 31 conference-title chases. Sure, the Aggies lead the Big 12 by only one game over Texas right now, but after last week's series sweep of Oklahoma State, the well-armed Maroon Crew has only last-place Missouri, scuffling Nebraska and the offensively derelict Longhorns remaining. The Ags would need a major meltdown to not win this conference.
Some contenders and some pretenders were weeded out. At the end of March we said that preseason darlings UCLA, UConn, Oregon, Coastal Carolina and Washington State needed to win, and win now. Well, UCLA (from No. 108 to 54), UConn (from No. 131 to 63) and Coastal Carolina (from No. 112 to 58) have come through big-time this past month. Meanwhile, Oregon (from No. 76 to 98) and Washington State (from No. 33 to 34, but also now in last place in the Pac-10 and 15-19 overall) have hit the skids and will almost assuredly miss the Big Dance.
April seemed to have the harshest effect on a couple of teams. Mid-majors like East Tennessee State, Kent State, Gonzaga, College of Charleston and Louisville played their way out of at-large consideration this month. And in case you're wondering, yes, the odds are stacked against them to get back.
Rebuilding Wake Forest
By Walter Villa
Special to ESPN.com
He survived Katrina, taking New Orleans to two straight NCAA regionals in the aftermath of the hurricane, and he withstood the physical toll he suffered after donating a kidney to one of his players.
[+] Enlarge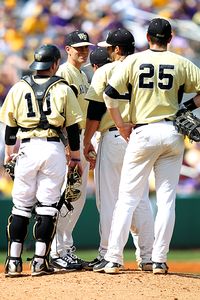 Brian Westerholt, Sports on FilmTom Walter is already putting his stamp on the Wake Forest program.
Turning around Wake Forest should be easy by comparison.
It won't be easy, of course. Not in the ACC, one of the toughest conferences in the nation.
Tom Walter, who was hired in June 2009, figures that next year's recruiting class will be the first in which he can make a major impact at Wake.
"We had to stand pat with what we had for the 2010 season, and 60 percent of the top recruits had already committed for 2011," Walter said. "It probably won't be until the Class of 2012 when you will see us bring in high-profile kids. That's the first class where we will have had the chance to be in early enough on kids to get in the door."
Wake (17-25 overall, 7-14 in the ACC) hasn't had a winning overall record since 2007, a winning conference mark since 2006 and a 40-win season since 2002. So while Walter waits for top recruits to arrive, he has searched for ways to improve the players already on campus.
A case in point is Tim Cooney, a sophomore left-hander who was brought in by the previous coaching staff. Cooney was 4-6 with a 5.49 ERA as a freshman, surviving on his savvy and in spite of a mediocre fastball that topped out at 85 mph.
Walter kept Cooney off the mound this past fall, keeping his focus instead on getting stronger in the weight room. Cooney came back this spring with improved velocity, throwing in the 89-91 range -- and added a cutter. "I got significantly stronger and in better shape, which helped my velocity," Cooney said. "I also changed my delivery. But the biggest thing I did was add the cutter. That's my 'go-to' pitch."
Cooney leads Wake in wins (5-2) and ERA (2.70). The former soft-tosser also has 67 strikeouts in 70 innings, including 11 in a shutout win over Florida State in late March, earning him ACC co-pitcher of the week honors. He's also beaten two other national powers so far this season: Georgia Tech and North Carolina. And this past Saturday, he beat Clemson, striking out seven, walking none and throwing his first career complete game.
"He learned how to pitch when he was just a command guy," Walter said. "But now that he has added velocity, he's a power guy who knows how to pitch." It will take quite a few more Tim Cooneys to get Wake Forest back where it was at the turn of the century, when it was turning out 40-win seasons with regularity.
But the best news for Wake isn't even on the field -- it's the improving health of Kevin Jordan, the freshman outfielder Walter donated a kidney to Feb. 7, earning national recognition for his selflessness.
[+] Enlarge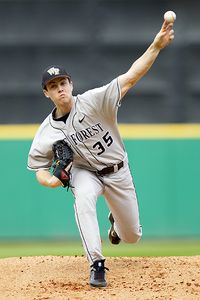 Brian Westerholt, Sports on FilmTim Cooney has flourished under Walter's coaching.
Walter, who was on a plane to LSU for the season opener 10 days after the surgery, said he still finds himself tiring more easily than before, especially after a draining weekend series. He is just now starting to feel "normal" and expects to be all the way back in a few weeks.
Jordan -- who was suffering from a rare kidney disorder called ANCA vasculitis and whose family members were not a match for a transplant -- is still in his hometown of Columbus, Ga.
But Jordan, who used to have to go to the hospital twice a week to get his blood levels checked, is now down to twice a month. He is also taking batting practice and lifting light weights.
He is planning to return to Wake Forest for the summer semester and figures to be back playing with the team in the fall. "Doctors are trying to come up with a protective shield that will allow him to play safely," Walter said. "They are concerned about any impact on the kidney, either sliding into a base or getting hit by pitch."
Walter's impact on college baseball, meanwhile, has been profound. He is the all-time wins leader at George Washington, leading the Colonials to the 2002 NCAA tournament, and he also turned around New Orleans despite the adversity.
Cooney said he has no doubt Walter will do the same at Wake.
"I think it can be soon," Cooney said of a turnaround. "We've beaten several nationally ranked teams this year. We don't lose too many guys after this season. I think we're sitting pretty for next year."
Places to be this weekend
By Eric Sorenson
Special to ESPN.com
If you're able to get your hands on your rich uncle's Learjet, here are the destinations you want to include in your flight plan for this weekend.
[+] Enlarge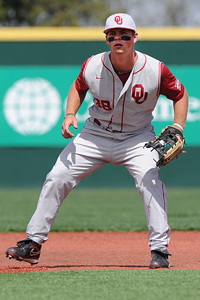 Peter G. Aiken/Kansas State/Getty ImagesGarrett Buechele and the Sooners are looking to leave Austin with a series win.
1. No. 13 Oklahoma at No. 5 Texas
By the numbers:
OU: 30-11, 9-7 Big 12, RPI No. 23
UT: 31-10, 13-5 Big 12, RPI No. 28
The Red River Rivalry never needs any excessive hype -- not in baseball, football, basketball or Scrabble. No love lost here, and no quarter given. Right now, OU could use a good bounce-back weekend. Not that sweeping two games from Nebraska was small potatoes, but the Sooners had lost their previous two Big 12 weekends. Oddly, both teams sit outside the national-seed territory (which I don't quite get), so a series win here would help exponentially.
Key matchup: Sooners bats versus Longhorn arms. This one's pretty obvious: The Big Red leads the loop (and by a large margin) with a .335 team batting average, and they have four of the top eight sluggers in the circuit. If Garrett Buechele (.395) & Co. can get a few early base knocks versus Taylor Jungmann and Cole Green, it'll be a trend-setter and the Sooners will be in their heads. Then again, how often do teams do that against an Augie Garrido-coached outfit?
For more on the Red River Rivalry, check out the latest Inside the Program installment on Oklahoma baseball.
2. No. 8 Florida State at No. 19 Miami
FSU: 31-10, 14-7 ACC, RPI No. 7
UM: 27-13, 15-5 ACC, RPI No. 14
The good news is that the two head coaches have finally taken to shaking hands again, alleviating years when they wouldn't even look each other's direction. But the mere mention of these two teams still increases the bile level in each program. The Canes are still in recovery mode from their early-season struggles, though that series win at North Carolina was a big red flag to their opponents. Sean Gilmartin has become the dominant pitcher everyone thought he could be this year, and the Noles are still sitting smack-dab in the national-seed discussion.
Key matchup:The late innings. The Seminoles have been door-slammers, outscoring their opponents 78-20 in the seventh and eighth innings, thanks in large part to their two-headed bullpen monster of Daniel Bennett (six saves) and Mike McGee (five saves). In those same two important innings, the Canes have only outscored their opponents 39-34. If FSU jumps on The U early, it's over.
3. No. 9 Oregon State at No. 20 UCLA
OSU: 30-8, 10-2 Pac 10, RPI No. 11
UCLA: 22-14, 10-5 Pac 10, RPI No. 54
I think it goes without saying that when Sam Gaviglio and Trevor Bauer are on the mound for these two respective teams, they are both far better than their rankings currently indicate. The Bruins need a strong showing here, not just to improve that bizarre RPI, but to get the bad taste of that Stanford series ending out of their minds. The Pac-10-leading Beavers will find their schedule easing up down the stretch (Washington, USC and Oregon close things out), so getting high-quality wins here could pay dividends in the end.
Key matchup: The UCLA bullpen versus their own psyche. Obviously, seeing that youthful Bruins bullpen implode at Stanford firsthand makes me wonder where their heads are at. Mitchell Beacom (0-2, 2.35) did well in his stint, but the remainder of the youthful Bruins arms had numerous issues at Sunken Diamond last week. The Beavers aren't an intimidating bunch at the dish (.274 team average), so UCLA's arms corps beyond Gerrit Cole and Trevor Bauer must throw strikes.
[+] Enlarge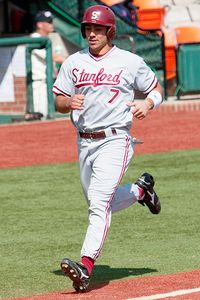 Larry Lawson/Icon SMITyler Gaffney and Stanford are rolling after stealing a series from UCLA.
4. No. 25 Stanford at No. 7 Arizona State
Stanford: 20-14, 5-7 Pac 10, RPI No. 15
ASU: 29-9, 11-4 Pac 10, RPI No. 3
Not only is Stanford's overall record ugly -- thanks to a rigorous slate, of course -- but its style of winning is ugly, too. Workmanlike, and with appreciable amounts of dirt under the nails, the Cardinal aren't into excuses or giving up. Arizona State squashed a good-hitting Cal team last week. After Friday's 17-inning marathon, the Devils held the Bears to no runs, 10 hits, two walks and committed just one error in what was probably their best baseball of the season.
Key matchup: The Stanford offense versus ASU's Saturday/Sunday pitching. Speaking of last week's Games 2 and 3, the Devils are notoriously tougher as the weekend goes on. Other than the implosion at Oregon State, where they got swept, the Devils' pitching and defense have given up just nine runs in their past eight Games 2 and 3. The Cardinal are just 1-5 in their past six second and third games in Pac-10 series.
5. No. 11 Georgia Tech at No. 22 Clemson
GT: 30-12, 17-4 ACC, RPI No. 8
CU: 26-14, 11-10 ACC, RPI No. 16
Keep an eye on the Tigers here, as their confidence level has been raised the last few weeks. After a rough start in ACC play, they've gone 7-2 in the past three weekends. But rest assured, this isn't Wake Forest, Boston College or Maryland they'll be facing here. The Jackets come in leading the conference in hitting (.317) and are second in pitching (2.76). Clemson's stats are comparable, but the Tigers have also gone just 1-8 in games versus ranked teams.
Key matchup: The zone discipline of CU versus Tech's strikeout kings. Clemson has a lot of experienced hitters that have a "been there, done that" mentality, so don't expect Brad Miller, John Hinson & Co. to be freaked out by the strikeout artists they'll face in Mark Pope, Jed Bradley and Buck Farmer. The deeper these guys can get them into pitch counts, the better their chances for pulling the upset.
For the full weekend preview, check out the college baseball blog.
Eric Sorenson, who runs College Baseball Today, is a regular contributor to ESPN's college baseball coverage. Follow Eric on Twitter: @stitch_head
Follow ESPN.com's college sports coverage on Twitter @ESPN_College and on Facebook.
Top 25 matchups
No. 1 Virginia at Boston College
Tennessee at No. 2 Vanderbilt *
Auburn at No. 3 South Carolina *
Ole Miss at No. 4 Florida
No. 13 Oklahoma at No. 5 Texas
No. 6 Texas A&M at Missouri
No. 25 Stanford at No. 7 Arizona State
No. 8 Florida State at No. 19 Miami
No. 9 Oregon State at No. 20 UCLA
No. 10 TCU at BYU
No. 11 Georgia Tech at Clemson
Pacific at No. 12 Cal State Fullerton
Maryland at No. 14 UNC
Hawaii at No. 15 Fresno State
No. 16 Arkansas at Georgia *
No. 17 Southern Miss at East Carolina
No. 18 UC Irvine at Cal State Bakersfield
Kansas State at No. 21 Oklahoma State
Oregon at No. 22 Cal
No. 23 Clemson at Virginia Tech
No. 24 Rice at Houston
• USA TODAY/ESPN Top 25 Coaches Poll
* Games can be seen on the ESPN family of networks. For the full college sports TV schedule, click here.
Bracketology
ESPN's resident NCAA baseball bracketologist, Jeremy Mills, offered his latest projections. Mills' eight national seeds are:
1. Virginia
2. South Carolina
3. Vanderbilt
4. Oregon State
5. Texas A&M
6. Florida
7. Georgia Tech
8. Arizona State
You can find the rest of his projected 64-team field in ESPN.com's college baseball blog.
Hot and cold: RPI effect
The five teams that took the most meaningful jumps up and desperate dives down in the past week. (Change in Ratings Power Index ranking from last week to this week in parentheses.)
Who's hot

1. No. 14 Miami (+10)
This was a really big 10-place jump for the Hurricanes (27-13, 15-5), who moved into the discussion for a home regional and national-seed discussion with the weekend series win at North Carolina. And bigger jumps could be ahead, as the Canes play Florida State and Virginia in their next two conference weekends.

2. No. 26 Central Florida (+10)
Almost stealth-like, the Knights (26-15, 6-9) have been hanging out in the upper 30s range of the RPI all season. Then a week in which they downed FAU, Florida and Memphis earned them a big jump up. But that losing record in C-USA play still needs to be rectified.

3. No. 32 Troy (+11)
The Trojans (30-11, 14-4) are sitting in a pretty good position for a mid-major, having jumped into solid at-large range and still having FAU (51) and Louisiana (55) on tap. Doesn't hurt that the Sun Belt is the sixth-rated conference in the RPI as well.

4. No. 65 Cal Poly (+42)
Wow. Not sure I've ever seen a higher jump in the ratings before. Larry Lee's hard-luck Mustangs (18-17, 8-4 and six one-run losses) took down Fresno and Fullerton last week. Now they're tied with UC Irvine in the Big West standings and play at Irvine and Long Beach the next two weeks.

5. No. 39 St. John's (+16)
Sometimes it's hard to figure these things out, because the Johnnies (22-13, 10-4) made a move inside that magical No. 45 boundary with wins over Notre Dame and BC. Really? Unfortunately for them, they'll have RPI anchors Georgetown and Villanova to close the regular season.
Who's cold

1. No. 46 Baylor (-19)
It's been a rough ride recently for the Bears (22-20, 7-11). A near-.500 record can usually be overlooked with a good RPI (like Georgia at No. 18), but a precipitous drop below the magical 45-line AND an eighth-place standing in the Big 12 means no at-large bid. If the season ended today, that is.

2. No. 42 Texas State (-16)
The Bobcats (25-15, 15-6) have picked a bad time to go cold, having gone 8-8 so far in April. Plus, they've already played all their RPI-boosting games in the Southland, with McNeese, UT-San Antonio, Nicholls and UT-Arlington remaining. Not good.

3. No. 62 UC Irvine (-11)
We all know the Eaters (26-11, 8-4) don't get good treatment from the RPI (remember when they were No. 1 in the polls but No. 18 in the RPI in 2009?). Here, they beat UC Davis and drop further out of at-large range. They'll need to go 14-5 down the stretch to make the top 45.
4. No. 52 Cal State Bakersfield (-17)


How big will this weekend's series with UCI be? Either way, the Runners (24-13) are falling and need a branch or two to grab on to. A rematch at K-State and games with UCLA, Fresno and Cal Poly will help, because they're out of range now.
5. No. 43 East Tennessee State (-12)


Uh-oh. It begins. The Bucs (24-15, 12-10) have been curiously placed way too high all season and now come off a six-game skid. However, they have the chance to make up ground with a trip to N.C. State next week. But watch that Manhattan series first. -- Eric Sorenson
Mid-major spotlight: James Madison

James Madison, which has beaten Maryland twice in two tries this season, is 27-15, 12-9 and locked in a tight battle in the Colonial. Helping the Dukes is Jake Lowery, who leads the country with 19 homers, 67 RBIs and 150 total bases. There seems to be an abundance of good catchers this year, and Lowery certainly ranks among the best. He doesn't get many fat pitches -- against Longwood, for example, he homered once and walked four times -- but he still gets his hacks. Lowery, who is hitting .373, is faster than most catchers, as evidenced by his 16 doubles, seven triples and seven steals in 10 attempts. -- Walter Villa
Mid-major matchup
Manhattan (23-12, 14-0) at East Tennessee State (24-15, 12-10)
It may not look like much, but there is more to this nonconference matchup than first meets the eye. The Manhattan Jaspers have been on a big-time roll, going 21-3 since March 15, and are at the top of the MAAC with a perfect 14-0 mark. The Big Green will face the most potent lineup they'll see all season in this nonconference faceoff, as ETSU is led by Derek Trent (.376), Bo Reeder (.323), Dylan Pratt (.315), and of course home run king Paul Hoilman (.319). Those four have combined for 45 circuit clouts and 88 free passes. But the worse news for the Jaspers? Staff ace John Soldinger (7-1, 1.72) will apparently sit the weekend to save his arm for the MAAC stretch. And as pointed out in the Hot & Cold Report above, the Buccaneers can't afford any slips, or their fragile RPI will take a hit. -- Eric Sorenson
Watch out for: West Virginia

West Virginia (24-16, 10-5) has won three straight series. It's not enough to scare Connecticut, which has won 11 games in a row and leads the Big East at 13-2, but the Mountaineers at least have a unique character to root for. He even has an interesting name: Jeremy Gum, who is hitting .341 and is top three in most of WVU's offensive stats. Defense? Gum doesn't play a lot of that -- literally. Last week, the senior DH played the field (first base) for the first time in four years. He started his career as a junior college pitcher, hurt his arm, quit the game, enrolled at WVU to study pharmacy and then got the itch to play ball again as a walk-on. As WVU makes its stretch run, Gum is hoping his bubble won't burst. -- Walter Villa
Q&A: UCLA's John Savage

Perhaps nobody has had a more interesting 2011 season than the UCLA Bruins. From the weight of heavy expectations to having two of the most dominating pitchers in the country to last Saturday's bizarre implosion that saw Stanford score four runs in the bottom of the ninth inning to pull out a series win, there hasn't been a dull moment for the Blue and Gold this year. I caught up with the Bruins maestro on the eve of their big series with Oregon State this weekend. -- Eric Sorenson
ES: After that Saturday loss to Stanford, I have to ask: What did you say to your team?
JS: Live and learn. Just live and learn. Know the feeling of being able to stop it, and we weren't able to. But it is a gut check. We'll find out what we're made of, because it was a weekend where we easily could've ran out of there winning two. It's a fine line; you've just gotta play until there are 27 outs in this game.

Savage
ES:
Talk a bit about what has pleased you most with this year's team and what has disappointed you the most.
JS:
Well, it's a couple of things. First, the pitching has been very good, between [Gerrit] Cole and [Trevor] Bauer for sure, and then I've been really proud of Adam Plutko, who has been a warrior on Sundays. Mitch Beacom has been very good out of the bullpen for us. But there's no secret to the fact that we started off slow -- everybody knows that. The first month of the season was just a grind for us, and we couldn't score runs. But I've been very proud of our guys bouncing back. Ever since that USC weekend, we've been swinging the bats and playing more like the team people thought we would be.
ES: Last year you guys were coming off a losing season the year before and you came out of nowhere to play for the national title. This year, Oregon State came off a decent year but lost everybody. Yet here they are near the top of the rankings. Is fate just a fickle thing? Or is this just something with the Pac-10?
JS: I think it's a little bit of everything. It's a very fickle game, sure. Also, the bats have changed the climate of the game a bit. The Pac-10 is ultra-competitive; anybody can beat anybody. Think about this: When Oregon State won a national championship, they finished fifth in the conference that year, so it does have a lot to do with who's hot and when, sure. But to be honest, what Oregon State is doing isn't surprising anybody. I knew they were going to be good. And on top of that they've had some injuries too, so you've got to give them a ton of credit because they've continued to play well.
ES: Did you think last year was going to be your breakout year?
JS: You know, sometimes you're a year away or a month away and you just hope and anticipate being good. Last year we knew we were going to be very good, yes. We had one bad weekend, the ASU series, and it was a wake-up call for us. This year we've had the target on our backs from the get-go and we didn't handle it very well. And just now we're playing much better baseball.

Bauer
ES: All right, concerning Trevor Bauer, I don't know any other way to ask it other than what's been the key to his staying so awesome?
JS: He's got multiple swing-and-miss pitches. The guy is really just a magician out there; if he's on that night he's got those three, four, five swing-and-miss pitches he can go to, and that makes him very difficult to deal with. Plus he is very competitive. When he commands his fastball and gets ahead of you, I think he's one of the most difficult pitchers in the country.
ES: You guys are in the 20 range in the human polls, yet No. 57 in the latest RPI ranking I saw. Does that frustrate you?
JS: No, not necessarily. In our conference, if you win two games in a weekend you're going to jump dramatically. It also matters where you are in the standings, too. I mean, Washington State is a very good team and has an RPI of 40 and yet there they are at the bottom of the conference. And everybody knows, with the West Coast and the RPI, I don't think anybody can put a finger on why it's so weird with us. But if we win weekends the next few weeks I think our RPI is going to be where we want it to be. Now, we didn't win enough games early on and it hurt us, sure. But we play in a league that our RPI can improve dramatically, and that's the advantage that we have in the Pac-10. Same goes for the ACC, the SEC, the Big 12, but everybody else, once they hit conference play their RPI goes down.
ES: You guys have been playing the last few weeks without Tyler Rahmatulla. Will he be back?
JS: Rahmatulla's eligibility is still a question. So we're waiting, but we should have a decision in the next couple days. But even without him, we need to be grinders. We need to be tough. We've got Oregon State, Oregon, Cal and ASU left in the Pac-10. We've got our work cut out for us. We know we better be sharp, or else we could be headed in the other direction.
Capital One Cup

The Capital One Cup rewards the best Division I men's and women's programs in the country for their on-the-field performance throughout the year. For more information about the Cup, visit capitalonecup.com.