Five questions heading into the weekend
By Eric Sorenson
Special to ESPN.com
We're now into the month of May, the cruelest month of the season. The harsh reality of failure comes upon most teams as they will fall short of continuing their seasons into June.
[+] Enlarge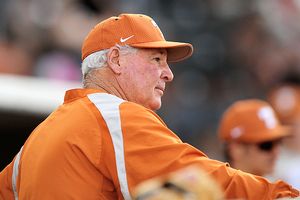 Mark J. Rebilas/US PresswireAugie Garrido has his team poised to earn a national seed in the NCAA tournament.
With four weekends left before the field of 64 is announced, I'm giddily looking forward to seeing how things turn out. Something tells me we've got a lot of surprises left in the season.
In the meantime, here are the five biggest questions heading into this first full weekend of May.
1. Who will be the first team officially christened into the field of 64, Dartmouth or Princeton? I've got my money on the Big Green making it three in a row. Just a hunch.
2. Can teams like TCU, Central Florida and Long Beach State step out of conference play and into the national discussion? All three teams have different postseason goals, but this weekend could go a long way in determining whether they'll find a yellow brick road to the Big Dance.
3. Can Texas and Texas A&M jump into the national-seed territory? The Longhorns and Aggies are two of the best teams in the country, but are still somehow way out of the top eight slots in the RPI. Weekends against Nebraska and Dallas Baptist may not help much.
4. Can East Tennessee State return to being the RPI darling? The Bucs are No. 37 in the RPI right now, but travel to NC State, the No. 33 team, in a huge nonconference showdown. The Buccaneers are more than capable of bruising the Pack's pitching.
5. Can Arkansas or Alabama establish themselves as the front-runner for the SEC West? With their weekend assignments (more on that below), you have to think the Tide are more likely to surge ahead. Don't worry; judging by this race, it probably won't last.
McGee has many talents
By Walter Villa
Special to ESPN.com
Florida State had final exams recently, but the biggest baseball test in the career of center fielder/closer Mike McGee won't come until next month's MLB draft.
[+] Enlarge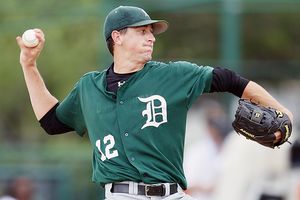 AP Photo/Wilfredo LeeKyle Hendricks and Dartmouth have a chance to punch their ticket to the dance this weekend.
McGee, a 6-foot, 188-pound senior who won the John Olerud Award as the nation's top multi-positional player in 2010, has yet to make a major impression with MLB scouts.
He was drafted in the 37th round out of Port St. Lucie (Fla.) High School. Somehow, he slipped even lower (41st round), after last season, when he hit .328 with team-highs in homers (17) and RBIs (73). On the mound, he was 4-1 with a 2.96 ERA and a team-high 13 saves.
This season, he is among the ACC leaders in every major offensive category, hitting .333 with seven homers and 41 RBIs. On the mound, he is 1-2 with a 5.14 ERA and five saves.
"It didn't feel good to have all those guys drafted ahead of me," McGee said. "It probably felt worse when I was in high school because I was throwing 94 [mph] back then."
McGee said his velocity is now in the 88-91 range.
"In high school, I could just throw it by guys and not worry about hitting spots," McGee said. "In college, you can't get guys out that way. I've had to adjust my style."
McGee sees himself as a hitter who also pitches. But both times he was drafted, he was listed as a pitcher.
"That's what disappointed me the most about the draft," he said. "I've told the scouts: 'I want to hit.'"
Coach Mike Martin -- whose eighth-ranked Seminoles (33-11, 16-8) lead the ACC's Atlantic Division heading into this weekend's nonconference series against Central Florida -- was asked whether he is surprised McGee wasn't drafted higher.
"I've gotta say yes," he replied. "It's not like he's a small guy. He's got great numbers against excellent competition. He runs well, throws, hits for power … I am very surprised."
Martin said he thought McGee made a "wise decision" returning for his senior season to try to improve his draft stock.
McGee expects to graduate from FSU in August with a double major of economics and political science. Still, he can't yet consider a career path that does not include baseball.
The sport has become the family business for Mike and his younger brother Stephen, a sophomore at FSU who is redshirting this season.
FSU is high on Stephen McGee.
"He's one of the strongest and toughest catchers I've ever had," Martin said of the 6-foot-2, 220-pounder. "He has leadership qualities and great upside."
The preseason All-American said having his "little" brother around feels right since Stephen has followed his path for years.
"It would feel weird if he weren't here," Mike said. "It's great because I can be completely honest with him whether I had a bad game or a good one."
Mike said Stephen has a strong arm and added: "People don't realize how fast he is for such a big kid."
"I wish I had his size," McGee said, joking, "If I did, I probably would've been drafted higher than the 41st round."
Places to be this weekend
By Eric Sorenson
Special to ESPN.com
If you're able to get your hands on your rich uncle's Learjet, here are the destinations you want to include in your flight plan for this weekend.
[+] Enlarge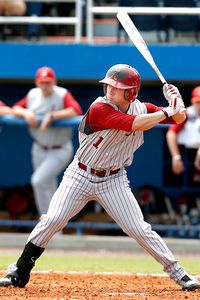 Cliff Welch/Icon SMI Taylor Dugas and Alabama welcome a surging LSU team to Tuscaloosa.
1. Dartmouth at Princeton
Dartmouth:
29-10, 14-6 Ivy League, RPI No. 164
Princeton:
21-20, 15-5 Ivy League, RPI No. 176
The first tuxedo fitting for the Big Dance will be decided here at the Ivy League Championship Series. The Big Green, the winners of the Rolfe Division, will be defending their crown, but will have to do so away from home since the Gehrig Division champion Tigers had the better overall record in league play. The only time these two teams played this season was when Dartmouth swept an April 10 doubleheader at home, 4-3 in 10 innings and 5-2.
Key matchup:
Kyle Hendricks versus the top of Princeton's order. Whoever establishes themselves first will be in the catbird seat. Hendricks, the Big Green's staff ace (4-3, 2.17), must shut down the top-heavy Tigers batters and not let the bats get contagious. Princeton hits just .266 and relies heavily on the top of the order. Beyond Sam Mulroy, Matt Bowman and Mike Ford, the Tigers get a lot more toothless at the dish.
2. No. 4 Florida at No. 18 Arkansas
Watch: Thursday at 7:30 p.m. ET on ESPNU; Saturday at 8 p.m. ET on ESPNU
UF: 35-10, 17-4 SEC, RPI No. 1
Arkansas: 30-13, 10-11 SEC, RPI No. 22
Once again it's time to see whether the SEC West can make a dent in a team from the SEC East. As weird as it may seem, at 10-11 the Razorbacks are tied with Alabama for the lead in the SEC West. The Hogs could use a couple of wins here to improve their profile for the NCAA tournament, because you know the selection committee would love to put a regional in front of their 10,000 Hog-wild fans. Florida is really just trying to keep pace with the cool kids' club, as Vanderbilt and South Carolina share the view atop the SEC East. Still, it would take a pretty sizable tank job for them to lose out on a national seed come June, regardless of what happens here.
Key matchup: Florida's pitchers versus the deep-count effect. Arkansas is the worst-hitting team in the conference at a paltry .270, having culled just 145 walks on the season. As you may know, Gators ace Hudson Randall has issued just four walks in 72 innings. Fellow starter Brian Johnson hasn't been too shabby either, handing out just 11 walks in 63.2 innings. So it will be imperative for the Razorbacks to work some deep counts and get the Florida arms into some unusual settings.
3. No. 25 Cal at No. 7 Oregon State
Cal: 27-14, 11-7 Pac 10, RPI No. 36
OSU: 32-10, 12-3 Pac 10, RPI No. 9
Barring any unforeseen southward downturns in the month of May, both teams are well-suited to make the postseason. But it's the lure of national seeding that keeps the fires stoked for the Beavers. The Bears know their fate; they'll gladly pack their bags and head somewhere back East for the regionals (the bonus is this won't be their last postseason after all). But the Bears also sit just two-and-a-half games out of first place in the Pac-10. Can you imagine if they start a mad rush and add a conference crown to their résumé? Don't count them out, but of course this Oregon State team ain't for kids, man.
Key matchup: OSU pitching versus Cal leadoff hitters. The Golden Bears have a knack for wearing the golden sombrero at times. Two weeks ago against Arizona State they suffered back-to-back shutouts and in those two games, the leadoff hitters for the 18 innings went 1-for-17 with a walk. Putting Sam Gaviglio and Josh Osich in some pressure situations will be vital for the Bears.
4. No. 10 TCU at No. 21 Oklahoma State
TCU: 31-13, 15-2 MWC, RPI No. 26
OSU: 30-13, 12-8 Big 12, RPI No. 24
Oddly placed nonconference series here, sure, but definitely a high-quality one as well. Not sure if there's still a chance for the Horned Frogs to get into the national seed discussion, mainly because the remainder of their games will pull the strength-of-schedule component down. But any hopes for playing at home in June would be buoyed by a series win in Stillwater. OSU can still make a case for a home regional with a win here as well, sitting only 2½ games behind A&M and Texas in the Big 12 standings. Plus, the Pokes have Baylor and Texas Tech remaining, so if the W's continue their way, the RPI will respond in turn.
Key matchup: The Horned Frogs versus their own psyche. With or without Matt Purke, TCU is still one of the most talented and most experienced teams in the country. That's what makes it so curious that the Frogs can go into funks like they have in head-scratching losses to Dallas Baptist, Stephen F. Austin, UT-Arlington, Kansas and, most freakishly, Houston Baptist. If they play their game, this one's a no-brainer. If they don't, the Cowboys have the horses to do some damage.
5. Purdue at Michigan State
Purdue: 30-13, 10-5 Big Ten, RPI No. 118
MSU: 27-13, 10-5 Big Ten, RPI No. 76
These two are tied at the top of the Big Ten standings, so whoever gets this series win will be in the catbird seat for the chase to the regular-season crown. Oddly, the Boilermakers are the sixth-rated team in the Big Ten as far as the RPI goes. Neither team is within striking distance of an at-large berth (though the Spartans are getting closer after a 32-point jump this week), but with the top six teams in the conference separated by just three games, winning this will be huge for getting those first-round byes in the Big Ten tournament.
Key matchup: The defenses. In last week's Big Ten action, both teams won in extra innings Friday and then swept their opponents, Indiana and Penn State, respectively. Between the two, there was only one error committed by both defenses. So there has been some great high-quality glovework between these two. But one thing the Spartans need to be aware of is that the Boilers stole eight bases in Friday's 12-inning win over IU. That could be a huge factor in this series.
6. Central Florida at No. 6 Florida State
UCF: 28-17, 7-11 CUSA, RPI No. 31
FSU: 34-11, 16-8 ACC, RPI No. 7
The big question is, would the NCAA selection committee take the Knights if the season ended today? I mean, with an RPI at No. 31 it's a no-brainer, especially when you consider the two wins over Florida and Rice. But that eighth-place standing in Conference USA? Nasty. Luckily enough for UCF, here's another chance to earn some brownie points. If the Knights can take one or two wins here, you'd have to think it would make their conference standing irrelevant. Seven of the Seminoles' 11 losses have come by one run, so you know this is a team that will fight you tooth and nail.
7. Long Beach State at No. 8 Arizona State
Beach: 23-19, 8-7 Big West, RPI No. 66
ASU: 32-11, 13-5 Pac 10, RPI No. 4
As if the Beach hadn't played a murderous slate of games this season already, right? This series will start a death march that includes Cal State Fullerton and UC-Irvine. Sheesh. No wonder the Dirtbags always have a bruise-filled won-loss mark. But this weekend, more than in any other this season, they'll have to swing the bats better than their .263 average. Kramer Champlin and Jake Barrett have showed precision as the Devils' No. 2 and No. 3 starters since that three-game sweep at Oregon State a few weeks ago. Dirtbag ace Andrew Gagnon (4-6, 2.36) will give them a chance Friday; from there it comes down to whether the Beach has any effective offense.
8. LSU at Alabama
Watch: Saturday at 4 p.m. ET on ESPN3.com
LSU: 29-17, 7-14 SEC, RPI No. 27
Bama: 28-19, 10-11 SEC, RPI No. 32
Are the Tigers back in the discussion? Is this really happening? Or was that sweep of lowly Kentucky just the light from a dead star? The Tigers certainly seem like a different team, but this weekend they won't have the luxury of having that contagious enthusiasm the Alex Box Stadium crowd can infuse in them. Meanwhile, Alabama is tied with Arkansas at the top of the SEC West, knowing that the Razorbacks have Florida on their platter this weekend. So this could be the chance for the Tide to surge ahead in the standings and improve that RPI for postseason positioning. Let's see how well Taylor Dugas, Jared Reaves and Brock Bennett do against the young mound starters of LSU.
9. Creighton at Wichita State
Creighton: 31-10, 9-3 MVC, RPI No. 46
WSU: 28-20, 7-5 MVC, RPI No. 88
These two Missouri Valley rivals enter the weekend in first and second place, separated by two games. But the bigger picture is the two divergent paths they've taken in the RPI and their hopes for an at-large berth in the NCAA tournament. The two teams are pretty even for the most part, hitting .279 and .289 respectively and pitching at 3.29 and .3.38 levels. The big difference is that Creighton's defense is its usual lockdown self, sweeping at a Valley-best .978. The Shockers have struggled, fielding at a .959 rate. But the large Shockers crowd has a way of enticing more mistakes than normal from opposing teams.
10. No. 5 Texas at Nebraska
UT: 34-11, 15-6 Big 12, RPI No. 14
NU: 27-18, 6-11 Big 12, RPI No. 61
There are a couple of big factors at hand in this series. First off, it's odd to think that the Longhorns currently sit a way from the national seed picture. Their RPI is at 14, though I hardly believe they should be that far down in reality. Not that the RPI is ever based in reality, of course. Taylor Jungmann is nearly unbeatable, having just shut down a potent Oklahoma team, and Saturday starter Cole Green has started to heat up. Should the Cornhuskers pull a stunner or two here, their RPI jump could be significant. And being that this is the last matchup with the Longhorns before taking off for Big Ten pastures, the Huskers should be motivated. Then again, we saw how well that worked for the NU pigskinners last fall.
Eric Sorenson, who runs College Baseball Today, is a regular contributor to ESPN's college baseball coverage. Follow Eric on Twitter: @stitch_head
Follow ESPN.com's college sports coverage on Twitter @ESPN_College and on Facebook.
Top 25 matchups
Miami at No. 1 Virginia
No. 2 Vanderbilt at Kentucky
No. 3 South Carolina at Ole Miss *
No. 4 Florida at No. 18 Arkansas *
No. 5 Texas at Nebraska
UCF at No. 6 Florida State
No. 25 Cal at No. 7 Oregon State
No. 8 Arizona State at USC
Dallas Baptist at No. 9 Texas A&M
No. 10 TCU at No. 21 Oklahoma State
No. 11 Cal State Fullerton at UC Riverside
Maryland at No. 12 UNC
Kansas at No. 13 Oklahoma
No. 14 Georgia Tech at UIC
UAB at No. 15 Southern Miss
Gardner-Webb at No. 16 Clemson
No. 17 Fresno State at Louisiana Tech
Cal Poly at No. 19 UC Irvine *
Hofstra at No. 20 Miami
No. 22 UCLA at Oregon
No. 23 Rice at Houston
No. 24 Stetson at FGCU
• USA TODAY/ESPN Top 25 Coaches Poll
* Games can be seen on the ESPN family of networks. For the full college sports TV schedule, click here.
Bracketology
ESPN's resident NCAA baseball bracketologist, Jeremy Mills, offered his latest projections. Mills' eight national seeds are:
1. Virginia
2. South Carolina
3. Vanderbilt
4. Oregon State
5. Arizona State
6. Florida
7. Florida State
8. Texas
You can find the rest of his projected 64-team field in ESPN.com's college baseball blog.
Hot and cold: RPI effect
The five teams that took the most meaningful jumps up and desperate dives down in the past week. (Change in Ratings Power Index ranking from last week to this week in parentheses.)
Who's hot

1. No. 14 Texas (+14)
It was hard to believe this team was rated way down at No. 28 to begin with. (C'mon, NCAA; do we really need to rely on the RPI as the only rating system?) Nonetheless, it looks like the OU series is the one that finally vaulted the Horns into No. 1 seed range.

2. No. 13 Stetson (+8)
The good news is that the Hatters have jumped into regional-hosting range this week. The bad news is that with remaining weekends versus Florida Gulf Coast, Lipscomb and Belmont, they may see their ranking get pulled right back down again.

3. No. 43 Coastal Carolina (+15)
The Chanticleers jumped into that magical top-45 range with the sweep of VMI and a midweek win over UNC Wilmington. But like the Hatters above, weekends versus Radford, Winthrop and Charleston Southern will enact the anchor effect.

4. No. 12 Georgia (+6)
Nobody has taken more advantage of the RPI's Southern favoritism than the Bulldogs. Believe it or not, a team with a near-.500 mark is able to get inside No. 1-seed territory in our sport. Don't ask me how. Road trips to Auburn and Kentucky await.
5. No. 71 Dallas Baptist (+31)
DBU is still a way off the map, but this huge jump could be accentuated even more as they'll take on Texas A&M this weekend. Imagine if the Aggies struggle for a second weekend in a row and the Patriots can pull off a win or two? We could be looking at a new level of Patriotism.
Who's cold

1. No. 21 Cal State Fullerton (-11)
The Titans are not only having trouble on the diamond (a lackluster performance versus Pacific), but the MASH unit is also starting to hit maximum capacity for Fullerton. I know what you Titans fans are thinking: "Oh no. Not again." Last weekend dropped them out of No. 1 host range (according to the RPI).

2. No. 20 Auburn (-8)
A drop from No. 1 seed territory is never fun. But I'm not sure which cost the Plainsmen more: losing three straight at defending national champion South Carolina or winning one game against Texas Southern. Georgia is next.

3. No. 51 St. John's (-12)
As you know, every team has a hiccup weekend during the season. But a mid-major team like the Johnnies aren't given much rope when they drop three straight at South Florida. A home weekend against second-place Pitt will help. Well, winning that series will.

4. No. 16 Texas A&M (-7)
It was a stale weekend for A&M, suffering two pretty bad losses at Missouri and getting a one-run win after Game 3 was shortened to seven innings. Another weekend like that and the Aggies can say g'bye to a home regional.

5. No 63 CS Bakersfield (-11)
As an independent, I think the Roadrunners would be given some benefit of the doubt as the No. 52 team in the RPI, especially with the scheduling issues they face. But a drop to 63rd will do them no favors. The Runners are 2-8 in their past 10 games. -- Eric Sorenson
Mid-major spotlight: Memphis

Memphis shortstop Chad Zurcher, a fourth-year junior from Knoxville, is having another big year. He hit .400 with six homers, 41 RBIs and 20 steals last season. This year, he ranks among the national leaders in batting average (.470) and has made just six errors. He has yet to hit a homer with the new bats, but he has 16 doubles, two triples and 11 steals. Memphis assistant coach Jerry Zulli said the slender Zurcher (6 feet, 167 pounds) has gotten stronger and has added consistency in being able to repeat his swing. But the best thing about Zurcher is that he knows he's not a home run hitter and is content to work the count, draw walks and spray line drives around the field. -- Water Villa
Mid-major matchups
In a strange twist, this weekend will see some of the best nonconference matchups since Week 4 of the season. (See the top 10 for more.) But there are also a few mid-major programs that have a chance to make a major statement this weekend. Here's a quick snapshot of each.
Dallas Baptist at Texas A&M: In 2008, the Patriots (31-13) became the first team not named Miami to make the NCAA tournament as an independent since 1993. With an RPI at No. 71 and the Aggies pitching staff struggling, this could be DBU's chance to make that great leap forward. Jason Krizan (.429), Tyler Robbins (.377), Ryan Behmanesh (.367) and Landon Anderson (.354) hope to put the wheels in motion early.
East Tennessee State at North Carolina State: The Buccaneers (27-15) have been RPI darlings all season, somehow spending most of it inside the top 25 despite having only one high-quality win (vs. Stetson). Now is when the rubber hits the road. The three-game set in Raleigh will be the ultimate litmus test. Like Dallas Baptist, they'll bring a potent offense into the den of a BCS school, with Derek Trent (.363, 10HRs), Bo Reeder (.331, 13HRs), Dylan Pratt (.320, 14HRs) and Paul Hoilman (.318, 14HRs) must be fence-busters again here for ETSU to have any chance.
Georgia Tech at Illinois-Chicago: Tech is doing the rare trick of going on the road to a northern mid-major in May. From what I was told, Tech coach Danny Hall has a lot of respect for Flames head coach Mike Dee and was "happy to return the trip." UIC (22-18) isn't in line for an at-large bid to the NCAAs, but they are just two games out of first place in the Horizon League. Former Yellow Jacket (and current Cub) Marlon Byrd will throw out the first pitch at Les Miller Field on Saturday. -- Eric Sorenson
Watch out for: Clemson

After finishing third in the 2010 College World Series, Clemson entered this season as the ACC favorite. The offense, led by outfielder Jeff Schaus, shortstop Brad Miller and third baseman John Hinson were the main reason to fear the Tigers. But Clemson struggled early, getting swept by Virginia and North Carolina and dropping series to NC State and South Carolina. Perhaps the sweep at Chapel Hill was rock bottom. Since then, Clemson has won 15 of 18 games, including two of three last weekend against then-No. 11 Georgia Tech. It's the first time this season Clemson (29-15) has taken a series from a top-25 team. -- Walter Villa
Q&A: A.J. Lostaglio
I've always appreciated the thankless job that college baseball umpires have. Earlier this week I got the chance to talk to one of the best in the business in A.J. Lostaglio, a veteran SEC/ACC umpire who worked last year's College World Series. -- Eric Sorenson

Lostaglio
ES: So I saw you had worked last year's College World Series; was that your first series?
A.J.: No, actually I have been lucky enough to have worked two others before that in 2002 and 2005.
ES: Would you say that's your biggest thrill in your umpiring career?
A.J.: By far, yes it is. And it's something that I will continue to work hard to get back to. It's something that every umpire should get a chance to do once in his career, and I've been lucky to work it three times.
ES: In game situations, what do you think is the toughest call you have to make?
A.J.: There's no doubt that the two calls that are always a major challenge are the check swing and the trap catch. Those two things are just real tough calls, you could almost flip a coin on most of them. Especially the trap ball catch in the outfield because there are so many variables that go into making that call. You've got to be stationary, you've got to have the proper angle, you've gotta have the proper distance. You can see a slow-motion replay and say, "Man, how could he miss that?" but when you're on the field of play, everything in that kind of call happens so fast.
ES: Is the use of instant replay for assisting with calls something you would be all right with in the future?
A.J.: Anything that shows the high percentage of times hard-working umpires are right, I'm in favor of. Also, we have an obligation to get the call correct, so why not utilize a tool like replay to help us in that regard? So yes, I'm certainly in favor of it.
ES: Just watching you out there, I can tell you're a gregarious guy, how much of a rapport do you have with players during a game?
A.J.: I think it's important to keep that neutral position and maintain a certain demeanor on the field. I'm never gonna buddy up to a player but you have to earn his respect. So you have to recognize a great play when you see one and let him know that. I might say, "Man, that was a great catch" or "That was a sweet play." When they realize you can salute their effort on the field but still integrate things that allow you to do your job with integrity, I think players respect you more.
ES: The game I saw you work between Florida and Florida Atlantic earlier this year, it seemed like you were talking a lot with FAU's catcher, Mike Albaladejo.
A.J.: That's a good point. Catchers can be your best friend or your worst enemy and I think it's important to get them on your side and show them that you are working hard back there for them. And you want them to work hard for you. I've taken some shots from pitches in the dirt because you get a catcher that is laboring in the hot sun for six or seven innings and maybe they don't get down to block a ball late in the game. But I want them to know that there is still somebody behind them working hard all game long. Believe me, my mother appreciates it and my girlfriend appreciates it if they work hard to do their job back there too. (Laughs)
ES: How much do you put up with before you eject a coach out of the game?
A.J.: There are some comments that get personal and involve profanity and those will get you tossed right away. Coaches know that. The last two ejections that I have had have come from coaches that were frankly just frustrated at their teams' performance and it was quite apparent they wanted to get run to light a fire under them. But it's not like it was years ago when you could read them the riot act and then they make the adjustment and we move on. Now they don't want you to look like the aggressor at all, so I've learned to take a step back and maintain my composure as often as I can and give them all the rope they need to hang themselves.
+
Capital One Cup

The Capital One Cup rewards the best Division I men's and women's programs in the country for their on-the-field performance throughout the year. For more information about the Cup, visit capitalonecup.com.