NCAA tournament bubble watch
By Eric Sorenson
Special to ESPN.com
The funnel effect is beginning for the field of 64. Now, just like the latter stages of February and early March in basketball, college baseball fans are going to hear the phrase "on the bubble" a lot in the coming weeks. So now is a good time to take a look at the teams that are sitting square on the bubble for pulling an at-large bid to the Big Dance (if they don't win their conference tournament, of course).
Ten teams that need to win and win now:

Central Florida
RPI:
28
Record:
29-19, 7-11 Conference USA
Pluses:
First and foremost, those two wins over Florida were huge. Additional W's vs. Stetson, Alabama, Rice (two) and East Carolina are rocket-launchers, too. The RPI is pretty solid and it likely won't plummet out of consideration. This is an up-and-coming program.
Minuses:
The biggest eyesore -- and the main reason the Knights are on this list -- is that losing mark in conference play that has the Knights in second-to-last place. If they trip further down, grab the golf clubs. The early nonconference slate came against a lot of snowbirds, building mostly easy W's.
What they must do:
Use the last two weekends to get above .500 in C-USA play. Go ahead and beat Stetson again on May 17, just in case. Like most teams here, the Knights can't go belly-up in the conference tournament.

Connecticut
RPI:
52
Record:
34-13-1, 18-3 Big East
Pluses:
Last year built some equity for the Huskies. They've gone 25-4 in their past 29 games, and you know how the committee likes to reward hot teams. Leading the Big East should earn them some brownie points as well. Hope their appearance in some national rankings merits some worth to the committee.
Minuses:
As usual, the strength of schedule (No. 153) is an issue for northern teams. A cold start left these guys out-of-sight, out-of-mind. The Big East is the 16th-rated conference. With the exception of a win over Cal, UConn lost most of their big matchups early on.
What they must do:
As you might expect, winning the Big East regular season is a must. Hope the NCAA will be lenient toward their strength of schedule and early struggles. In other words, hope the NCAA uses common sense and realizes they are one of the top 30 teams in the country, regardless of rating.

Creighton
RPI:
49
Record:
33-12, 10-5 Missouri Valley
Pluses:
Once again, a great defense (seventh in NCAA) proves the Bluejays are a high-quality team. MVC is currently 10th-rated conference. Many members of the NCAA were treated to a nice pre-CWS walk-through at the first game of the new stadium, maybe it will curry some favor for an at-large.
Minuses:
Pretty weak schedule at No. 127 in the country. Toledo, South Dakota State and Kansas State are only non-MVC teams with winning records they've beaten. Opponents like New Mexico, Portland, Kansas and Arkansas State have had worse-than-expected seasons.
What they must do:
Getting above the 40-win plateau would be a good start. Sweeping second place Missouri State on the final weekend would also be huge. At least make a deep run in the MVC tournament at their home stadium.

East Tennessee State
RPI: 32
Record: 31-16. 12-10 Atlantic Sun
Pluses: The Bucs have been in the top 25 of the RPI for most of the season and are still in solid at-large territory. College home run champion Paul Hoilman and the Bucs lead the country in HRs, buying them some street cred. Winning series at NC State opened some eyes last weekend. A-Sun is seventh-ranked conference.
Minuses: Other than the Wolfpack, the nonconference slate is wack. Marist, Rider and Manhattan are good teams in their respective conferences, but it won't earn them many brownie points. At just 12-10, it's not like they've dominated the A-Sun either, so that could be taken as an indication of mediocrity.
What they must do: The Bucs must get as many wins as possible against Georgia Tech and Mercer to end the regular season. Have to hope the series versus Campbell doesn't sink their RPI too much. If the NCAA selection committee leans heavily on RPI and not common sense, ETSU will be golden.

Georgia
RPI:
21
Record:
24-23, 13-10 SEC
Pluses:
The ridiculously high RPI makes the Bulldogs a lock, right? If that doesn't, then wins over teams like Georgia Tech, UCLA and Baylor probably will. Conference wins over South Carolina, LSU (two), Florida and Arkansas (two) give a huge boost as well.
Minuses:
The main reason the Dawgs are mentioned here is because that overall record is getting dangerously close to sub-.500. If that happens, it's curtains. Dogs have gone just 5-6 in weekend series. Can't let that awful sweep to Auburn turn into a major losing streak.
What they must do:
By all means, win the series versus last place Kentucky this week and pulling a win or two versus Vanderbilt would help too. Going 0-fer in the SEC tournament would be a crushing blow.
For the complete list, check out the college baseball blog.
Mahtook makes noise in SEC
By Walter Villa
Special to ESPN.com
LSU center fielder Mikie Mahtook was born and raised a Tigers fan. His father, the late Mike Mahtook, and his uncle, Robby, were LSU linebackers.
Mahtook's father died at age 32 while playing tennis, but his legacy lives on with his son.
[+] Enlarge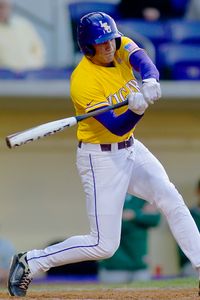 John Korduner / Icon SMIMikie Mahtook has made a name for himself at LSU.
"I got to see a couple of clips of my dad playing in the Orange Bowl, and I saw some highlights of him in high school," Mahtook said. "It was pretty cool."
Mahtook, who keeps his father's Orange Bowl ring, grew closer to his uncles after his dad's passing. He remembers a trip he took with two of his uncles and two of his cousins to the 1998 College World Series in Omaha.
"I'm pretty sure we cost my uncles a few bucks at the concession stands," Mahtook said.
Soon after this June's draft, Mahtook will likely be in position to pay his uncles back and then some. Mahtook, a 6-foot-1, 190-pound junior, is projected to go in the first round.
"He's a tremendous athlete," said LSU coach Paul Mainieri. "He's a five-tool player. There's no question in my mind he's a future major-leaguer."
Mainieri said he is just as proud of Mahtook, who played quarterback in high school and had college offers to play safety and receiver, off the field.
"He was four years old when his father died, but he's had a lot of extended family helping raise him," the coach said. "What a wonderful young man he's become."
Mahtook, who has started at LSU since midway through his freshman season, is playing under tremendous pressure because he is draft-eligible this year. Scouts are expecting big things while opponents come into an LSU game knowing he is the one player they will pitch around in almost any situation.
Mainieri points to a game against Georgia earlier this season. Trailing by one run, LSU had runners on first and third.
"Georgia walked him intentionally," Mainieri said. "They put the go-ahead runner into scoring position rather than face Mikie."
Sadly for LSU, the strategy has worked. The Tigers (30-19, 8-16) have struggled in SEC play despite the fact that Mahtook is hitting .352 with 12 homers and 44 RBIs.
To put his power stats in perspective, only one player from a BCS conference -- Andrew Rash of Virginia Tech -- has more homers than Mahtook. In addition, Mahtook's 25 steals rank 11th among all players nationally.
Places to be this weekend
By Eric Sorenson
Special to ESPN.com
Don't have plans this weekend? Here are 10 can't-miss series:
[+] Enlarge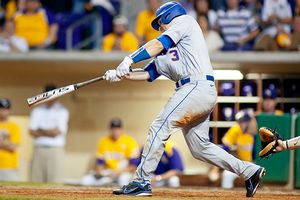 John Korduner / Icon SMIMike Zunino and the Gators are on the road again this weekend.
1. No. 5 Florida at No. 2 Vanderbilt
Watch: Friday at 7 p.m. ET on ESPN3.com
By the numbers:
UF: 36-12, 18-6 SEC, No. 1 RPI
Vandy: 41-6, 19-5 SEC, No. 6 RPI
This is good. No, really good. Downright tasty. These two teams mirror each other with great starting pitching, intimidating relievers, lockdown defense and dangerous offenses. Vandy leads the SEC in pitching (2.38 team ERA) and hitting (.319), but don't put too fine a point on that, because the Gators are not only wildly talented (there are seven or eight possible future first-rounders on the roster), they are also road tested and experienced. Still, slight advantage to the home team here, especially since the Gators are going from the frying into the fire in consecutive weeks of SEC road rigors. I look for the Commodores to get one break more in this weekend series.
2. The Patriot League Playoffs
Lafayette (18-28, 10-10) at Army (19-24, 11-9)
Bucknell (24-26, 10-10) at Navy (29-20-1, 12-8)
Ahhhh, I love playoff baseball. Especially when it's not eight teams jammed together where a couple of teams have to play six games in five days. If you have to hold some kind of postseason play, then the PL knows how to decide things. Just take your top teams and throw them in a best-of-three. This week's winners will face off with each other next weekend. I'm not rooting for anybody in particular here, but how cool would an Army-Navy best-of-three sound? Just sayin'.
[+] Enlarge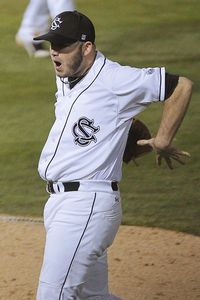 AP Photo/Patrick SemanskyMatt Price is hoping to lead South Carolina back to Omaha next month.
3.No. 17 Arkansas at No. 3 South Carolina
Arkansas: 32-15, 12-12 SEC, RPI No. 16
South Carolina: 38-10, 18-6 SEC, RPI No. 7
Okay, the big question is: Do the Razorbacks have any magic left in them? After taking down Florida in two of three last weekend, you have to wonder how that arm of D.J. Baxendale is going to fare vs. the homestanding bats of the Gamecocks. I'm still keeping a keen eye on two things with Carolina: the offense, which needs to be more consistent, and reliever Matt Price, who has been a little sketchy, especially the longer his stint on the mound is. Again though, I'm never going to doubt Ray Tanner's ability to get his team to play at a high level when they need it. Carolina rights the ship here and sails on.
For the complete list, check out the college baseball blog.
Eric Sorenson, who runs College Baseball Today, is a regular contributor to ESPN's college baseball coverage. Follow Eric on Twitter: @stitch_head
Follow ESPN.com's college sports coverage on Twitter @ESPN_College and on Facebook.
Top 25 matchups
No. 23 Miami at No. 1 Virginia
No. 5 Florida at No. 2 Vanderbilt *
No. 17 Arkansas at No. 3 South Carolina
Texas Southern at No. 4 Texas
No. 6 Florida State at NC State
No. 7 Arizona State at USC
No. 8 Oregon State at Washington
No. 9 UNC at No. 13 Georgia Tech
Utah at No. 10 TCU
Long Beach State at No. 11 Cal State Fullerton
New Mexico at No. 12 Oklahoma
Nebraska at No. 14 Texas A&M
No. 15 Southern Miss at Houston
No. 16 Clemson at Virginia Tech
No. 18 UC Irvine at UC Santa Barbara
Cal State Bakersfield at No. 19 UCLA
Memphis at No. 20 Rice
New Mexico State at No. 21 Fresno State
Lipscomb at No. 22 Stetson
Baylor at No. 24 Oklahoma State
No. 25 Stanford at Oregon
• USA TODAY/ESPN Top 25 Coaches Poll
* Games can be seen on the ESPN family of networks. For the full college sports TV schedule, click here.
Bracketology
ESPN's resident NCAA baseball bracketologist, Jeremy Mills, offered his latest projections. Mills' eight national seeds are:
1. Virginia
2. Vanderbilt
3. South Carolina
4. Oregon State
5. Arizona State
6. Florida
7. Florida State
8. Texas
You can find the rest of his projected 64-team field in ESPN.com's college baseball blog.
Spotlight: FIU

With 13 wins in a row, FIU (32-16, 16-8 Sun Belt) is one of the hottest teams in the country. FIU's best player has been leadoff batter and center fielder Pablo Bermudez, who is hitting .397 with 16 steals and a .514 on-base percentage. He is in the top five in the conference in batting average, walks, steals, on-base and slugging percentages. As a team, FIU leads the Sun Belt in most offensive categories, including batting average (.314), runs scored, home runs, slugging and on-base percentages. FIU's 3.44 ERA ranks second, and the only weakness is on defense, where the Golden Panthers' .958 fielding percentage is last in the league. -- Water Villa
Mid-Major: South Dakota State

Record: 33-13, 16-4 Summit League
Offense: .322, 98 doubles, 187 BBs
Pitching: 4.77, 255 Ks, 124 BBs
Defense: .963, 41 double plays
Reason to watch: History could be made. Way up there, swaying amongst the shocks of wheat in the northern plains, Ritchie Price is pulling off a minor miracle in college baseball. For the second straight year, the youthful (he's only 28) coach of South Dakota State has put together back-to-back 30-win seasons and has his team primed to win its first outright Summit League title. Going into this weekend's showdown with league bully Oral Roberts, the Jacks have a two-game edge in league play. SDSU is paced by a pair of outstanding pitchers. Staff ace Blake Treinen (5-2, 3.06), who came back for his senior year despite getting picked by the Marlins in the 23rd round of last summer's draft, and bullpenner Trever Vermeulen (2-2, 2.54, 8 saves), who earned a win and two saves last weekend versus North Dakota State, making for his third Summit League Pitcher of the Week honor. The incredible part of the story is that the Jackrabbits could knock the Eagles out of the top spot in the conference with a series win this weekend. That would mean it would be the first time in Summit history that ORU would not occupy the top spot in the regular season's final standings. -- Eric Sorenson
Watch out for: Charlotte

The reason Charlotte (36-11, 15-6) is tied for first in the Atlantic-10 Conference is its pitching staff, which has the best team ERA (2.19) in the nation. The 49ers shut out Richmond twice in a row last weekend. That gives Charlotte 10 shutouts for the season, which ranks third in the nation. The 49ers' starters are junior Andrew Smith (8-3, 1.75 ERA), freshman Tyler Barnette (7-1, 1.88), junior Joe Yermal (4-1, 1.51) and sophomore Corey Roberts (7-2, 2.42). Offensively, the 49ers don't have a ton of pop, but they can run. Cory Tilton has 29 steals in 32 tries, Justin Wilson has 20 in 25 attempts, and Shane Basen has 15 out of 18. The recipe of pitching and speed has the 49ers on the cusp of a national ranking and could make them a tough out in the NCAA Tournament. -- Walter Villa
Q&A: Kevin O'Sullivan

Coming off a struggling weekend at Arkansas, where his team dropped two of three, Florida coach Kevin O'Sullivan can't sit around and let his team trip over its lip here. Another vigorous road trip to Vanderbilt awaits for the talented Gators. I caught with the coach of the RPI's No. 1 team this week on the eve of his big showdown with the Commodores. -- Eric Sorenson
ES: You've got two tough back-to-back trips with Arkansas last week and Vanderbilt this week. Is somebody in the SEC scheduling department angry at you?
KO: I don't know. This is actually the second time we've had to go on the road back-to-back this year. We had to go to Mississippi State and Georgia on consecutive weekends earlier. I don't know of another team in the SEC that has had to go on the road two consecutive weekends twice in a season.
ES: Do you worry about your team wearing down at all in these stretches?
KO: Well we're out of school now, so no, it shouldn't be an issue at all. We do know that taking these road trips and playing in these tough atmospheres will only make us a better club in the postseason.
ES: Are you treating this weekend at Vanderbilt any different than other weekends?
KO: From a coaching standpoint, no. Everything will be handled the same as usual. But we tell our guys that one win is just one win and one loss is one loss. Sure there's lots on the line here, but if you had told me before the season that we would be 18-6 in the SEC and we still control our own destiny as far as winning the SEC and playing in the postseason, I would've taken that.
ES: Since you [and Vanderbilt coach Tim Corbin were] both Clemson assistants under Jack Leggett, do you see any parallels between your program and Tim Corbin's program?
KO: We're very, very similar on paper and the way we go about things. We've both done a good job of coaching, recruiting and he's definitely not afraid to go after the best players in the country, just like us. And of course, we're both built on pitching and defense. So there are a lot of things that we both do and it's showing up in the win column for both as well.
ES: How do you feel about your team's progress up to this point?
KO: The biggest thing is we've hit our stride offensively in the last three to four weeks. The Arkansas weekend was a little deceiving because we got pitched to very tough, but we've been swinging the bat very well lately. Pitching-wise, we've had really good starting pitching, really solid relievers, we're really where we had hoped we would be at this point. But the biggest difference is the way we've hit the past few weeks.
ES: How is it you guys have only issued 85 walks through your first 48 games?
KO: We actually did that last year too. Our walk-to-innings ratio is about the same, two walks per nine innings. But from Day 1 we've told our pitchers not to be afraid of contact, learn to trust the defense behind you. Our philosophy is to get two strikes in the first three pitches each at-bat and we've done that for the most part.
ES: A lot was made about Preston Tucker struggling so much in the Cape Cod League last summer. What's been the big difference to the good season he's had? KO: In my opinion, people put a lot of false stock in what happens in summer league ball. I mean this guy's been hitting consistently for three years here and then he had six weeks where he struggled for the first time in his career. It was just a bad stretch where he was pressing a bit. But he's fearless. He thinks he can hit anything and he's just picked up where he left off last year.
Capital One Cup

The Capital One Cup rewards the best Division I men's and women's programs in the country for their on-the-field performance throughout the year. For more information about the Cup, visit capitalonecup.com.