The teams that need to win -- or else
By Eric Sorenson
Special to ESPN.com
This is always one of the more intriguing weekends of the college baseball season.
It never fails. You can bet on a handful of teams being caught in the dubious position of proving how deceiving preseason polls and early season returns can be. With one weekend of action left before we head into conference tournaments, these are the teams that find themselves firmly behind the eight ball, despite prognostications that had them possibly playing for conference titles and high postseason perches. Put up or shut up time. Here we go:
[+] Enlarge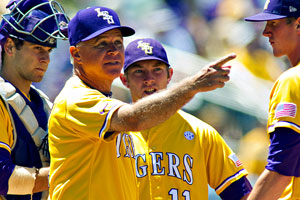 Icon SMIPaul Mainieri and LSU are in a must-sweep situation at Mississippi State.
LSU
Record: 34-19, 11-16 SEC
This weekend: at Mississippi State
What's at stake: Sitting in last place in the SEC West, the Tigers must sweep the Bulldogs this weekend. And even if they do, there's no assurance that they'll get into the SEC tournament field of eight. Arkansas, MSU, Auburn and Alabama are tied at the top of the West with 13-14 records. The Tigers need some help because finishing in last place in the weaker division of the SEC won't reflect well on them.
Louisville
Record: 27-26, 12-12 Big East
This weekend: versus Notre Dame
What's at stake: The Cards are in seventh place in the Big East and need to stay ahead of eighth-place teams Seton Hall and South Florida (both 11-13) in order to make the Big East tournament. The 'Ville lost all three games to the Pirates two weeks ago, but did take two of three from the Bulls in mid-April. UND's pitching is third in the Big East with a 2.82 ERA, so you know that means trouble for the Cards, who hit a boney-armed .246 as a team.
Baylor
Record: 27-23, 11-13 Big 12
This weekend: versus Oklahoma
What's at stake: As of now, the Bears are in fifth place in the Big 12, in other words, leaders of the "have-nots" of the conference. They are being hounded by Missouri, Texas Tech, Kansas State and Kansas, who all are within two games of Baylor in the loss column. Keep in mind that the top eight teams advance to Oklahoma City for the Big 12 tourney. BU's RPI of No. 35 is pretty good, but if the Bears happen to get swept here, things could turn ugly.
Kansas State
Record: 31-21, 9-14 Big 12
This weekend: versus/at Kansas
What's at stake: Staying in the Big 12, the Cats are another team that came into the season with high expectations, but they could see their season end this weekend. They are only a half-game ahead of KU for the final spot in the Big 12 tourney field, and it's anything goes when it comes to these two rivals. K-State also just saw its RPI swan-dive from No. 38 to No. 57 this week.
North Carolina State
Record: 30-23, 12-15 ACC
This weekend: at Boston College
What's at stake: Hard to believe a team that beat Clemson and North Carolina in three-gamers is in jeopardy of having its season end. But now the Pack is tied with Wake Forest for seventh place, and both are trying to stave off ninth-place Virginia Tech, which is on a 10-4 run since mid-April and is 10-17 in the ACC. By the way, the Pack is just 6-11 in road games this year.
Georgia
Record: 27-26, 15-12 SEC
This weekend: versus Vanderbilt
What's at stake: Yes, the midweek win against Kennesaw State was huge, and every victory from here on out will be big. But can you imagine if the Junkyard Dogs get swept or lose two of three to the Commodores? It makes an appearance in the SEC title game nearly a must for any hopes for a winning record and at-large consideration.
La Stella the right fit at Coastal Carolina
By Walter Villa
Special to ESPN.com
Tommy La Stella, a Yankees fan and Jersey boy by birth, seemed to have the perfect situation.
He was playing college baseball for St. John's, just minutes from his parents' house in Closter, N.J., close enough to drive home and enjoy his mother's Italian cooking on Sundays.
La Stella, a lefty-hitting second baseman, earned four starts and hit .320 as a freshman.
But something wasn't quite right.
[+] Enlarge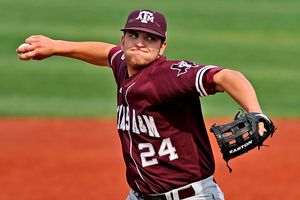 Peter G. Aiken/Getty ImagesNick Fleece and Texas A&M look forward to a big series with rival Texas this weekend.
Longing to play where baseball mattered more, he had developed an interest in Coastal Carolina after watching the Chanticleers make it to a 2008 super regional against North Carolina.
"It's not a knock on St. John's," La Stella said. "But I saw Coastal as a program on the rise, and I wanted to be a part of it."
La Stella had worked with a hitting coach, Bobby Frassa, who knew Coastal coach Gary Gilmore. A roster spot was available, and La Stella took it, joining a program with diverse talent.
While other programs get all they need in their backyard -- for example, only seven Bulldogs come from outside Georgia, and only six Gators from beyond Florida's borders -- Coastal Carolina has no such luxury.
Gilmore's roster includes players from 18 states, including only five from his South Carolina base.
"Probably every baby in the state -- except mine -- is born rooting for South Carolina or Clemson," Gilmore said. "So we don't get the top recruits. We have to find good athletes who are not yet polished and make them into baseball players."
Given Coastal's nationwide recruiting pattern, La Stella fit right in, even if his decision to transfer was more instinct than research.
"Looking back, it might not have been the smartest thing to do," La Stella said. "I didn't know the depth chart or how I might fit. I just trusted my gut."
La Stella also had to adjust from the fast pace of the New York metropolitan area to life in Conway, S.C., where he found it odd that drivers aren't "flying all over the road, cutting people off."
After sitting out the 2009 season as per NCAA transfer rules, La Stella had a huge year in 2010, starting 64 games and hitting .378 with 14 homers and 66 RBIs.
He also displayed a good all-around game, striking out just 15 times, making only five errors, getting on base 45 percent of the time and stealing successfully on all six of his tries.
His efforts helped Coastal set a school record with 55 wins, including a 25-0 record in the Big South Conference. Coastal earned a No. 4 national seed and won its regional, creating the type of excitement La Stella had longed for at St. John's.
"Baseball is the premier sport on this campus," La Stella said of Coastal. "It's a way of life down here, and I love it."
Coastal's dream 2010 season ended in a super regional with a pair of one-run losses against South Carolina, the eventual national champions.
Nine Coastal players were drafted last year, and five signed. But plenty of talent returns, led by La Stella on offense and fellow junior Anthony Meo (29-7 career record) on the mound.
Coastal (34-17, 18-6) hasn't had quite as much success as last year -- at least not yet. But the Chanticleers have won nine of their past 11, including five shutouts.
Meanwhile, La Stella is having an even bigger year than last season.
He's hitting .407 with 11 homers and 56 RBIs. He has an on-base percentage of .489, has made just five errors, has struck out only 14 times and is 7-of-11 on steals.
La Stella attributes his success to hard work. Instead of going home to New Jersey on Christmas break, he stayed at Coastal and made adjustments to his swing.
"I worked on handling inside fastballs," he said. "I got myself out on that pitch a lot last year. I worked on learning which pitches I could handle, shortening my swing, being more compact and getting rid of wasted movement."
The buzz on La Stella seems to indicate he will get drafted in the first three rounds of next month's Major League Baseball draft, and Gilmore won't argue with that.
"He is one of the most aware kids I've been around," said Gilmore, who is in his 16th season as the head coach at his alma mater and is bidding for his 11th NCAA tournament appearance.
"He pays attention to every aspect of the game. Defensively, he always seems to be moving to the right spot before the ball is even hit. Offensively, he studies every pitch, even when he is not at bat. I have no doubt he will be in the majors someday."
Places to be this weekend
By Eric Sorenson
Special to ESPN.com
Don't have plans this weekend? Here are 10 can't-miss series:
[+] Enlarge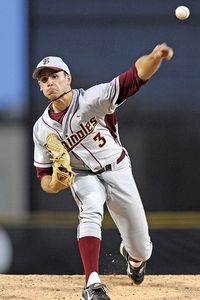 Richard C. Lewis/Icon SMIClemson will have to go through FSU's Sean Gilmartin in Tallahassee this weekend.
1. No. 11 Texas A&M vs./at No. 5 Texas
By the numbers:
A&M: 37-16, 18-6 Big 12, RPI No. 11
UT: 38-12, 17-7 Big 12, RPI No. 10
There is no bigger matchup this weekend. Oh, who am I fooling? There may be no bigger matchup of any season. This rivalry is as intense as it gets. The Thursday matchup will take place at Olsen Field before moving over to Disch-Falk Field at UT for Friday and Saturday. The fact that they are both highly ranked and battling for national-seed status is just gravy for this smorgasbord.
Key matchup: A&M's Nick Fleece and Joaquin Hinojosa vs. UT's Corey Knebel and Hoby Milner. It's obvious that the strength of each team has been the lockdown starting pitching that each has displayed. With talents like John Stilson, Michael Wacha and Ross Stripling going up against Taylor Jungmann, Sam Stafford and Cole Green, these rotations should be fit for an instructional video. But watch for the key relievers here. Fleece and Hinojosa are both seniors, while Knebel is a frosh and Milner is a sophomore. If those two greenhorns get nervous feet in this high-stakes rivalry, look for the Aggies to come out on top, thus winning the Big 12.
2. No. 1 Virginia at No. 13 North Carolina
UVa.: 45-6, 22-5 ACC, RPI No. 2
UNC: 41-12, 17-10 ACC, RPI No. 3
Could the Cavaliers actually lose a weekend series this year? Probably not. Although their fate is mostly sealed, they'll be a No. 1 seed, play at home and be expected to reach Omaha. So don't be shocked to see a letdown here. And Carolina will be hungry for a defining weekend that could cement its national-seed status, since its RPI is surprisingly high (though I'm not sold that UNC really deserves it, but that's for another day's rant). Let's see how the Tar Heels respond as the white-hot spotlights shines down on them.
Key matchup: Carolina working counts vs. Virginia's pinpoint pitching. The Tar Heels' only chance will be if they can work some deep counts from a staff that normally doesn't go into deep counts. The Heels are second in the ACC with 284 walks on the season. As you know, Virginia gives away free passes about as often as Ebenezer Scrooge gave away money to charity, just 114 in 51 games. If UNC can make the Wahoos labor a little more than usual, it's bully for them.
[+] Enlarge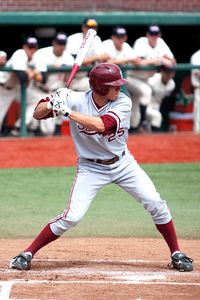 Larry Lawson/Icon SMIStephen Piscotty and Stanford have the edge in their series against Arizona.
3. No. 15 Clemson at No. 6 Florida State
CU: 37-16, 15-12 ACC, RPI No. 9
FSU: 39-13, 18-9 ACC, RPI No. 4
The Tigers have grown teeth again and enter the weekend matchup at Dick Howser Stadium on a 17-3 spree since tax day. In fact, they've shot up to within three games of the Noles in the Atlantic Division. Now, I'm not saying they'll sweep the weekend in Tallahassee, but this is an experienced team that Jack Leggett takes into the lion's den, and they are looking to get into national-seed discussion. FSU just wants to stay there. Motivation points to CU.
Key matchup: Sean Gilmartin and Brian Busch vs. the left-handed heavy Tigers. The plum & orange has famously struggled against good left-handed pitching recently, and that's what starters Gilmartin and Busch offer on the bump. If they can establish some consistent offense against them and string together some hits, this weekend could be a boon to their postseason at-home hopes.
4. No. 20 Rice at No. 17 Southern Mississippi
Rice: 36-17, 14-7 CUSA, RPI No. 12
USM: 37-13, 15-6 CUSA, RPI No. 16
Yes, you're reading this right: The Owls might not win the Conference USA title. If the Eagles can take this series, it will be just the second time since it arrived from the WAC in 2006 that the name Rice won't appear at the top of the standings. But the bigger picture this weekend is that the winner of this series puts itself in prime position to be a regional host. USM saw its RPI ranking, right or not, jump from 17 to 10 this week.
Key matchup: USM's Collin Cargill vs. the Rice order Owls coach Wayne Graham told me last week that the key to his team is that they have swung the bats better, particularly later in games. Cargill is 6-3 with a 1.24 ERA and eight saves and is a huge key to whether the bats that surround Anthony Rendon will be effective or not. Cargill has given up just five earned runs in 36 innings. FYI, Rendon leads the nation with a head-slapping 72 walks this year.
5. California at No. 21 UCLA
Cal: 28-16, 12-9 Pac 10, RPI No. 34
UCLA: 29-19. 14-7 Pac 10, RPI No. 47
It's bizarre to think that the Bruins have been one of the best teams in the country on Saturdays and Sundays, going 11-3 in their past 14 weekend games. If only they could get off to great starts on Fridays, this team would be downright scary again. The past three weeks have seen the Bears go a tad on the cold side, sporting a 4-7 mark in that span, though their RPI is pretty strong. The Bruins still need a serious RPI boost, and could get it here with a few W's. It didn't help that a power outage ruined their chance at a win over Fullerton on Tuesday.
Key matchup: Cal's Erik Johnson vs. UCLA's offense Since we can go ahead and mark down a W for Trevor Bauer's Saturday start -- he's thrown six straight complete games -- that makes Friday's showdown such a key game. The Bruins have gotten great pitching from Gerrit Cole, but it's their lack of punch on offense that has been their downfall on Fridays. Johnson has given up just six hits in his past 15 innings of work.
6. Arizona at No. 25 Stanford
UA: 32-17, 11-10 Pac 10, RPI No. 29
SU: 28-18, 10-11 Pac 10, RPI No. 23
These two teams are pretty identical on the field and on the stat sheet, as witnessed by their close proximity in the RPI, the Pac 10 standings, pitching staffs and batting orders. The two teams have the top two offenses in the conference with the Cats hitting .326 and the Trees hitting .305. But keep in mind that the Cardinal have played a much tougher slate and should be able to handle the step up. Arizona is also just 8-11 in road games this season. Yep, we can do the math.
7. Florida Atlantic at Florida International FAU: 31-20, 16-11 SBC, RPI No. 56
FIU: 35-16-1, 18-8-1 SBC, RPI No. 32
Obviously this is a big, underrated rivalry and just like last season, these two teams go into their showdown weekend with NCAA bids in their sights. In the last weekend of 2010, FAU knocked the Panthers out of at-large consideration (before FIU rebounded and went on to win the Sun Belt tournament). This time, it's the Panthers who are sitting pretty for a bid to the Big Dance and can send the Owls into golf club mode for the summer. Although FAU's win over Miami on Tuesday was a much-needed positive.
8. Oklahoma State at Texas Tech
OSU: 33-19, 13-10 Big 12, RPI No. 28
TTU: 31-22, 10-14 Big 12, RPI No. 41
This one has big-time ramifications in all directions. At the top of the food chain, the Cowboys have a chance to move past Oklahoma (a series they won in Big 12 play) and into the coveted third slot in the Big 12. That would allow them to avoid the No. 1 team in Oklahoma City next week. Of course it may be faint, but with a sweep here and a good showing at Bricktown, the Pokes have an outside shot at a home regional as well. At the bottom of the food chain, Tech is trying to avoid getting knocked out of the top eight of the conference (the Raiders are seventh right now) and would also love to improve that RPI to inside the top-40.
9. Creighton at Missouri State
CU: 36-13, 12-6 MVC, RPI No. 52
MSU: 31-18, 11-6 MVC, RPI No. 67
The Bluejays and Bears are the top two teams in the Missouri Valley and both are trying their best to gussy up their résumés to get into at-large consideration. Both obviously have their work cut out for them, especially the Jays, who saw their RPI plummet from No. 42 last week. MoState helped its cause with a big win over Oklahoma State on Tuesday, improving their mark to 6-1 versus Big 12 teams. Watch for a key matchup between CU catcher Scott Thornburg (who is hitting .448 in his last 10 games) and reliever Dan Kickham (saved all three games versus Bradley last weekend), who are the reigning MoValley player and pitcher of the week.
10. Wherever the SEC West leaders are playing
No. 2 South Carolina at Alabama
LSU at Mississippi State
Auburn at Tennessee
No. 18 Arkansas at Ole Miss

The SEC West is quite the wild west, dontcha think? Arkansas, Mississippi State, Alabama and Auburn are all tied atop the division at 13-14 in conference play going into this final weekend. The recipe is pretty simple as all four teams must avoid getting swept at all costs. If they do that, they should be fine for making the SEC tournament in Hoover. Ole Miss is one game back and LSU is just two games back, both still have a shot at the division title too, although the Tigers could sweep State and still not make the field of eight at the Hoover Met. That would make the NCAA bid a very dicey proposition.
Eric Sorenson, who runs College Baseball Today, is a regular contributor to ESPN's college baseball coverage. Follow Eric on Twitter: @stitch_head
Follow ESPN.com's college sports coverage on Twitter @ESPN_College and on Facebook.
Top 25 matchups
No. 1 Virginia at No. 13 North Carolina
No. 2 South Carolina at Alabama
No. 3 Vanderbilt at Georgia
Kentucky at No. 4 Florida
No. 11 Texas A&M at No. 5 Texas
No. 15 Clemson at No. 6 Florida State
USC at No. 7 Oregon State
No. 8 Oklahoma at Baylor
No. 9 TCU at New Mexico
No. 12 Arizona State at Washington
No. 14 Georgia Tech at Virginia Tech
No. 16 UC Irvine at UC Riverside
No. 20 Rice at No. 17 Southern Mississippi
No. 18 Arkansas at Ole Miss
Cal State Bakersfield at No. 19 Fresno State
California at No. 21 UCLA
Duke at No. 22 Miami
Belmont at No. 23 Stetson
No. 24 UConn at Cincinnati
Arizona at No. 25 Stanford
• USA TODAY/ESPN Top 25 Coaches Poll
Bracketology
ESPN's resident NCAA baseball bracketologist, Jeremy Mills, offered his latest projections. Mills' eight national seeds are:
1. Virginia
2. South Carolina
3. Florida
4. Oregon State
5. Texas
6. Florida State
7. Vanderbilt
8. Arizona State
You can find the rest of his projected 64-team field in ESPN.com's college baseball blog.
Spotlight: Bethune-Cookman

Bethune-Cookman (32-22, 18-0) concluded its second straight perfect regular season in MEAC play and is attempting to win the conference tournament this weekend in Daytona Beach. If the Wildcats win, as expected, it will mark the program's 12th NCAA tournament appearance since 1996. They have also won an NCAA-record 43 consecutive conference games. Bethune-Cookman has a losing record out of the league but can claim wins against Auburn, Michigan State, Stetson (twice), South Florida (twice) and FIU. The Wildcats are led by junior catcher Peter O'Brien, a highly rated draft prospect who leads the team with 12 homers and 57 RBIs. The rotation includes Patrick Goelz (7-3, 3.03), who won three straight MEAC pitcher of the week honors, Scott Garner (7-2, 2.38) and Gabriel Hernandez (6-0, 3.50). -- Water Villa
Mid-Major: Conference tourneys
While most conference tournaments won't get cranked up until next week, there are a few tux fittings on tap for this week, as four conferences will hold their postseason hoedowns over the next few days. Here is a quick snapshot of each.

• Mid-Eastern Athletic Conference tournament
Location: Daytona Beach, Fla.
Regular-season champion: Bethune-Cookman
Format: Six teams, double elimination

Nobody has dominated their respective conference like BCU (33-22) has in the MEAC. The Wildcats have won both the regular-season title and the tournament title each year since 2005. The Cats also went a perfect 18-0 in MEAC play for the second straight year. It would rank as a major upset if Bethune doesn't advance to the NCAAs next week.
• Northeast Conference tournament
Location: Norwich, Conn.
Regular-season champion: Monmouth
Format: Four teams, double elimination

Monmouth (34-17) may have won the regular-season title by two games over Sacred Heart, but if the NEC tournament has taught us anything it's that there really is no favorite. The last time the regular-season champion won the postseason tournament was in 2005. The Hawks have won two of the past four NEC tourney titles, but keep an eye on Sacred Heart (31-21), which owns wins over Mississippi State, Southeastern Louisiana, Connecticut and UNLV this season.
• Southwestern Athletic Conference tournament
Location: Shreveport, La.
Regular-season champion: Alcorn State
Format: Eight teams, double elimination

Alcorn State (22-27) won the East Division of the SWAC with a 19-4 record, while Southern (26-18) won the West at 16-8. The Jags have the best RPI of any of the SWAC teams at No. 221 if you want to label them the favorites. Last year, the Braves eliminated the Jaguars with two wins over the blue and gold. But it was Grambling that got the drop, going unbeaten in four games to earn its first SWAC conference title.
• Patriot League championship series
Location: Annapolis, Md.
Regular-season champion: Navy
Format: four teams, two rounds of playoffs

The championship series is down to Army (21-24) and Navy (31-22-1) after both teams won best-of-threes last weekend against Lafayette and Bucknell, respectively. The two academy rivals now play their own best-of-three starting Monday to determine who goes to the Big Dance. During the regular season, the two teams split a four-game series at West Point, and three of the four games were decided by a single run.
-- Eric Sorenson
Watch out for: North Carolina

North Carolina (41-12, 17-10) is playing host to No. 1 Virginia this weekend, which represents the Tar Heels' final chance of the regular season to knock off one of their fellow Coastal Division heavyweights. UNC lost two of three at home to Miami on April 23-24 and saw the pattern repeat last weekend at Georgia Tech. Shortstop Levi Michael is UNC's top draft prospect, but third baseman Colin Moran leads the team in hitting (.349) and homers (nine) and tops the ACC with 63 RBIs. Moran could be the first freshman to win the league's RBI title outright since 2001 and is locked in a battle for ACC Rookie of the Year with Georgia Tech's Kyle Wren. Patrick Johnson (9-1, 3.07) is UNC's ace, and catcher Jacob Stallings has overcome a pedestrian .269 batting average by setting a team single-season record with 26 runners thrown out trying to steal. -- Walter Villa
Hot and cold: RPI effect
With teams jockeying for postseason position, the RPI will play huge factor. We look at who's hot and cold in the rankings.


Who's hot

1. No. 10 Texas A&M (+8)
The Aggies jump right back into No. 1 seed position with a 4-0 week which included wins over Texas State and Nebraska. That's not even the best part. If the Aggies can take down the Longhorns this weekend, that should propel them into top-eight national-seed territory.

2. No. 19 Fresno State (+10)
It's kind of hard to believe the Bulldogs can gain ten spots in the rankings after beating New Mexico State. Not that I don't think the Aggies are worthy; Lordy, no. But the underappreciated Aggies were ranked at No. 151 going into last weekend. It's almost as if the WAC was given some respect by the RPI. Wow.
3. No. 48 Dallas Baptist (+14)
This is a significant jump for an independent that needs every precious step into the top 45. The amazing part is that this 14-spot jump came after the Patriots played Alcorn State (which is No. 247 this week). I don't get it, but I'm also on the Pats bandwagon, so I'm not gonna hassle it.

4. No. 13 Cal State Fullerton (+6)
It's not a huge bump, but for the Titans to get inside the top 16 is significant for their hopes of playing at home in the regionals. The bad part is that No. 233 Cal State Northridge is up next. Don't expect Fullerton to stay in this spot very long.

5. No. 39 Kent State (+6)
At this point any positive movement for the Golden Flashes is huge, considering how much the MAC usually drags down their RPI. Wins over Xavier and Bowling Green actually helped them. Which is cool, because this team is worthy of at-large status regardless what these rankings say.
Who's cold

1. No. 20 Oregon State (-9)
It's hard to believe any team that leads the Pac-10 could fall off the radar for national-seed consideration, but here we are. Remember how awfully the RPI has treated OSU in the past? Hopefully the selection committee will use common sense in consideration of these guys if they stay atop the Pac.

2. No. 21 Stetson (-9)
This nine-spot drop is really painful for the Hatters. Unlike OSU, Stetson won't have much of a chance to gain RPI points with Belmont coming up. So a dip to outside the top 20 did them no favors in their hopes for hosting a regional.

3. No. 53 Troy (-9)
The Sun Belt-leading Trojans took on last-place UL-Monroe last weekend, and it obviously cost them, especially with losing one of the games. And we all know how dire it is to drop out of that coveted top-45 spot. A weekend versus 95th-ranked South Alabama might help a little.

4. No. 50 Coastal Carolina (-7)
Like the Trojans, the Chanticleers don't get much wiggle room this time of year. Losing two of three at Winthrop was a crusher, and I'm a little surprised they didn't drop more than seven spots. Just don't let it happen again this weekend against Charleston Southern or we can all wave goodbye to CCU.

5. No. 23 Stanford (-8)
This drop isn't as dire as those above, simply because the Cardinal can rectify things right away as they host Arizona this weekend and then play Cal in the final weekend. Even with those six games ahead I still don't think I'd count on them getting back into regional hosting territory. But we'll see. -- Eric Sorenson
Q&A: Kyle Peterson
Perhaps nobody in our sport is the face of college baseball more than Kyle Peterson, the ESPN color commentator and sideline reporter during the College World Series. Since 2003 he's been giving his two cents and million-dollar thoughts to ESPN's broadcasts of college games from the regionals to the CWS. This year, Kyle has joined the weekly Thursday night broadcasting booth to his list of duties. And our sport is the better for it. I caught up with the former Stanford All-American and Omaha native after the Mississippi State-Ole Miss game he called in Oxford last Thursday.
ES: What has changed the most in college baseball since you pitched at Stanford in 1997?
KP: We were talking about this the other day on the air. The biggest change is probably just the amount of people that are paying attention to the sport. With the amount of money being put into new stadiums and the amount that athletic departments are putting into it, things are changing. It always seemed like people were saying, "We've got a baseball team, that's great. And if they win, that's great too." It wasn't that big a deal. It seems like in the last 15 years, people are really paying attention to it because they realize you can make money from baseball now.
ES: What change have you seen with the new bats from a pitching perspective?
KP: I feel like before, you really had to pitch to miss the bat. You felt like you were really at risk anytime they would put the ball in play. Now, things are totally different, and I think you see a different approach from pitching coaches across the country. If you make a quality pitch and even if the guy puts it in play, the ball's not gonna go out of the yard. It might be a hit. Or it might hug the line for a double. But it's not like the guy's gonna hit the ball off-balance and still put it 10 rows into the left-field stands anymore. And that's how it should be. If I hang a breaking ball and the guy puts a good swing on it, it should go out of the yard. But if I throw it in the right spot, very few guys have the ability to hit the ball out of the stadium. And that's the way it oughtta be.
ES: I remember you mentioning during one of the games I saw that the inside pitch is something a pitcher isn't afraid to throw anymore in college baseball.
KP: Yeah, I think you're even more encouraged to throw it now. Before you were afraid to. The bats were so light and the sweet spot was so big, all guys had to do was get their hands to it. Now, it's not a wood bat, but it's close. And pitchers are starting to learn to pitch the way they need to in order to make it to pro ball. Now listen, this is still a college game and it should never be the same as the pro game, but now it's fair. At the beginning of the year I thought maybe they went too far in toning down the bats, but the more that I see it, I think they got it just right.
Check out the rest of Eric's conversation with Kyle in ESPN.com's college baseball blog.
Capital One Cup

The Capital One Cup rewards the best Division I men's and women's programs in the country for their on-the-field performance throughout the year. For more information about the Cup, visit capitalonecup.com.