Timely batting, clutch pitching key for Georgia
AP Photo/Ted Kirk
Dawgs' Day
By Elizabeth Merrill, ESPN.com
OMAHA, Neb. -- Josh Fields is about to become a rich man -- he was the 20th overall pick in the MLB draft -- in part because he can throw a straight fastball at 95 mph. But on Saturday night, in a situation he's been in many times before, Fields was oddly nervous on the mound and began to pray. If you were facing national No. 1 seed Miami's vaunted lineup, in the ninth inning of the College World Series, wouldn't you be, too?
AP Photo/Ted Kirk
Josh Fields came up big on the mound for Georgia.
"What I was thinking the whole time," Fields said, "was throw strikes. Throw strikes."
Two strikes will weigh heavily in the Hurricanes' minds for at least two days: One was the final pitch Fields delivered late on Saturday night that gave Georgia a 7-4 comeback victory on the opening night at Rosenblatt Stadium. The other was a dropped third strike that prompted yells from the Georgia dugout and turned the game around a half inning earlier.
On a day when the underdogs pulled out last-inning heroics, the Bulldogs advanced to the winners' bracket and Miami dropped to a Monday elimination game with rival Florida State, an earlier victim to unseeded Stanford.
The emotions of the night were obvious as Fields met his catcher near the mound at the end of the game, and Jake Crane appeared to be yelling to Fields as their teammates celebrated.
Crane's message: "Let's win the whole thing!"
"He does a pretty good job of keeping his cool and calming me down," Fields said. "When it's time to enjoy it, he gets excited."
The Bulldogs trailed 4-3 in the top of the ninth, and appeared to be down to their final out when Robbie O'Bryan struck out swinging. But Miami catcher Yasmani Grandal couldn't handle the pitch, and, after a few split seconds and some encouragement from the dugout, O'Bryan sprinted safely to first. Lyle Allen drove in the tying run with a single to left, then David Thoms sent a grounder to the mound.
Pitcher Carlos Gutierrez's throw flew wildly past the bag and rolled into right field, allowing two runs to score.
"That was a big mistake they made at the wrong time," Georgia coach David Perno said. "We just took advantage of it. We were very lucky."
Fields earned the win, and has yet to allow an inherited runner to score all season (0-for-14). Bulldogs third baseman Ryan Peisel, whom Perno calls the heart and soul of the team, drove in the final run of the night. He was 3-for-5 with four RBIs. Saturday was also his birthday.
"I was hoping to get a lot of text messages," he said, "either 'Happy Birthday' or 'You blew it.'
"I don't know if it was the birthday gods or not, but it worked out in the end."
Card Tricks
By Elizabeth Merrill, ESPN.com
OMAHA, Neb. -- This game will humble you, the old man in the white uniform sometimes tells his boys, and Mike Martin knows this because he's been to 13 College World Series and has yet to take home a national championship. On Saturday, it completely confounded Florida State.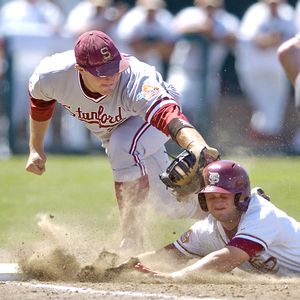 AP Photo/Dave Weaver
Stanford's Brent Milleville made plays in the field and tallied four RBIs in the ninth inning.
The fourth-seeded Seminoles, heavy favorites for an extended stay at the College World Series, staged an eighth-inning, game-tying rally, only to get rocked in a nightmarish, can't-get-anyone-out ninth in a 16-5 loss to Stanford. When the four hour and 11 minute game was finally over, and the Cardinal had tied a CWS record for most runs in an inning (11), Rosenblatt Stadium was roughly half-empty.
And Martin, who undoubtedly wished he was among those who left early, was struggling for analogies.
"You ever four-putted from eight feet with $2 in your pocket and you're playing for a $3 Nassau?" Martin said. "That's about the way we feel right now."
For the complete story, click here.
Posey Wins Player Of The Year
OMAHA, Neb. -- Florida State catcher Buster Posey was voted the winner of the Dick Howser Trophy as college baseball's player of the year.

Posey
The Atlantic Coast Conference Player of the Year came into the College World Series batting a nation-leading .460. He also leads the nation in home runs (26), RBIs (92), hits (114), runs (88), on-base percentage (.564) and total bases (220).
For the complete story, click here.
Stanford Crushes Florida State
STOCK UP/stock down
SATURDAY
PLAYER
TEAM
POS
STOCK
The ACC
On the first day of play, the ACC went 0-2, despite boasting both of the higher-seeded teams. North Carolina can stop the bleeding with a win against LSU on Sunday (ESPN2, 7 p.m. ET).
Jeremy Bleich
Stanford
LHP
In five innings of work, Bleich gave up just one run and six hits, while striking out seven. He improved his ERA to 0.82.
Brent Milleville
Stanford
1B
Brent Milleville went just 1-for-4 on the day, but he drove in the deciding run in the ninth inning of Game 1 on his sac fly, and his three-run homer later that inning helped seal the win for Stanford.
Pitchers
Florida State
The way to win in Omaha is with a deep, talented pitching staff. Florida State has that -- but didn't show it on Saturday. Its pitchers were tagged with nine earned runs, 16 hits and just five combined strikeouts.
Ryan Peisel
Georgia
3B
The Dawgs' leadoff hitter went 3-for-5 against Miami -- including a home run -- and was responsible for bringing in four of Georgia's seven runs.
By The Numbers
By ESPN Research
2 In the last 27 years, only two teams have lost their opening game at the College World Series and bounced back to win the championship. Oregon State did it in 2006, and USC did it in 1998. Can Florida State or Miami join the club?
4 The last four national titles have all been won by a team that was not a National Seed (2004 Cal State Fullerton; 2005 Texas; 2006 and '07 Oregon State). With its win on Saturday, Stanford took a step toward extending that streak.
6 Georgia's win tonight snapped a six-game CWS losing streak for the SEC, dating back to the 2005 College World Series. A loss would have matched the longest CWS drought in conference history (1969-76).
Georgia Shocks Miami
On Tap At The CWS
All times Eastern
Sunday, June 15
Game 3 -- Fresno State vs. No. 6 Rice, 2 p.m. (ESPN/ESPN360)
Game 4 -- No. 7 LSU vs. No. 2 North Carolina, 7 p.m. (ESPN2/ESPN360)

Monday, June 16
Game 5 -- No. 4 Florida State vs. No. 1 Miami, 2 p.m. (ESPN2/ESPN360)
Game 6 -- Stanford vs. No. 8 Georgia, 7 p.m. (ESPN2/ESPN360)

For the full schedule, click here.