Ball State Lands One Of 2009's Biggest Sleepers
By Billy Tucker, Scouts Inc.
More often than not, a top-rated tight end out of the fertile state of Ohio would get heavily recruited to play for the in-state Buckeyes, or at least have a slew of Big Ten offers in his back pocket if the cherished invitation to play in Columbus never materialized.
That's not the case with Jacob Green (Wyoming, Ohio). In fact, the tight end prospect with top-25 positional talent even got shunned by the local Bearcats and received only modest mid-major offers prior to his commitment to Ball State this week.
It appears that most BCS schools in the Midwest labeled the nearly 6-foot-4 tight end as "too short" and focused on his lack of prototypical measurables instead of his polished receiving skills at the position. Unfortunately for Green, his size and skill set are more equivalent to an H-back, and in Big Ten country blocking often comes first.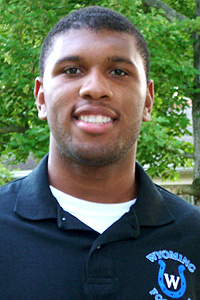 Wyoming High School
Green, the top-rated TE prospect in Ohio, could be a standout playing in the MAC.
"At first, I got a lot of attention from Big Ten and Big East programs, and they all said they wanted to see me at their camps before offering," said Green, an ESPN 150 Watch List prospect.
Following standout performances on the summer camp circuit, Green and his family received positive feedback. But in the end, coaches from the larger institutions still stressed a concern for his lack of size and his ability to survive as an in-line blocker. Most of the bigger schools actually began recruiting him as an H or fullback.
What some programs perceive as Green's weaknesses, we actually view as assets in the right offensive system. On film, he is clearly a mismatch in the passing game when isolated on linebackers with his good blend of size and athleticism. Green has soft hands, extends well away from his frame and shows polished receiving skills. He's not a kid who will blow you away with speed at a combine, but he is football fast, can break tackles and will surprise you with deceptive fluidity after the catch. His winter skills on the hardwood are apparent on the football field.
Because spread offenses have become more prevalent in college and pass-catching tight ends are more coveted, we are perplexed by Green's obscurity on the recruiting trail.
Even after hauling more than 20 catches for 391 yards and six touchdowns, his critics questioned the defenses Green torched for his strikingly-high yards-per catch numbers. Green plays at the smaller Wyoming High School, but the program has a history of producing Division I athletes.
"Coaches said I looked so good on film, but also said it could have been because of the lower competition I as was playing against," Green said.
Presumably most recruiters had a similar feeling when evaluating him as a blocker, but we actually feel the well-built prospect shows promise in the trenches. He plays with good leverage, can drive defenders off the ball and looks to finish. With some polish and continued physical development in a full-time college weight-training program, the 17-year-old should easily play at the 250-pound range and bring well-rounded skills to the position.
You will hear no complaints from Ball State about Green sliding under the radar, and in the end, Muncie, Ind., may actually be the best fit for the two-way standout who also recorded an impressive 107 tackles at linebacker last fall. Instead of redshirting for the desired bulk in a run-oriented offense then riding the pine for a few years, Green will be landing in a pass-happy Cardinals offense that caters toward the tight end.
"I really like Ball State's coaches, the camaraderie they have with the players and its offense," Green said. "Their tight end [Darius Hill] caught 65 balls last year, and they have big plans for me as a pass-catching tight end."
In fact, there might not be a better situation for Green who said he's "out to put up big numbers" and prove himself to the schools that passed him up. At Ball State, Green might be a productive four-year starter, similar to his career at Wyoming.
"My dad [Bobby Green] signed with Pitt out of high school and played with the Bengals for one season," Green said. "He has helped me through the process and knows my personality -- I don't want to sit during college."
The elder Green, who also starred at Wyoming, is very content with his son's decision but admits the recruiting process can be a bit nerve-racking.
"It's frustrating to see a kid perform to the best of his abilities, particularly at the camps that coaches wanted to see him attend, and not get offers because he lacks a few inches of height," Bobby Green said. "Ball State really showed a lot of interest though and in the end it's a great fit."
Green said he is firm with his commitment, but it will be interesting to see if another prolific year has some BCS coaches (with the need of a pass-catching tight end) flocking to the small Cincinnati school for another look at this impressive athlete.
Quite A Catch
This week, the Notre Dame Fighting Irish continued their recent trend of luring pass-catching tight ends prospects with limited in-line blocking experience to South Bend. The commitment of ESPN 150 Watch List prospect
Tyler Eifert
(Fort Wayne, Ind./Bishop Dwenger) shows direction ND is going with its offense and is a microcosm of the how the position itself is evolving in college football. With the prevalence of spread offenses, tight ends who can stretch the field and are also salty enough to hold their own as zone blockers are most coveted.
When looking at our current top-25 tight end prospects, the majority will be far more polished in the passing game as they head to college. Like Eifert, most are major offensive weapons in high school with the athleticism to create mismatches and move the chains in the air. Split out mainly in the slot, the 6-foot-6 Indiana native hauled in close to 600 yards last season on just 30 catches, showing his big-play ability as a receiver.
Eifert said the Irish coaching staff discussed bulking him up through weight-training, but they like the athleticism he brings to the position. He rarely was employed in-line during his one-day camp in South Bend this summer.
"I was split out for most of my reps at their camp and that's where they had me during one-on-ones," Eifert said. "I was only in a true tight end stance a few times."
Eifert joins fellow pass-catching tight end Jake Golic (West Hartford, Conn./Northwest Catholic) in this year's Notre Dame class as well as last year's No. 4-rated end Kyle Rudolph (Cincinnati/Elder). Aside from stretching the field, athletic tight ends also provide programs with great range on their rosters.
"Notre Dame recruited me more as an athlete," explained Eifert. "They said I might play wide receiver, tight end, safety or even outside linebacker."
Sleeper Commit Of The Week
Kansas is not landing the blue-chip studs that Jayhawks fans may have expected following last fall's success, but Mark Mangino is building another quality class filled with solid, system-fitting prospects. The commitment this week from defensive end
Kevin Young
(Olathe, Kan./North), one of the top-rated defensive prospects from Kansas, is a good example.
The Jayhawks' defensive staff may have seen what we saw in Young -- a kid with tons of physical upside and a great motor for getting after the quarterback. On film, his 6-foot-4, long, chiseled frame is dripping with potential, and he has good acceleration to go with it. Young lacks ideal fluidity and needs some positional polish, but he will be at a program that does a good job of developing talent.
-- Billy Tucker
From The Briefing Room
Multitalented Green picks the Huskers
Cody Green, an ESPN 150 Watch List athlete, has committed to Nebraska over Texas A&M.
Programs such as Baylor, Boston College, Miami, Texas Tech, Mississippi State, LSU, Oklahoma State and Alabama also offered.
He told the Dayton News, "I loved the facilities and the atmosphere, but the thing that got me most was the tradition - it more resembled that of Bronco [Dayton High School] football and I just really felt at home."

Green added, "My commitment is solid. I took my time to make this decision and now having made it, that's it. I'm going to Nebraska."
While the 6-foot-4, 220-pounder would like to study animal science, his mother, Sondra, has a different dream for her son, "I'd like to see him as an analyst for ESPN."
---
Aggies land Watch List talent Nwachukwu
Wide receiver Uzoma Nwachukwu has made a pledge to sign with Texas A&M over scholarship offers from programs such as Kansas, Missouri, Nebraska, Oklahoma, Notre Dame, Louisville and Washington State.
ESPN's Tom Luginbill commented on the pickup, "Nwachukwu is a kid whose best football is definitely ahead of him. As we have said before, he has the makings of a vertical receiver in time, but has not yet been unleashed as such. He is tough, heady, quick and speedy and once he gets to the next level should blossom nicely."

"If there has been one thing A&M has been missing over the years, it's been playmakers out wide and with more of a pro-style attack coming to College Station the Aggies need to start bringing in some guys who can go get it. Nwachukwu is a good start."
Nwachukwu's Briefing Room archive
• Complete Briefing Room Updates
Chat with Tom Luginbill
Jon (Atlanta):
Just heard Tennessee has added ESPN 150 Watch players
D.J. Hunter
and
Antonio Foster
. What does this do for the Vols, and why are they having so much success early -- they tend to secure later commitments.
Tom Luginbill: Tennessee just entered into our top 10 today and deservedly so. Currently, we have confirmed Antonio Foster, but not yet D.J. Hunter. Regardless, this class has more playmakers in it than either of the last two in our opinion O-coordinator David Clawson has got to be a big part of this with their new incoming, wide-open scheme. The same thing is happening at Auburn and Michigan.
Tyler (Raleigh, NC): What are your thoughts on Donte Moss? Is he a top 50 player?
Tom Luginbill: Nationally, probably not. Positionally, we think he may end up being a top 25 prospect. Moss has huge upside as an edge-rusher. When it is all said and done, we will likely have evaluated at least 150 DEs in this class, so his top 25 grade puts that into perspective. Moss is a good get for UNC.
Meet Byron Moore

In today's society of reality television and get-rich-quick schemes, it seems everyone wants what they want and they want it now. However, athlete Byron Moore Jr. has shown that hard work and patience can still lead you to your dream.
Moore, who is entering his senior year Narbonne High School in California, has elevated himself among the top prospects in the 2009 class. Following this past February's national signing day, many prospects jumped to the forefront of the 2009 class. The state of California was loaded with prospects who were garnering major attention. In the midst of the hype, Moore continued to take care of business and focus on what he could control.
Tracking Notre Dame's Class

Tyler Eifert's commitment gives Notre Dame 11 verbals Class of 2009 prospects. Here's a look at some of ND's top-rated signees.

= ESPN 150 Watch List players
•
Click here to see more commit lists.