Discussion
Nation's most, least erratic teams
UNC is all over the map early, while Cuse has been a model of consistency
Updated:
December 22, 2013, 12:20 AM ET
By
Ken Pomeroy
| ESPN Insider
North Carolina has gained some notoriety this season by being stunningly inconsistent. The good Tar Heels can beat the likes of Michigan State, Louisville and Kentucky with ease -- and away from home in two of the three cases. The bad Tar Heels can fall to Belmont and Texas at home, not to mention losing at UAB and needing some second-half work to beat Holy Cross. Having range is a great quality in an actor, but not for a team with a goal of reaching the Final Four. Despite demonstrating the ability to beat top-five teams, occasionally playing like a below-average ACC team will get you bounced early from the tournament.
Consistency is one of those things we can measure, and the focus on UNC's efforts to date made me wonder exactly which teams have been the most and least consistent so far. It's pretty apparent that the Tar Heels fall on one side of that spectrum, but who else joins them?
To see which teams have been the most and least consistent in the early going and what it might mean for March, sign up for Insider today.
Insider
Insider on ESPN.com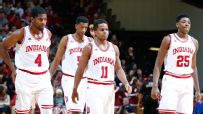 As power conference teams are eliminated from the NCAA tournament, ESPN's team of recruiting experts will look at who's coming back, and who's coming in.
MORE MEN'S COLLEGE BASKETBALL HEADLINES