Discussion
Is Pitt an ACC title contender?
The computers and polls don't agree on the Panthers. Which are right?
Updated:
January 27, 2014, 11:16 AM ET
By
John Gasaway
| ESPN Insider
In any college basketball season there will be a team that triggers disagreement between pollsters and computer rating systems. The team in question will very likely lack a signature win, but will mop the floor with opponents that don't particularly impress anyone. Fans who follow the rating systems will insist that the team is clearly being underrated. Nevertheless, pollsters will vote to the contrary and wait for this oh-so-underappreciated team to actually beat someone of note. It happens every season like clockwork.
The paradigmatic example of such a team this season is the Pittsburgh Panthers. The Panthers are languishing rather inconspicuously in the bottom half of the top 25 in the polls, but are far more highly esteemed by systems that track performance on a per-possession basis. Who's right? Let's take a look, heading into Pitt's Monday night home game against Duke (7 p.m. ET, ESPN).
To read more from John Gasaway about Pitt's chances to challenge Syracuse for the ACC title, you must be an ESPN Insider.
Insider
Insider on ESPN.com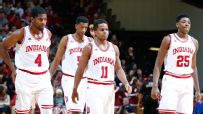 As power conference teams are eliminated from the NCAA tournament, ESPN's team of recruiting experts will look at who's coming back, and who's coming in.
MORE MEN'S COLLEGE BASKETBALL HEADLINES