Discussion
Putting the 'D' in Wildcats
With T.J. McConnell, Arizona's defense has had to carry the load
Originally Published:
February 26, 2014
By
Matt Giles
| ESPN The Magazine
WHEN T.J. McCONNELL finished his sophomore year at Duquesne without a 2012 postseason appearance, the gritty 6-foot-1 guard decided he wanted to play at a higher-level program with NCAA tournament potential. But when he announced that his preferred schools were Arizona and Virginia, those who remembered him as an incoming freshman -- a guard so skinny he constantly had to rearrange his jersey to prevent it from slipping off his shoulders -- thought he was crazy. Sure, McConnell had since put on 20 pounds and was a starter for the Dukes, but many believed he didn't have the chops to compete in the Pac-12 or ACC.
How wrong they were. The Pittsburgh native's reputation as a ball-hawking, all-Atlantic 10 defender sold Arizona coach Sean Miller. And since taking the floor this fall, the redshirt junior has revitalized a team that may have boasted a strong offense, led by guard Nick Johnson, but sorely lacked the defensive toughness to compete for a national title.
To read more about how T.J. McConnell is transforming the Wildcats' defense, you must be an ESPN Insider.
Insider
Insider on ESPN.com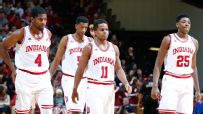 As power conference teams are eliminated from the NCAA tournament, ESPN's team of recruiting experts will look at who's coming back, and who's coming in.
MORE MEN'S COLLEGE BASKETBALL HEADLINES