Discussion
Best coaches to bet on
Alford has most units won since 2005-06 season, Marshall tops for 2013-14
Updated:
February 26, 2014, 1:00 PM ET
By
PJ Walsh
| Sports Insights
In the NBA, a team's fortune can be tied to the acquisition of a single player. Locking in the likes of LeBron James and Kevin Durant to max deals ensures their respective teams will contend for conference and NBA championships for years to come.
With limited eligibility and the one-and-done rule, however, college basketball is a completely different animal. While recruiting one or a handful of big-time players can lead to one season of success (see: Kentucky in 2011-12), those players ultimately bolt for the NBA the following season and it's back to the drawing board for college coaches.
Because of this, when it comes to prolonged college basketball success, coaches take over the role of figurehead as opposed to superstars in the NBA. College coaches manage every aspect of their programs such as scheduling, recruiting and creating the game plan.
With the effect of coaching so important in college basketball, we turned to our Bet Labs data analysis software to determine which coaches have been the most profitable for bettors, both this season and over the long term.
We can define profitability in multiple ways, especially since coaches participate in different numbers of seasons and total games.
First, we'll use units won, which will favor those who have coached for long periods of time. The table below breaks down the top 10 active coaches, in terms of units won, since the start of the 2005-06 season.
To read PJ Walsh's full breakdown of the best college basketball coaches to bet on, sign up for Insider today.
Insider
Insider on ESPN.com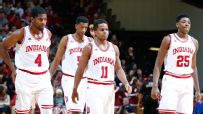 As power conference teams are eliminated from the NCAA tournament, ESPN's team of recruiting experts will look at who's coming back, and who's coming in.
MORE MEN'S COLLEGE BASKETBALL HEADLINES