Discussion
Decade's best teams and programs
Updated:
December 31, 2009, 1:39 PM ET
By
Staff
| ESPN.com
As we close out the decade, ESPN.com's writers and contributors rank and take a look back at the top programs and the single greatest teams of the past 10 years (1999-2000 through 2008-09) …
Top Program
1. North Carolina 2 national titles, 4 Final Fours, 5 Elite Eights, 5 ACC regular-season titles (3 outright) 2. Kansas 1 national title, 3 Final Fours, 282 wins (No. 2 nationally), 7 Big 12 regular-season titles (4 outright) T3. Florida 2 national titles, 3 title-game ...
Read full story
THE DECADE: A LOOK BACK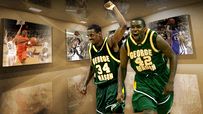 What a memorable and often tumultous past 10 years it has been in college basketball. Sit back and let our panelists of ESPN.com writers and contributors take you through the teams and personalities that made up the decade.
CONTENT
PAGE 2
PODCAST
YOUR TURN
MORE MEN'S COLLEGE BASKETBALL HEADLINES