Discussion
Coaches who yell, and those who don't
Why some combustible coaches help teams keep their cool -- and some don't
Updated:
November 5, 2010, 5:07 PM ET
By
Seth Wickersham
| ESPN The Magazine
IT BEGAN WITH BOXING OUT. Man, you should've heard the old coach blow. It wasn't so much what he said -- "Box out" -- as how he said it: "BOX OUT!!!" There was a physical quality to the order, simultaneously filling you and surrounding you, like a powerful prayer. This was in 2007, during West Virginia sophomore small forward Da'Sean Butler's first practice under his new coach, Bob Huggins. Butler had grown accustomed to the gentle instruction of his former coach, John Beilein. In a calm, ...

Read full story
ESPN The Magazine: November 15, 2010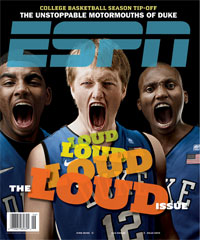 Check out ESPN The Magazine's November 15, 2010 issue -- the Loud Issue -- below.
Features
MORE MEN'S COLLEGE BASKETBALL HEADLINES