Discussion
Get ready for greatness
Great college teams have been absent for a few years, but that is about to change
Updated:
October 28, 2011, 8:57 AM ET
By
Jay Bilas
| ESPN Insider
As we continue to evaluate college basketball in the State of the Game project, we've seen a number of the sport's less-than-flattering aspects. At its core, though, the game -- the actual game played on the polished hardwood -- is quite strong. In fact, in 2011-12, we could be treated to one of the best seasons of competition in recent memory. I believe that this season we will see the return of truly great teams.
In 2010 and 2011, like always, we had compelling competition and stories. And, as we always do, we had eight Final Four teams and two national champions. But we had no "great" teams in a historical context.
In 2011-12, greatness figures to return to college basketball. Here are some of the things I expect to see in the coming season, and why I believe we could be about to witness something truly special:
• Several top players who could have easily gone pro last season have returned for another season of college basketball, bolstering the sport's talent level in a way we have not seen in recent years. North Carolina's Harrison Barnes, Ohio State's Jared Sullinger, Baylor's Perry Jones, Kentucky's Terrence Jones and Connecticut's Jeremy Lamb all decided to return for another year, and their teams will benefit.
To continue reading this article you must be an Insider
Insider
Insider College Basketball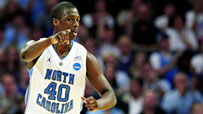 New on Insider
Lunardi: Pac-12 locked into 2 bids?
Player Rankings: Davis over Robinson for POY
Lunardi: Where UW, Northwestern fall
Hume: Bid thieves are few
Bilas: Sizing up the Big East
Gasaway: Pac-12 stronger than it seems
Hume: Best bets among bubble teams
Lunardi: VCU may be first bid thief
Ford: Time running out for 5 NBA prospects
Lunardi: How UConn, Texas, others earn bids
Lunardi: Latest look at the bubble
Fraschilla: Previewing Big 12 tournament
Bilas Index: UNC remains at No. 3
Pomeroy: Trends predict UNC-Duke clash
Lunardi: No No. 1 seed for Big Ten?
Player Rankings: Purdue's pivotal players
Ford: Will MKG, Cody Zeller stay in school?
Gasaway: Rebounding won't crush Orange
Telep: UCLA's top recruits remain committed
Bilas: How Michigan State can still improve
Bilas: Keys to the Hoyas' continued success
Lunardi: Watch out for NCAA bid thieves
Lunardi Rundown: Kentucky is No. 1 overall
Bilas Index: Kansas returns to the top five

Giant Killers
Make smart bracket picks by spotting Cinderella early.
And don't forget these Insider mainstays:
Doug Gottlieb, Fran Fraschilla, Joe Lunardi and Jay Williams offer their opinions.
Insights from the mind of the College Gameday analyst.
The national recruiting analyst weighs in on news and rumors surrounding the top high school prospects.
Stay on top of all the latest recruiting buzz.
Every D-1 player's efficiency rating.
MORE MEN'S COLLEGE BASKETBALL HEADLINES