Discussion
History class
Comparing Kemba Walker and Jimmer Fredette to the greats of the past
Updated:
October 27, 2011, 3:14 PM ET
By
John Gasaway
| Basketball Prospectus
There's a lot we can do with college basketball statistics in 2011. We can tell you which teams look like they're overrated going into a season, which teams may be underrated going into the NCAA tournament and which players are more valuable than you may realize. But there's a catch. In order to tell you those things we have to have the raw stats: the actual record of what took place during the game.
And if you go back far enough in college basketball history, the raw stats simply aren't there. Take John Wooden. Pretty fair player for Purdue in the early 1930s. We know how many games he played, how many points he averaged (12 his senior year), how many shots he made and how many fouls he committed. And that's it. We don't even know how many shots Wooden attempted, and that's kind of an important stat for us nowadays. About all we can say about Wooden that's somewhat analogous to things we say about players today is that he was a career 70 percent shooter at the line. Seem kind of low? Keep in mind free throw accuracy was actually worse in the old days. Relative to his peers, Wooden was probably considered automatic from 15 feet.
In other words our knowledge of how well past players performed is limited, and it always will be. But there's good news in the more recent past. In the 1970s and 1980s more and more programs started keeping good records for basketball stats that we find essential today: things like turnovers, and rebounds broken out into the offensive and defensive variety. And once the 3-point line was introduced to the college game in 1986, there was a sport being played that was more or less similar to what happens today. Stars from that point on are fair game for straight-up comparisons with the likes of Jimmer Fredette and Kemba Walker, who we'd likely consider to be the two best college players last season.
So, let's see how last season's best players compared to some of college basketball's biggest legends in the modern era. Are the best players these days performing better than their predecessors?
To continue reading this article you must be an Insider
Insider
Insider College Basketball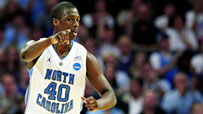 New on Insider
Lunardi: Pac-12 locked into 2 bids?
Player Rankings: Davis over Robinson for POY
Lunardi: Where UW, Northwestern fall
Hume: Bid thieves are few
Bilas: Sizing up the Big East
Gasaway: Pac-12 stronger than it seems
Hume: Best bets among bubble teams
Lunardi: VCU may be first bid thief
Ford: Time running out for 5 NBA prospects
Lunardi: How UConn, Texas, others earn bids
Lunardi: Latest look at the bubble
Fraschilla: Previewing Big 12 tournament
Bilas Index: UNC remains at No. 3
Pomeroy: Trends predict UNC-Duke clash
Lunardi: No No. 1 seed for Big Ten?
Player Rankings: Purdue's pivotal players
Ford: Will MKG, Cody Zeller stay in school?
Gasaway: Rebounding won't crush Orange
Telep: UCLA's top recruits remain committed
Bilas: How Michigan State can still improve
Bilas: Keys to the Hoyas' continued success
Lunardi: Watch out for NCAA bid thieves
Lunardi Rundown: Kentucky is No. 1 overall
Bilas Index: Kansas returns to the top five

Giant Killers
Make smart bracket picks by spotting Cinderella early.
And don't forget these Insider mainstays:
Doug Gottlieb, Fran Fraschilla, Joe Lunardi and Jay Williams offer their opinions.
Insights from the mind of the College Gameday analyst.
The national recruiting analyst weighs in on news and rumors surrounding the top high school prospects.
Stay on top of all the latest recruiting buzz.
Every D-1 player's efficiency rating.
MORE MEN'S COLLEGE BASKETBALL HEADLINES