Discussion
Izzo's scheduling is overvalued
Tough schedules don't correlate with postseason success, so why do coaches bother?
Updated:
November 11, 2011, 12:58 PM ET
By
Jordan Brenner
| ESPN Insider
It's fitting that Michigan State will open its season on an aircraft carrier, since the Spartans never shy away from a battle. Tom Izzo's notoriously nasty nonconference schedule is as tough as ever this year, starting with the daunting duo of North Carolina and Duke. And chances are, if you tune into either game, you'll hear plenty of chatter about how these early-season slugfests pay off come March.
Thing is, that's not exactly true.
After talking to coaches from around the country at various levels -- including Izzo, whose program has become the poster child for schedule strength -- and running the stats to match, a couple of things are clear: Despite plenty of squawking to the contrary, a tough nonconference schedule, in and of itself, doesn't make a team battle-tested for the NCAA tourney. And while there are benefits to playing big-time teams early in the season, the virtues vary from program to program and season to season, making scheduling more of an art than a science.
To see why there is no correlation between tough scheduling and postseason success -- and why Izzo plays a tough schedule anyway -- become an ESPN Insider.
Insider
Insider College Basketball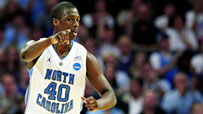 New on Insider
Lunardi: Pac-12 locked into 2 bids?
Player Rankings: Davis over Robinson for POY
Lunardi: Where UW, Northwestern fall
Hume: Bid thieves are few
Bilas: Sizing up the Big East
Gasaway: Pac-12 stronger than it seems
Hume: Best bets among bubble teams
Lunardi: VCU may be first bid thief
Ford: Time running out for 5 NBA prospects
Lunardi: How UConn, Texas, others earn bids
Lunardi: Latest look at the bubble
Fraschilla: Previewing Big 12 tournament
Bilas Index: UNC remains at No. 3
Pomeroy: Trends predict UNC-Duke clash
Lunardi: No No. 1 seed for Big Ten?
Player Rankings: Purdue's pivotal players
Ford: Will MKG, Cody Zeller stay in school?
Gasaway: Rebounding won't crush Orange
Telep: UCLA's top recruits remain committed
Bilas: How Michigan State can still improve
Bilas: Keys to the Hoyas' continued success
Lunardi: Watch out for NCAA bid thieves
Lunardi Rundown: Kentucky is No. 1 overall
Bilas Index: Kansas returns to the top five

Giant Killers
Make smart bracket picks by spotting Cinderella early.
And don't forget these Insider mainstays:
Doug Gottlieb, Fran Fraschilla, Joe Lunardi and Jay Williams offer their opinions.
Insights from the mind of the College Gameday analyst.
The national recruiting analyst weighs in on news and rumors surrounding the top high school prospects.
Stay on top of all the latest recruiting buzz.
Every D-1 player's efficiency rating.
MORE MEN'S COLLEGE BASKETBALL HEADLINES