Discussion
Terrence Jones' breakout
Versatile UK forward tops list of players in line for PER boost
Originally Published:
November 14, 2011
By
Matt Giles
| ESPN Insider
Ever want a way to compare every player in college basketball? John Hollinger has your answer. With his college player efficiency ratings (PER), we can evaluate the productivity of Division I hoopsters from Arizona to Youngstown State to see who's really helping his team the most.
The start of every college basketball season is a bit of a mystery. Even after all the preview articles and preseason interviews, we realize rapidly that things change from season to season, with players growing and improving -- sometimes markedly -- after a summer away from the spotlight.
It's with that in mind that we revisit our PER-based player rankings to see which players may be primed for a breakout season.
John Hollinger maintains a statistical profile for every NCAA Division I player, just as he does for every NBA player. Through that data we are able to tell who leads the nation in PER, whether Mason Plumlee has a better offensive rebounding rate than Miles and whether Tu Holloway's usage rate is detrimental to Xavier's success. With these statistical tools at our disposal, we can provide in-depth analysis of BCS conference teams and non-BCS conference teams. For example, how good is Rice's Arsalan Kazemi? And will he be even better with new teammate Ahmad Ibrahim?
Obviously, the rankings require stats before they can reach full validity. So, for the inaugural examination of 2011-12, we analyzed four players whose efficiency could improve significantly in the campaign to come. Three of them logged minutes last season, and the fourth had to sit it out because he had transferred.
Terrence Jones, F, Kentucky Wildcats
The sophomore had one of the nation's higher PER rates in 2010-11, but because of Kentucky's talented freshman class, there is reason to think Jones will be even more efficient for his second go-round. Rather than use the vaunted dribble-drive motion offense a year ago, coach John Calipari opted for the handoff for a significant number of possessions -- it proved to be an easier way for Brandon Knight to free himself and get to the basket unabated. Sure, the Wildcats attempted a far greater number of spot-up shots and transition scores, but the handoff slightly slowed UK's offense (65.9 possessions in 2010-11 compared with 69.7 possessions in 2009-10).
For the full breakdown of the top PER breakout candidates, you need to be an Insider.
Insider
Insider College Basketball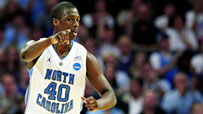 New on Insider
Lunardi: Pac-12 locked into 2 bids?
Player Rankings: Davis over Robinson for POY
Lunardi: Where UW, Northwestern fall
Hume: Bid thieves are few
Bilas: Sizing up the Big East
Gasaway: Pac-12 stronger than it seems
Hume: Best bets among bubble teams
Lunardi: VCU may be first bid thief
Ford: Time running out for 5 NBA prospects
Lunardi: How UConn, Texas, others earn bids
Lunardi: Latest look at the bubble
Fraschilla: Previewing Big 12 tournament
Bilas Index: UNC remains at No. 3
Pomeroy: Trends predict UNC-Duke clash
Lunardi: No No. 1 seed for Big Ten?
Player Rankings: Purdue's pivotal players
Ford: Will MKG, Cody Zeller stay in school?
Gasaway: Rebounding won't crush Orange
Telep: UCLA's top recruits remain committed
Bilas: How Michigan State can still improve
Bilas: Keys to the Hoyas' continued success
Lunardi: Watch out for NCAA bid thieves
Lunardi Rundown: Kentucky is No. 1 overall
Bilas Index: Kansas returns to the top five

Giant Killers
Make smart bracket picks by spotting Cinderella early.
And don't forget these Insider mainstays:
Doug Gottlieb, Fran Fraschilla, Joe Lunardi and Jay Williams offer their opinions.
Insights from the mind of the College Gameday analyst.
The national recruiting analyst weighs in on news and rumors surrounding the top high school prospects.
Stay on top of all the latest recruiting buzz.
Every D-1 player's efficiency rating.
MORE MEN'S COLLEGE BASKETBALL HEADLINES