Discussion
Similar talent, different results
UNC and Texas both get top-tier players, but one wins titles and the other doesn't
Updated:
December 21, 2011, 12:58 PM ET
By
Jordan Brenner
| For ESPN Insider
Nine seasons ago, Roy Williams and Rick Barnes stood on common ground. Two coaches with ACC roots had morphed into Big 12 rivals at Kansas and Texas, respectively, competing yearly for conference championships and top recruits. So when they both found themselves in the 2003 Final Four, chasing their first national title, they understood each other's position.
Neither took home the trophy that April, and their paths diverged from that point -- and in ways beyond the obvious. Williams, of course, moved on to North Carolina, where he has won two national championships and reached an additional Final Four. Barnes, on the other hand, has yet to guide Texas back to the tourney's final weekend, while his teams have fallen during the first weekend five times in eight trips.
So when UNC and Texas get together Wednesday in Chapel Hill, it will be a meeting between a man who has now mastered his craft and another whose frustration must run deep, right?
As usual, reality isn't that simple.
For instance, take their recruiting prowess. Williams' success in luring the guys he wants to UNC sure seems unparalleled over the last eight years. Yet would you believe that over that time, Carolina has brought in 27 top-100 prospects, according to a consensus of recruiting rankings, while the Longhorns are right on their, uh, heels with 24? What about the fact that Barnes has actually topped Williams head-to-head for more prospects (including Kevin Durant and D.J. Augustin)?
Or how about this: Texas has lost just 11 more games over those eight-plus seasons.
If that data isn't mind-blowing, it's certainly surprising, which leads to a key question: Why has there been such a disparity in NCAA tournament success between the programs? A large portion of that answer can be traced to early departures.
To see why UNC has had so much more NCAA Tourney success than Texas despite similar talent, become an ESPN Insider.
Insider
Insider College Basketball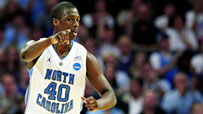 New on Insider
Lunardi: Pac-12 locked into 2 bids?
Player Rankings: Davis over Robinson for POY
Lunardi: Where UW, Northwestern fall
Hume: Bid thieves are few
Bilas: Sizing up the Big East
Gasaway: Pac-12 stronger than it seems
Hume: Best bets among bubble teams
Lunardi: VCU may be first bid thief
Ford: Time running out for 5 NBA prospects
Lunardi: How UConn, Texas, others earn bids
Lunardi: Latest look at the bubble
Fraschilla: Previewing Big 12 tournament
Bilas Index: UNC remains at No. 3
Pomeroy: Trends predict UNC-Duke clash
Lunardi: No No. 1 seed for Big Ten?
Player Rankings: Purdue's pivotal players
Ford: Will MKG, Cody Zeller stay in school?
Gasaway: Rebounding won't crush Orange
Telep: UCLA's top recruits remain committed
Bilas: How Michigan State can still improve
Bilas: Keys to the Hoyas' continued success
Lunardi: Watch out for NCAA bid thieves
Lunardi Rundown: Kentucky is No. 1 overall
Bilas Index: Kansas returns to the top five

Giant Killers
Make smart bracket picks by spotting Cinderella early.
And don't forget these Insider mainstays:
Doug Gottlieb, Fran Fraschilla, Joe Lunardi and Jay Williams offer their opinions.
Insights from the mind of the College Gameday analyst.
The national recruiting analyst weighs in on news and rumors surrounding the top high school prospects.
Stay on top of all the latest recruiting buzz.
Every D-1 player's efficiency rating.
MORE MEN'S COLLEGE BASKETBALL HEADLINES