Discussion
Turnovers key to UConn recovery
Huskies are wasting possessions, can't compensate defensively
Originally Published:
February 1, 2012
By
John Gasaway
| Special to ESPN Insider
The track record of defending national champions isn't very good lately, is it? Last year Duke sailed into the NCAA tournament as a No. 1 seed, only to lose in the Sweet 16 to Arizona. In 2010, North Carolina missed the tournament. In 2009, Kansas lost in the Sweet 16 to Michigan State. And in 2008, Florida went to the NIT. You have to go to 2007, the year Billy Donovan and the Gators won their second consecutive national title, to find a defending national champion that got past the Sweet 16.
Such ancient history bears repeating here because Connecticut at the moment certainly looks poised to continue this tradition. If anything, reaching the Sweet 16 might be a stretch. Ranked a lofty No. 4 nationally in the preseason, Jim Calhoun's team fell out of the Top 25 this week after losing three straight games. UConn is 4-4 in the Big East, 14-6 overall, and its chances of simply making the NCAA tournament are now a matter of speculation.
It wasn't supposed to be like this. Last August, when 6-foot-10 all-everything recruit Andre Drummond announced he was forgoing a year of prep school to enroll at Connecticut, the consensus was more or less unanimous: With Drummond in the fold and Jeremy Lamb returning for his sophomore season, the Huskies were a legitimate threat to defend their championship. Instead we've arrived at February to find Calhoun's team looking up at South Florida (South Florida!) in the Big East standings.
What in the world happened?
To see why UConn is struggling, and get access to the analysis of Jay Bilas, Doug Gottlieb, Fran Fraschilla, Joe Lunardi and more, sign up for ESPN Insider.
Insider
Insider College Basketball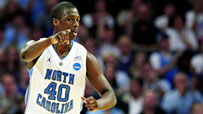 New on Insider
Lunardi: Pac-12 locked into 2 bids?
Player Rankings: Davis over Robinson for POY
Lunardi: Where UW, Northwestern fall
Hume: Bid thieves are few
Bilas: Sizing up the Big East
Gasaway: Pac-12 stronger than it seems
Hume: Best bets among bubble teams
Lunardi: VCU may be first bid thief
Ford: Time running out for 5 NBA prospects
Lunardi: How UConn, Texas, others earn bids
Lunardi: Latest look at the bubble
Fraschilla: Previewing Big 12 tournament
Bilas Index: UNC remains at No. 3
Pomeroy: Trends predict UNC-Duke clash
Lunardi: No No. 1 seed for Big Ten?
Player Rankings: Purdue's pivotal players
Ford: Will MKG, Cody Zeller stay in school?
Gasaway: Rebounding won't crush Orange
Telep: UCLA's top recruits remain committed
Bilas: How Michigan State can still improve
Bilas: Keys to the Hoyas' continued success
Lunardi: Watch out for NCAA bid thieves
Lunardi Rundown: Kentucky is No. 1 overall
Bilas Index: Kansas returns to the top five

Giant Killers
Make smart bracket picks by spotting Cinderella early.
And don't forget these Insider mainstays:
Doug Gottlieb, Fran Fraschilla, Joe Lunardi and Jay Williams offer their opinions.
Insights from the mind of the College Gameday analyst.
The national recruiting analyst weighs in on news and rumors surrounding the top high school prospects.
Stay on top of all the latest recruiting buzz.
Every D-1 player's efficiency rating.
MORE MEN'S COLLEGE BASKETBALL HEADLINES