Discussion
Mid-major ranks: Gaels in good shape
Ahead of its Thursday showdown vs. Gonzaga, Saint Mary's boasts a strong profile
Originally Published:
February 7, 2012
By
Jordan Brenner
| ESPN Insider
All season long, Insider will be keeping a close eye on teams from conferences that haven't usually produced multiple NCAA tournament bids to see which squads outside of the spotlight look the strongest come tournament time. To that end, we'll be ranking the top performers from all conferences outside of the A-10, ACC, Big East, Big Ten, Big 12, Mountain West, Pac-12 and SEC. One new caveat for this season: With the movement of BYU to the WCC, we will not be including the Cougars because of their established performance record. Likewise, Gonzaga and Memphis will not be considered in these rankings.
Officially, this column is known as the Mid-Major Power Rankings. But you could really consider it the Mid-Major Efficiency Rankings. What's the difference? We know everyone on this list is good. But why? The efficiency component helps us to measure that question, and more importantly it helps us project what may happen come tournament time.
While there are more rigorous ways to study teams mathematically (which you'll see when we launch this year's version of Giant Killers), if you're discarding efficiency evaluations because, say, Creighton beat Wichita State or because you're pumped that Nevada is 19-4, you're really just hurting your bracket. Because as the students of uber-efficient Faber College understand, when it comes to March Madness, Knowledge is Good.
Wichita State Shockers (20-4, 11-2)
After back-to-back wins pulled the Shockers into a first-place tie in the MVC, they now embark on a rough five-game stretch that includes trips to Creighton and Davidson. You have to love the fact they control the defensive backboards, limit opponents' free throws and lock down teams from 3-point land, a combination that forces foes to be incredibly efficient from 2-point range. As Wichita State's record shows, that bodes well for success over the long haul.
To see the full Mid-Major Power Rankings, you must be an ESPN Insider.
Insider
Insider College Basketball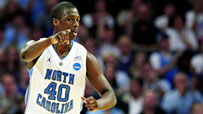 New on Insider
Lunardi: Pac-12 locked into 2 bids?
Player Rankings: Davis over Robinson for POY
Lunardi: Where UW, Northwestern fall
Hume: Bid thieves are few
Bilas: Sizing up the Big East
Gasaway: Pac-12 stronger than it seems
Hume: Best bets among bubble teams
Lunardi: VCU may be first bid thief
Ford: Time running out for 5 NBA prospects
Lunardi: How UConn, Texas, others earn bids
Lunardi: Latest look at the bubble
Fraschilla: Previewing Big 12 tournament
Bilas Index: UNC remains at No. 3
Pomeroy: Trends predict UNC-Duke clash
Lunardi: No No. 1 seed for Big Ten?
Player Rankings: Purdue's pivotal players
Ford: Will MKG, Cody Zeller stay in school?
Gasaway: Rebounding won't crush Orange
Telep: UCLA's top recruits remain committed
Bilas: How Michigan State can still improve
Bilas: Keys to the Hoyas' continued success
Lunardi: Watch out for NCAA bid thieves
Lunardi Rundown: Kentucky is No. 1 overall
Bilas Index: Kansas returns to the top five

Giant Killers
Make smart bracket picks by spotting Cinderella early.
And don't forget these Insider mainstays:
Doug Gottlieb, Fran Fraschilla, Joe Lunardi and Jay Williams offer their opinions.
Insights from the mind of the College Gameday analyst.
The national recruiting analyst weighs in on news and rumors surrounding the top high school prospects.
Stay on top of all the latest recruiting buzz.
Every D-1 player's efficiency rating.
MORE MEN'S COLLEGE BASKETBALL HEADLINES