Discussion
Bilas Index: Buckeyes remain in top 3
Ohio State dropped one to Michigan State, but the Buckeyes are still a top-3 team
Originally Published:
February 13, 2012
By
Jay Bilas
| ESPN Insider
Week 9 of the Bilas Index has the pleasure of introducing to you the Basketball Power Index (BPI). I have been working with our super-cranial ESPN analytics team as it worked around the clock to come up with perhaps the best measure ever devised for assessing the merit of college basketball teams and predicting their futures.
As you know, I have enormous respect for the Sagarin Ratings and the efficiency statistics and ratings of KenPom.com. The emergence of the BPI will not change that. I will, however, look to the BPI first, then to KenPom.com and Sagarin to get the best possible picture of all reliable metrics. I would encourage all of you to do the same. Then I will do something you cannot do. I will input all of that reliable data into the single most powerful and trustworthy basketball gray matter on this planet, my supercharged brain, which is buttressed by infallible basketball judgment.
And when you combine the data from the BPI, KenPom.com and Sagarin, interpreted and supplemented by my gigantic brain and prodigious basketball assessments and topped off by my swag (which is now visible from space, as reported recently by NASA), you get The Bilas Index. I do not condone the use of The Bilas Index for wagering, but I must admit it would be just like the "Back to the Future" movie where Biff had the almanac from the future and wagered on nothing but sure things. The Bilas Index is a sure thing.
Out: Northern Iowa Panthers, Davidson Wildcats, Cleveland State Vikings, Nevada Wolf Pack
In: Marshall Thundering Herd, Oregon Ducks, Saint Joseph's Hawks, Loyola (MD) Greyhounds
1. Kentucky Wildcats

The Cats have few flaws. Vanderbilt threw a zone at Kentucky in the second half, and it slowed the Wildcats down a tad, but this is a tough group. They may be young, but this team has talent, energy and high expectations. It is also a very well coached team that plays incredibly hard. I maintain that Anthony Davis is the most valuable player in the nation, and if you took him off of this Kentucky team, the Cats would not be in contention for the national title. And Marquis Teague is getting better and better. He is a key guy.
To see the rest of Jay Bilas' rankings and get access to all of ESPN Insider's college basketball coverage, sign up today.
Insider
Insider College Basketball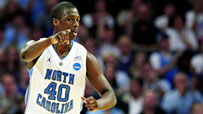 New on Insider
Lunardi: Pac-12 locked into 2 bids?
Player Rankings: Davis over Robinson for POY
Lunardi: Where UW, Northwestern fall
Hume: Bid thieves are few
Bilas: Sizing up the Big East
Gasaway: Pac-12 stronger than it seems
Hume: Best bets among bubble teams
Lunardi: VCU may be first bid thief
Ford: Time running out for 5 NBA prospects
Lunardi: How UConn, Texas, others earn bids
Lunardi: Latest look at the bubble
Fraschilla: Previewing Big 12 tournament
Bilas Index: UNC remains at No. 3
Pomeroy: Trends predict UNC-Duke clash
Lunardi: No No. 1 seed for Big Ten?
Player Rankings: Purdue's pivotal players
Ford: Will MKG, Cody Zeller stay in school?
Gasaway: Rebounding won't crush Orange
Telep: UCLA's top recruits remain committed
Bilas: How Michigan State can still improve
Bilas: Keys to the Hoyas' continued success
Lunardi: Watch out for NCAA bid thieves
Lunardi Rundown: Kentucky is No. 1 overall
Bilas Index: Kansas returns to the top five

Giant Killers
Make smart bracket picks by spotting Cinderella early.
And don't forget these Insider mainstays:
Doug Gottlieb, Fran Fraschilla, Joe Lunardi and Jay Williams offer their opinions.
Insights from the mind of the College Gameday analyst.
The national recruiting analyst weighs in on news and rumors surrounding the top high school prospects.
Stay on top of all the latest recruiting buzz.
Every D-1 player's efficiency rating.
MORE MEN'S COLLEGE BASKETBALL HEADLINES