Discussion
Bilas Index: North Carolina at No. 3
After a strong performace against Duke, UNC looks like a title contender
Originally Published:
March 4, 2012
By
Jay Bilas
| ESPN Insider
Week 12 of the Bilas Index shows you an established group of teams atop college basketball and provides a view of the best teams that will not be in the NCAA tournament due to automatic bids. And, while some will argue the automatic bids are what make Championship Week and college basketball great, the ratings tell us the automatic bids are next to meaningless to the fans. While it would seem that interest would be incredible for a bid in the Ohio Valley Conference, relatively few watched that game Saturday as compared to North Carolina at Duke or Missouri at Kansas, all of whom are in the NCAA tournament in a walk, with the only dramas surrounding where teams will be seeded. Take a look at the "one-bid conferences" that put their winners in automatically, then look at who will get left out.
As you should know by now, the Bilas Index is the best rating system for basketball teams ever devised or even contemplated by mankind. The stunning and unassailable work of the Bilastrator embodied in the Bilas Index has been of immeasurable help to the NCAA selection committee, and has opened up a whole new world of clarity and light through the darkness that only the basketball challenged can understand.
You will note new teams are being introduced into the Bilas Index that couldn't even sniff the list in the past few weeks. While far less qualified to compete for the national championship than other, more accomplished teams, these teams are included automatically in some sort of bizarre populist and socially engineered manner. We say they are "deserving" of the opportunity, but fail to acknowledge that other deserving teams, which just happen to be better and more accomplished, are kicked to the curb because we want everyone to feel good, except for those that have proved more in a competitive landscape.
Out: New Mexico State Aggies, Central Florida Knights, UMass Minutemen
In: Tennessee Volunteers, South Florida Bulls, Colorado State Rams
Automatically in, but less qualified: UNC-Asheville Bulldogs
Automatically out, but more qualified: Stanford Cardinal
Automatics already in The Bilas Index: Belmont Bruins, Creighton Bluejays, Murray State Racers
---
We have been looking for a dent or imperfection in the shiny sports car that is Kentucky, but there are few of them to be detected. John Calipari is doing a masterful job preparing this team for the postseason, and has used Anthony Davis with the second team in practice to emphasize to his team that it has to learn to play for stretches without him and still accomplish things on the floor. Without Davis on the court, it is remarkable how brazen opponents are in attacking the rim. Calipari has asked each team member, "What do you do, besides score, to help this team win?" With Davis and Michael Kidd-Gilchrist, it is obvious, as it is with Darius Miller. The others might have to ponder it a while. Miller is the true unsung hero on this team. He does everything and likely will play in the NBA. The Cats score 37.3 paint points per game -- almost half their points come in the lane. Although 81 percent of Davis' blocks have come while he is patrolling the lane, he also has blocked 12 3-pointers this season. This is still the best team in the nation, although Syracuse and North Carolina are right there. Only Kentucky and Kansas are in the top 10 in both offensive and defensive efficiency, according to KenPom.com.
To see the rest of Jay Bilas' rankings and get access to all of ESPN Insider's college basketball coverage, sign up today.
Insider
Insider College Basketball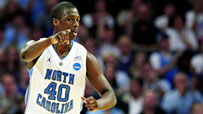 New on Insider
Lunardi: Pac-12 locked into 2 bids?
Player Rankings: Davis over Robinson for POY
Lunardi: Where UW, Northwestern fall
Hume: Bid thieves are few
Bilas: Sizing up the Big East
Gasaway: Pac-12 stronger than it seems
Hume: Best bets among bubble teams
Lunardi: VCU may be first bid thief
Ford: Time running out for 5 NBA prospects
Lunardi: How UConn, Texas, others earn bids
Lunardi: Latest look at the bubble
Fraschilla: Previewing Big 12 tournament
Bilas Index: UNC remains at No. 3
Pomeroy: Trends predict UNC-Duke clash
Lunardi: No No. 1 seed for Big Ten?
Player Rankings: Purdue's pivotal players
Ford: Will MKG, Cody Zeller stay in school?
Gasaway: Rebounding won't crush Orange
Telep: UCLA's top recruits remain committed
Bilas: How Michigan State can still improve
Bilas: Keys to the Hoyas' continued success
Lunardi: Watch out for NCAA bid thieves
Lunardi Rundown: Kentucky is No. 1 overall
Bilas Index: Kansas returns to the top five

Giant Killers
Make smart bracket picks by spotting Cinderella early.
And don't forget these Insider mainstays:
Doug Gottlieb, Fran Fraschilla, Joe Lunardi and Jay Williams offer their opinions.
Insights from the mind of the College Gameday analyst.
The national recruiting analyst weighs in on news and rumors surrounding the top high school prospects.
Stay on top of all the latest recruiting buzz.
Every D-1 player's efficiency rating.
MORE MEN'S COLLEGE BASKETBALL HEADLINES