Discussion
Best bets among bubble teams
Can the likes of Tennessee, Northwestern and NC State get the wins they need?
Originally Published:
March 6, 2012
By
Mike Hume
| ESPN Insider
On Monday, Joe Lunardi provided a fairly comprehensive look at what bubble teams need to accomplish to break into the bracket. The question now becomes whether or not those squads will realize their Big Dance dreams or watch them get crushed during their conference tournaments. To get a clearer idea, we gazed into the crystal ball of ESPN's new College Basketball Power Index and used the predictive power of BPI to see which major conference bubble teams are strong enough to grab a few final wins and push into the field of 68.
Part of the beauty of BPI is that the whizzes of the ESPN Analytics group can easily translate a team's BPI score into a point spread against an average team on a neutral court in an average-pace game (roughly 69 possessions). While we know these teams will likely play at a pace different from average, we can still use this net points interpretation of the BPI as a baseline for which team has performed better to this point in the season. (You can view Sunday's BPI rankings here.)
Compare those scores (Net Points vs. Average) between two teams and you can get an idea of how they'd stack up head-to- head. Using this lens, we took a look at the major conference tournaments to see who has the best chance to secure those precious few remaining at-large bids.

ACC
Miami (Fla.) and North Carolina State are currently on the outside looking in according to Lunardi's latest Bracket Math. And the Bracketologist believes it will take two wins in the ACC tournament for either squad to feel comfortable about its chances on Selection Sunday. The good news is that they'll both have opportunities to prove their worth against solid tournament locks in the tournament's second round. The only problem is, well, the Canes and Pack have to beat said proven tourney team.
To see what other bubble teams need to do to make the tourney -- sign up for ESPN Insider today.
Insider
Insider College Basketball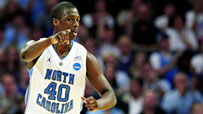 New on Insider
Lunardi: Pac-12 locked into 2 bids?
Player Rankings: Davis over Robinson for POY
Lunardi: Where UW, Northwestern fall
Hume: Bid thieves are few
Bilas: Sizing up the Big East
Gasaway: Pac-12 stronger than it seems
Hume: Best bets among bubble teams
Lunardi: VCU may be first bid thief
Ford: Time running out for 5 NBA prospects
Lunardi: How UConn, Texas, others earn bids
Lunardi: Latest look at the bubble
Fraschilla: Previewing Big 12 tournament
Bilas Index: UNC remains at No. 3
Pomeroy: Trends predict UNC-Duke clash
Lunardi: No No. 1 seed for Big Ten?
Player Rankings: Purdue's pivotal players
Ford: Will MKG, Cody Zeller stay in school?
Gasaway: Rebounding won't crush Orange
Telep: UCLA's top recruits remain committed
Bilas: How Michigan State can still improve
Bilas: Keys to the Hoyas' continued success
Lunardi: Watch out for NCAA bid thieves
Lunardi Rundown: Kentucky is No. 1 overall
Bilas Index: Kansas returns to the top five

Giant Killers
Make smart bracket picks by spotting Cinderella early.
And don't forget these Insider mainstays:
Doug Gottlieb, Fran Fraschilla, Joe Lunardi and Jay Williams offer their opinions.
Insights from the mind of the College Gameday analyst.
The national recruiting analyst weighs in on news and rumors surrounding the top high school prospects.
Stay on top of all the latest recruiting buzz.
Every D-1 player's efficiency rating.
MORE MEN'S COLLEGE BASKETBALL HEADLINES