Discussion
They've heard of C.J. McCollum now
Lehigh's junior guard scores 30 in an epic upset over second-seeded Duke
GREENSBORO, N.C. -- When Lehigh guard C.J. McCollum was a freshman at GlenOak High School in Canton, Ohio, he was only 5 feet, 2 inches.
He grew 5 inches as a sophomore, 4 inches as a junior and 3 inches as a senior.
"I knew the growth spurt was coming," McCollum said. "I just prayed it came before graduation."
McCollum's growth spurt came before he left high school, but his lack of height caused him to get overlooked by most major college basketball programs.
On ...

Read full story
2012 NCAA TOURNAMENT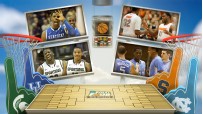 Sixty-eight teams have their sights set on New Orleans. Which ones will make it there?
Tournament home » Bracket » Challenge »
ELITE EIGHT
SWEET 16
SECOND/THIRD ROUNDS
PREVIEW COLUMNS AND FEATURES
BRACKET REACTION
SPECIAL SECTIONS
MORE MEN'S COLLEGE BASKETBALL HEADLINES