Discussion
What's the ideal Final Four team?
Every year, as we sort through the NCAA tournament bracket -- justifying selections and dismissing our putative losers -- we talk a lot about what it takes to win in the Big Dance, about what a team needs to have to make it to the Final Four.
There are tangible recommendations. Defense. Rebounding. Good guard play. (That's a big one. Guards are popular, and for good reason.) We also, of course, hear about intangibles. Toughness. Intensity. Focus. Experience. Will.
And we also hear ...

Read full story
2012 NCAA TOURNAMENT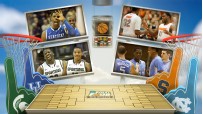 Sixty-eight teams have their sights set on New Orleans. Which ones will make it there?
Tournament home » Bracket » Challenge »
ELITE EIGHT
SWEET 16
SECOND/THIRD ROUNDS
PREVIEW COLUMNS AND FEATURES
BRACKET REACTION
SPECIAL SECTIONS
MORE MEN'S COLLEGE BASKETBALL HEADLINES