Discussion
Social media has muted coaches
Camera phones, social networks limit what coaches say and do
Originally Published:
June 4, 2012
By
Dana O'Neil
| ESPN.com
When asked to explain why he called then-Missouri coach Norm Stewart "Francis the Talking Mule," Oklahoma coach Billy Tubbs "apologized" thusly:
"I got Mr. Ed, the talking TV horse, mixed up with Francis the Talking Mule from the movies. I meant to say, 'mule,' because a mule is not a thoroughbred. A jackass is a thoroughbred, but a mule is a cross, I think, between a jackass and a horse. I think a mule is worse than a jackass."
Told he was likely to be fired during the ...

Read full story
COACHES' CORNER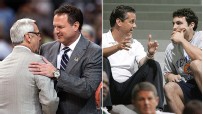 How have coaches changed? Which coaching gigs are the best? How do you replace a legend? ESPN.com spent a week focused on the men who rule the court from the sidelines.
CULT OF PERSONALITY
HE GOT GAME
RANK AND FILE
NATIONAL GALLERY
GAME OF THRONES
MORE MEN'S COLLEGE BASKETBALL HEADLINES