Discussion
At the Watercooler: Coaching jobs
Originally Published:
June 7, 2012
ESPN.com
(Editor's note: On Wednesday, ESPN.com went conference by conference to rank the best and worst coaching jobs, based on the voting of a panel of 14 ESPN writers and analysts. After the lists were published, Myron Medcalf and Eamonn Brennan returned to the watercooler to discuss the subject. To rank your top 25, click here.)
Myron Medcalf: How's it going, Eamonn? It's been awhile. Trying to get out and enjoy the weather, play some bad golf and keep up with college basketball. Speaking ...

Read full story
COACHES' CORNER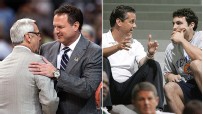 How have coaches changed? Which coaching gigs are the best? How do you replace a legend? ESPN.com spent a week focused on the men who rule the court from the sidelines.
CULT OF PERSONALITY
HE GOT GAME
RANK AND FILE
NATIONAL GALLERY
GAME OF THRONES
MORE MEN'S COLLEGE BASKETBALL HEADLINES