Discussion
NCAA eligibility's judge and jury
High School Review deals with horror stories in high school eligibility
Originally Published:
August 7, 2012
By
Dana O'Neil
| ESPN.com
INDIANAPOLIS -- True or false: A cat has nine lives and a dog has four legs?
For five points: Describe a brief encounter that you have experienced in the last month and explain whether it made you feel good or bad.
Answer: I was playing basketball and this kid fouled me really hard and cut my finger I was so mad that once I got the ball again I dunked so hard that I made the cut worse. It made me feel bad cause now I can't play for a week.
Correct
...
Read full story
ACADEMIC REFORM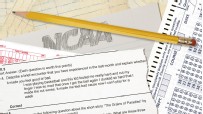 The NCAA's new eligibility standards go into effect with the 2016 class but begin with this fall's high school freshmen. Can you legislate academic preparedness? The NCAA believes it can; others aren't so sure. Dana O'Neil »
MORE ACADEMICS
VIDEO
AUDIO
MORE MEN'S COLLEGE BASKETBALL HEADLINES